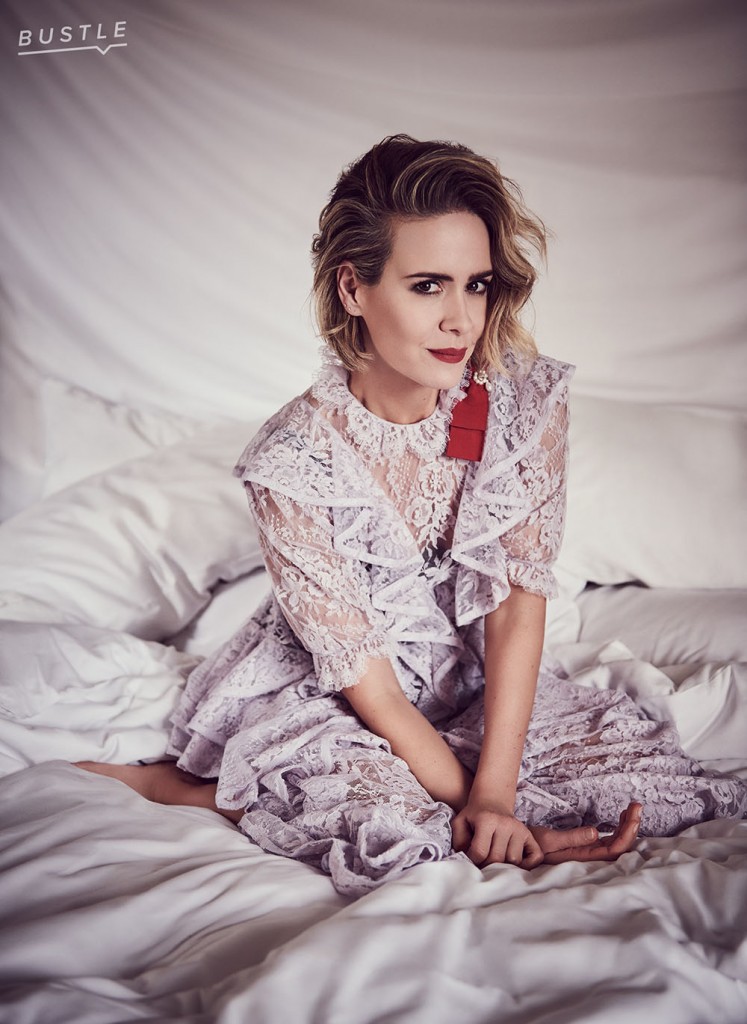 Ocean's 8 hits theaters this weekend, and I'm looking forward to it. The movie hasn't even been released yet, but it's brought me happiness already thanks to great interviews with star Sarah Paulson, whom I adore. Sarah is on the cover of Bustle's digital issue and talks about her career, social media, Ryan Murphy (of course) and the new movie.
Of her muse/artist relationship with Ryan, she acknowledged that "for a long time, nobody could get between Ryan and Jessica Lange." She also admitted that she felt that Jessica was Ryan's queen, "and she probably still is for him." She goes on to say that she's very happy to be part of his acting "family," noting that while Ryan loves his actors, "It's like he's got 50 children, and he tends to all of us remarkably well." Too bad Ryan couldn't find a part for Sarah on his latest series, Pose. That show is magic.
Sarah has found a new "family" with her Ocean's 8 co-stars. She talked about the group text the women of the cast – including Sandra Bullock, Rihanna and Mindy Kaling – used to joke around (apparently Anne Hathaway is the "meme queen" of the group), stay in touch and swap emojis. The actresses really seemed to develop a bond, playing the old "What are you wearing?" game before a press event, something Sarah pointed out was "a very typical girlfriends thing to do." Here's more of what she had to say:
On haters comparing Ocean's 8 to the Ghostbusters remake:
"We sort of delude ourselves into thinking we have some semblance of control or some idea about how things are gonna go, and we just don't. At the end of the day, I bet you those girls had a f—king ball making Ghostbusters, and so who gives a f—k if anybody saw the movie?…I had a f—king blast, and I made seven new friends."

On not bristling at being considered a character actress:
"I don't think my career has anything to do with the way I look, good, bad, or otherwise. If someone likes my face, they hate my face, they think it's weird, they think it's crooked, they think it's fat, they think it's skinny — whatever they think, I don't think I'm getting jobs predicated on my attractiveness or lack of attractiveness."

On where she keeps all of her awards:
"I keep [the Emmy] on a shelf that is in very close proximity to my eye-line when I wake up in the morning, I have them all there—I keep the Golden Globe there and the SAG there and the Critics Choice award there and the TCA award. I need to be reminded that it actually happened."

On cutting ties with Twitter:
"I think I'm gonna get off [Twitter] very, very soon…[It's] the meanest place on earth."
I personally think HuffPo and YouTube are meaner places, but other than that, I'm with you, Sarah. And if you don't think she's being truthful about the fun she had working on Ocean's 8, check out this interview from yesterday's Today Show featuring Sarah and her O8 co-star Cate Blanchett. If you wanted to learn anything about the movie, look elsewhere. These two (who'd previously worked together on the film Carol) are giggly, funny and charming and I would love to hang out with them.
Get the waterproof mascara because @hodakotb could not stop crying from laughing during her interview with @MsSarahPaulson & Cate Blanchett (and even had to call in @savannahguthrie for help)! #Oceans8 pic.twitter.com/eKyd28dzO8

— TODAY (@TODAYshow) June 5, 2018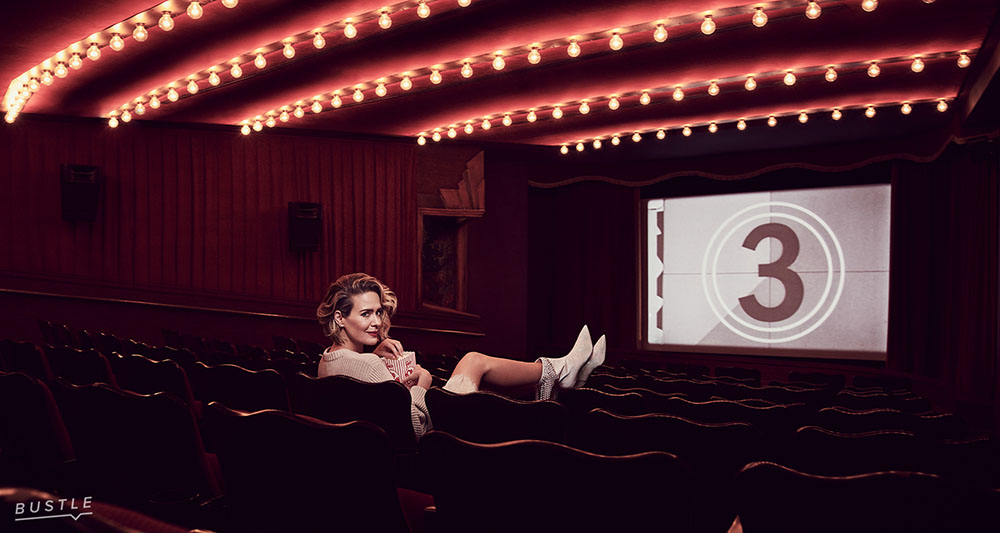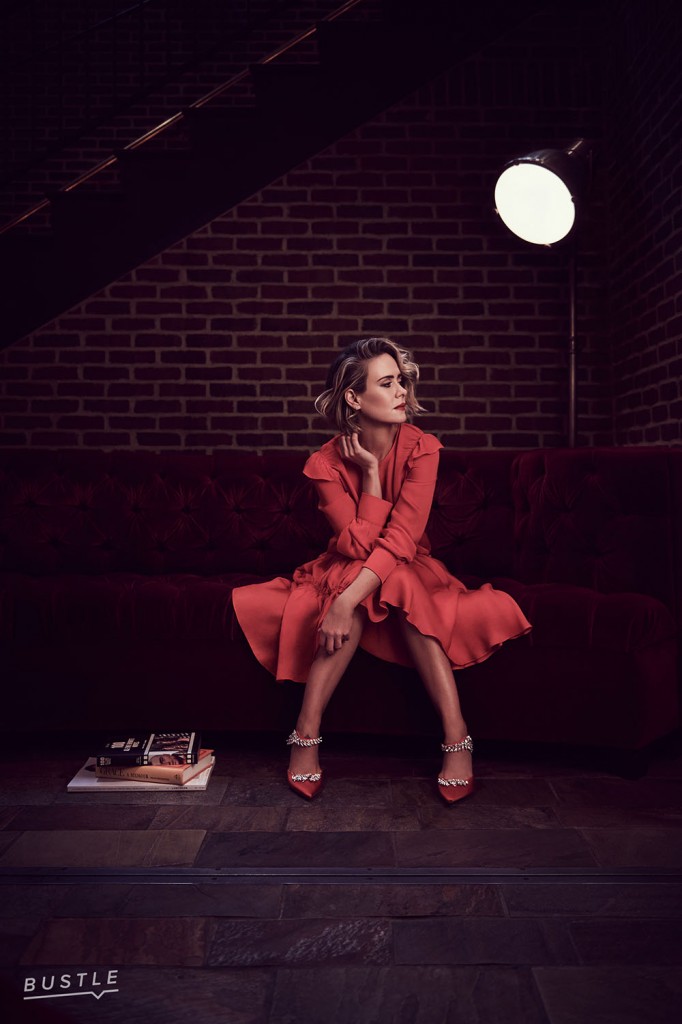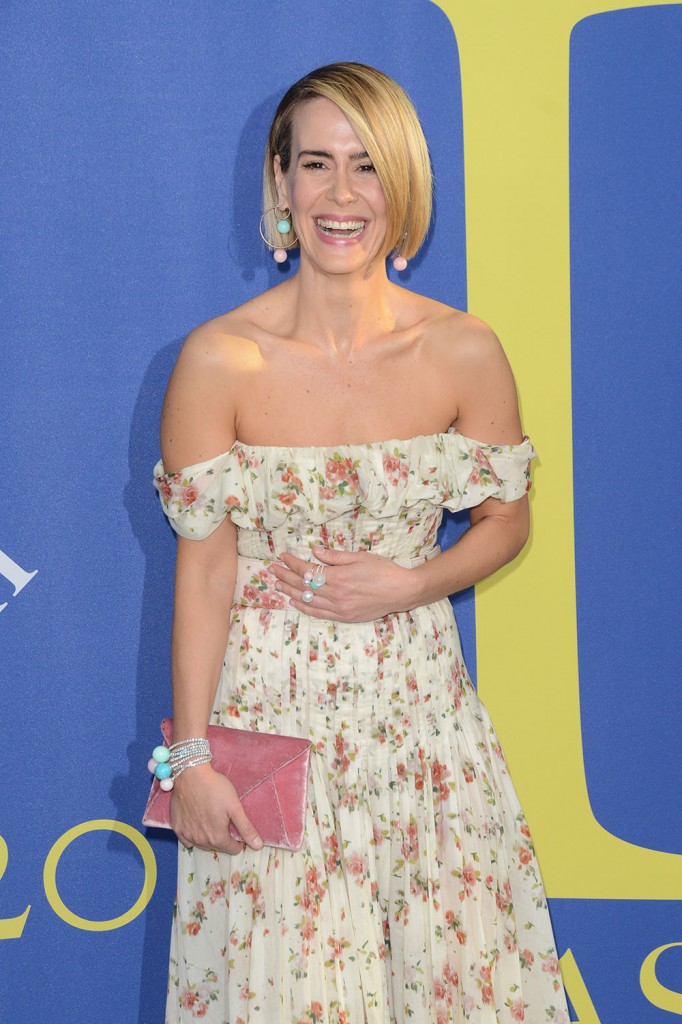 Photos: Jason Bell/Bustle received by publicity email, WENN.com