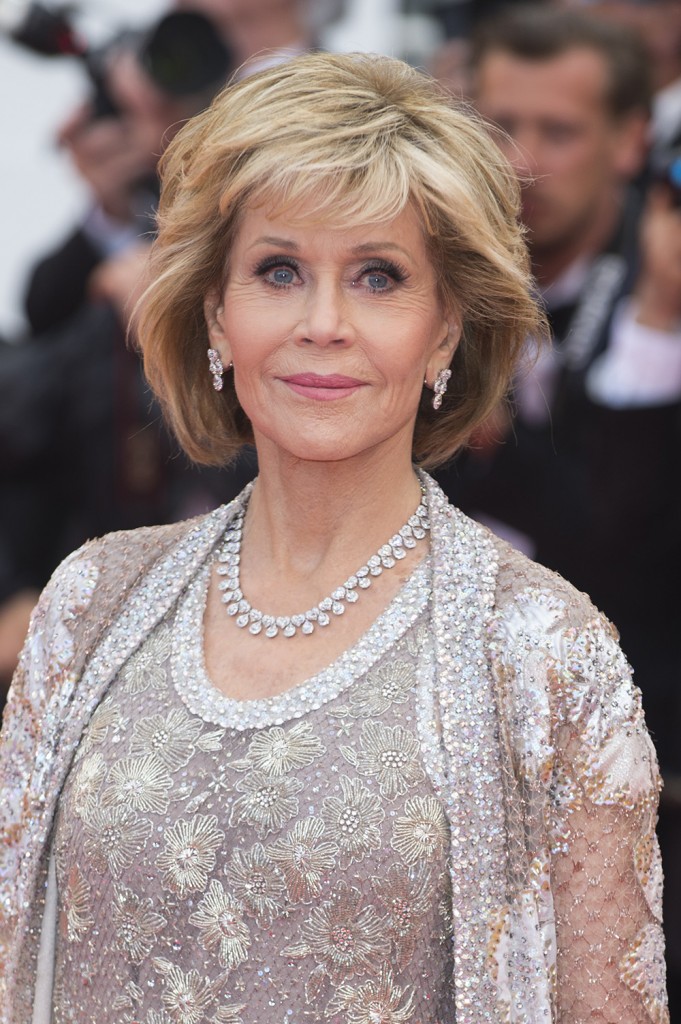 I've made no secret about how much I adore Jane Fonda. I have yet to see Book Club, but it's on my list. The 80-year-old actress agave a compelling interview to Britain's Guardian, where she proved that she is still as politically aware as ever. She also talked frankly about getting older, as it applies to health and relationships and she also talks about her plastic surgery. The whole interview is definitely worth your while, but here are a few highlights:
On her feminist activism roots clashing with her role in the sci-fi hit Barbarella:
"I took a lot of heat on it from feminists. The new women's movement was in its early stages and there was a lot of…" she adopts a comically stern voice: "'How do you feel making a movie that exploits women, like Barbarella?' You'd kind of want to say: 'Well, honey, nobody forced me.' But," she concedes, "it wasn't much fun to make it."

On #MeToo:
"I am very grateful to be alive through this," she says softly. "I did not think I would live to see it. Yes. And I think that it's going to continue, it's not just a moment. I love the Time's Up aspect of it. We're working with women from all different places. I'm going to DC to lobby with domestic workers. The farm workers up in Bakersfield. It's all of us together, having each other's backs."

On the president:
"What I said was, when Trump was elected and white supremacy was exposed, I realised that, as a white woman, the lens through which I was looking at race was too narrow. I think a lot of Trump's election had to do with white supremacy and anger at a black president. I was stunned at how close to the surface racism in the United States is, and I needed to understand it better, so my intention right now is to try to understand more profoundly what it means to be black in the United States."

"I'm a white woman and this is something that we white women have to know: you can't just be empathetic, you have to be very intentional. We have to confront racism. We have to stop this. Not buy into the lies that we're told about how the prison system stops crime. No, it creates crime."

On visiting the homes of Trump voters on the weekends:
"When you're talking to them you can't criticize Trump. You can't criticize Fox News. All you can do is listen to what they care about and what they're afraid of, and then maybe tell them something that they don't know. Because we're all in our bubbles, including me."

Do people recognize her?
"I was in Bakersfield last Saturday and knocked on 30 doors. Only one person saw me coming and said: 'Grace and Frankie!' It was a kick! Nobody else knew who I was. I just say: 'I'm Jane.' They don't need to know."

On her late(r) career comeback with Grace and Frankie and Book Club, among other projects:
"Oh, I just feel damn lucky. I retired for 15 years. I left at 50 and came back at 65. I was married to Ted Turner and Ted didn't really help me with confidence and things like that. So after that I wanted to see if I could enjoy it again. But, at 65, I never thought I'd have a career. And a hit TV show! I'm 80! I keep pinching myself! I can't believe it! I didn't think I would live this long!"

On her new "fitness" regime:
While Jane admits, "I can't do the original workouts any more, because I'll hurt myself, as I have joint replacements," she says her main form of exercise these days involves jumping into things "before I really know what I'm doing. It's called a leap of faith and it's my main form of exercise. It's what keeps me young, too. That's my new workout. When you take a leap of faith you don't always land in the right place, but you sure do learn things. It's good for the heart."
As much as I love Jane's honesty and candor, something she's no stranger to, I can't believe the woman who has made us laugh since the 1960s and Barefoot in the Park, not to mention 9 to 5 AND Grace and Frankie says, "I don't have a natural funny bone." Of course, she jokingly added, "I come from a long line of depressed people." Encouragingly, she asserted that "I think there are going to be more women-centric movies, like Book Club, now," adding that, "I don't think this is a phase – I think this is it." This makes me happy, and reinforces in my mind that Jane is a national treasure.
A note from Corey: If you want to know more about Jane, specifically her activism, I highly recommend listening to the amazing podcast You Must Remember This. Karina did a series on her (and Jean Seberg) that sheds a lot of light on this complicated, amazing woman.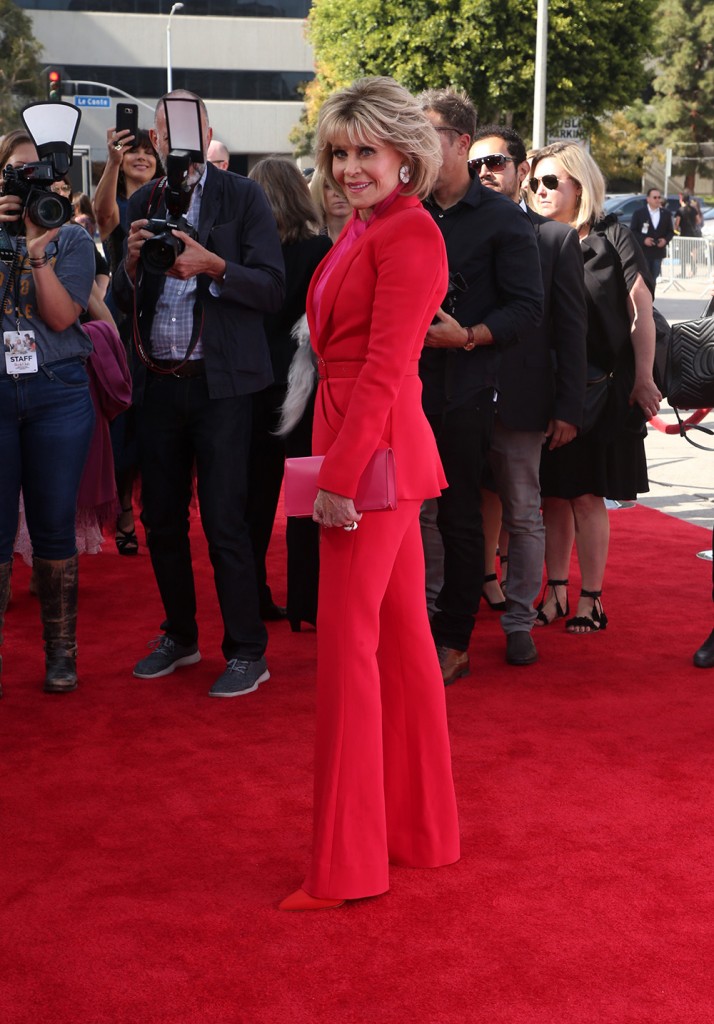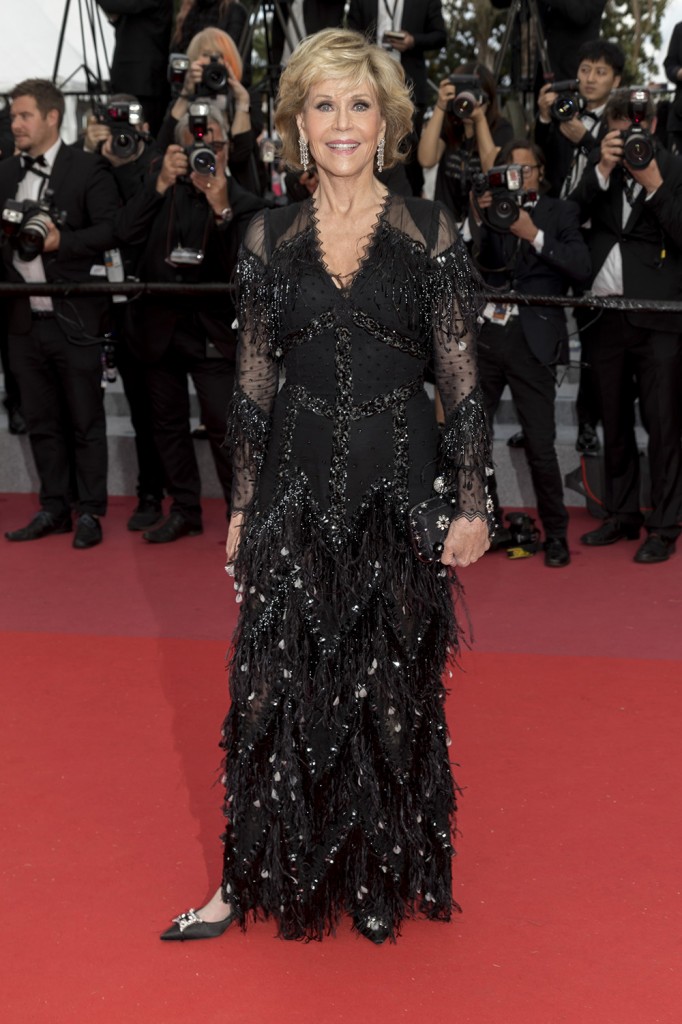 Photos: WENN.com, Getty Images