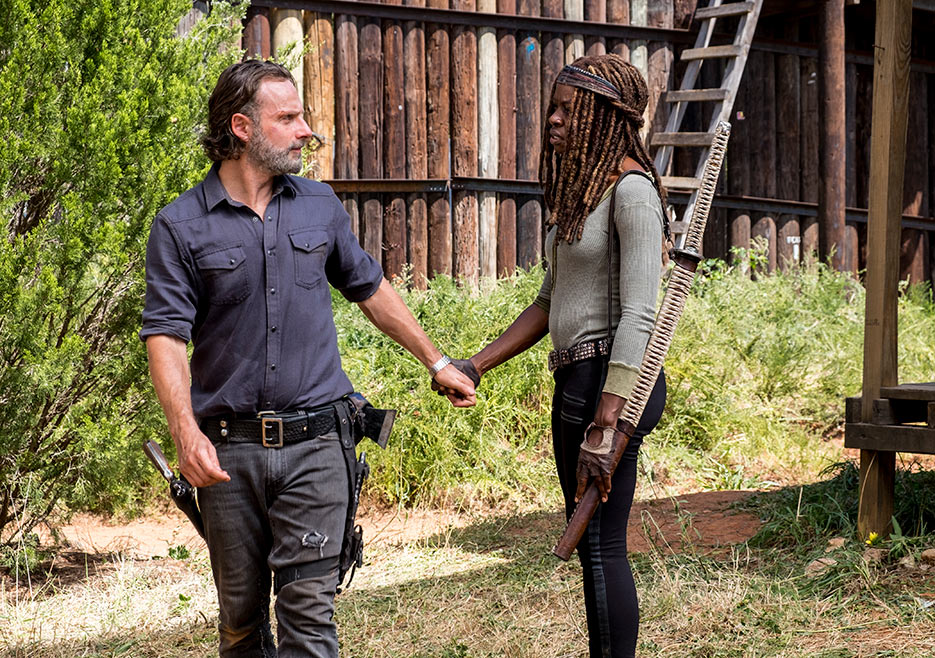 Spoilers for past and future Walking Dead episodes follow
The Walking Dead's showrunner, Scott M. Gimple, made the decision this past season to kill off Carl Grimes, the son of leader Rick Grimes, and an integral part of the source comics to date. The fact that Gimple killed off a character beloved by fans and cast possibly led to his replacement as showrunner by staff writer Angela Kang. Gimple wasn't penalized at all for that unpopular decision, he instead got promoted to head up the entire WD franchise.
Many people wondered how Alexandria's leader Rick would go on and what his motivation would be now that his son and heir apparent was gone. (He still has baby Judith, and he's motivated to protect her despite the fact that he knows she's not his biological child.) It turns out we won't have to worry too much about how Rick will fare without Carl because actor Andrew Lincoln is leaving TWD after next season. This is framed as Lincoln's idea, and it would have to be because TWD wouldn't be dumb enough to cut their leader loose, although that's hard to call given all the beloved characters they've killed to date. Apparently Lincoln wants to spend more time with his family in London.
We're hearing that, by the end of Season 9 of AMC's hit drama series The Walking Dead, Rick Grimes himself will be walking away. That's right TWD enthusiasts, Andrew Lincoln will be growling his way through the post-apocalyptic setting for just one more season before calling it quits. And while we won't be spoiling just how the series' founding character makes his exit, we do know that fans can only expect to see Lincoln in half-a-dozen episodes of the upcoming season.

Any time a major character from the show shuffles off this mortal coil (or heads to a spin-off series), it's a big deal, but for the characters who have been there from the beginning like Rick Grimes & Co., their loss is catastrophic. We saw that effect when Chandler Riggs left the show just last season and we'll likely see an even bigger fan fallout when Lincoln leaves in Season 9. To fill the void in the show's leading man status, we're also hearing that AMC has offered substantial compensation to long-running series star Norman Reedus to not only stay on board, but to take over the show's leading role. – From Collider

---

Star Andrew Lincoln, who has played beleaguered former sheriff Rick Grimes since the show's premiere, will exit the AMC zombie drama in its upcoming ninth season, sources confirm to The Hollywood Reporter. Meanwhile, co-star Norman Reedus, who plays Daryl, is in the midst of negotiating a rich new deal that will pay him more than $20 million as he will become the new No. 1 on the call sheet.

Sources say Lincoln will be phased out in season nine in a fashion similar to co-star Lauren Cohan, who will film only six episodes of the series. Cohan, who pays Maggie, opted to exit the highly rated AMC drama and booked the lead in ABC's Whiskey Cavalier after her efforts to renegotiate a new deal to stay on The Walking Dead went south. After ABC picked up Whiskey Cavalier to series for a midseason bow, it closed the door on Cohan's full-time return to the series — even if she had closed a new deal. AMC declined comment. – From THR
As THR reports in the excerpt above, Maggie, played by Lauren Cohan, is also leaving. She got a gig on a new ABC show called Whiskey Cavalier and co-starring Scott Foley. Apparently her contract talks did not go well, which is not surprising. Among the main cast that leaves Daryl, played by Norman Reedus, who is about to write his own ticket, and Michonne, played by Danai Gurira. $20 million is a huge amount of money and puts Reedus' salary up near the cast of Big Bang Theory, but since he'll be one of the last core characters standing he can ask for that kind of money. Gurira is a movie star now with her success on Black Panther. She doesn't need this show and I hope they gave her a fat raise too. (While I've heard rumors that Gurira is leaving too after the next season too, Deadline reports that there is "no word if… Gurira will be staying past Season 9.") This just goes to show how much an arrogant showrunner can mess up an easy formula and beloved series. Gimple has said that they're aiming for 20 seasons and this show is still one of the biggest hits on TV, even after a ratings slump. How long are they going to try to milk it with Daryl at the helm? Why can't Michonne take over instead?
scott gimple: "killing off carl will show us the real rick again"

andrew lincoln: *leaves show*

— dais 152 (@linzzzreedus) May 30, 2018
#TheWalkingDead could have continued for years with Chandler Riggs as the lead after the departure of Andrew Lincoln.

The killing of Carl was a terrible terrible mistake and now the show will likely suffer from it.

— The Walking Dead World (@TWalkingDWorld) May 30, 2018
BREAKING: Andrew Lincoln set leave #TheWalkingDead after Season 9… pic.twitter.com/3AeR25OUbJ

— Tyrone Thomas 🦋❤️🦋💔 (@ThatNerdTWiZT) May 29, 2018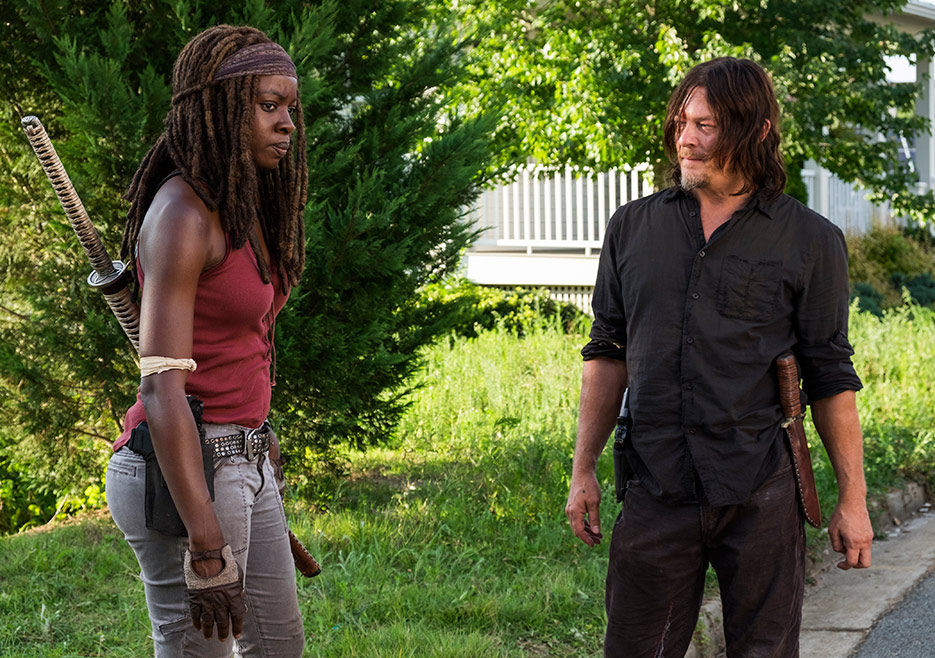 Photos credit: Gene Page/AMC Some tweets via Buzzfeed