It's sad when the surprise in a breakup story is not that it happened or the reason why but the fact that the couple had made it as long as they did. Thus is the case with Scott Disick, the 35-year-old father of three (with Kourtney Kardashian), and Sofia Richie, the 19-year-old daughter of Lionel Richie. We first reported on this – interesting – pairing back in September. Our CB dating pool for the relationship didn't go past Thanksgiving so honestly, I think we should call this one a win for both. Except, the reason this love affair is over is because – wait for it – Scott cheated on Sofia.
Sofia Richie has broken up with Scott Disick after the Keeping Up With the Kardashians star cheated on her and was subsequently spotted getting cozy with another woman, a source tells Us Weekly exclusively.

"Sofia and Scott split up," the source tells Us. "He cheated on her in Miami and she found out and told [her father] Lionel [Richie]," the source says. "He said he is going to cut her off and write her out of his will if she continues her relationship with Scott as he thinks he's extremely toxic for her."

The source adds that the couple were still technically together when the reality TV star was spotted with another girl at Kanye West's listening party for his new album in Wyoming earlier this week. Another insider tells Us that Disick, 35, was "really sloppy throughout the night" and "could barely speak" when he was seen getting cozy with the mystery blonde.

Sofia, 19, found out about her boyfriend cheating on her with the woman in Miami "after their trip to St. Bart's and it caused huge problems in their relationship," the source tells Us. "He went to Wyoming because of it and was photographed with another girl and that was the icing on the cake for her to break up with him." The pair had been "trying to work things out," the source added but after his PDA with the blonde in Wyoming, they can't continue to see each other "because Lionel forbids them reconnecting and won't continue to support their relationship."

The model and her music legend dad are "extremely close," the source continues. While Disick still has feelings for the teen, "he knows there's not much that he can do. Sofia is upset but is leaning towards sticking with her family and Lionel because she realizes the severity of it."
I believe the key elements in this report. I have no doubt Scott hooked up with someone who wasn't Sofia and that she dumped him for it. And I believe Lionel would be much happier if Sofia wasn't dating Scott. But I'm having a tough time with Lionel threatening to cut Sofia off and write her out of the will if she gets back with Scott. I mean, they were just dating, it's not like she was talking about eloping or anything. And Lionel supposedly understood why Sofia was dating Scott, right? Even if I don't buy all the drama, I do find it funny. It sounds like an epic romance novel, "But daddy – I love him!" "He's no good for you. He's not good for this family." "Daddy please!" "I forbid it!"
TMZ has photographic evidence that Scott has moved on to his next blonde. We don't know much about her other than she was at the Kanye West listening party in Wyoming with him. Tragically, they also have evidence of Scott's new manbun hair style and overgrown beard. Nothing here is too shocking. Scott and Sofia's relationship seemed like he was her sugar daddy and she was retaliation for Kourtney's relationship with a young model. I can't go full snark on them because it's sad that Scott is drinking again and hurting people – again. Even if they weren't written in the stars, Sofia didn't deserve to be embarrassed and maybe even had her heart broken. People claims that Scott thinks she'll change her mind and come back to him. I hope not. I'm all for a fun, flashy relationship but this one ran it's course. Listen to your dad, Sofia, and find something new.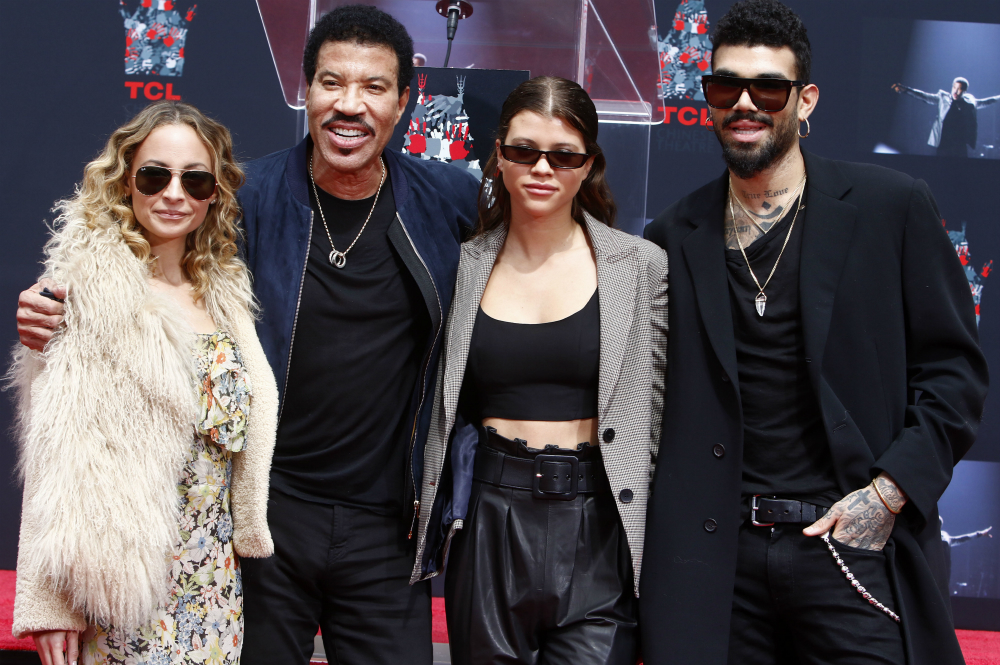 Photo credit: WENN Photos and Instagram