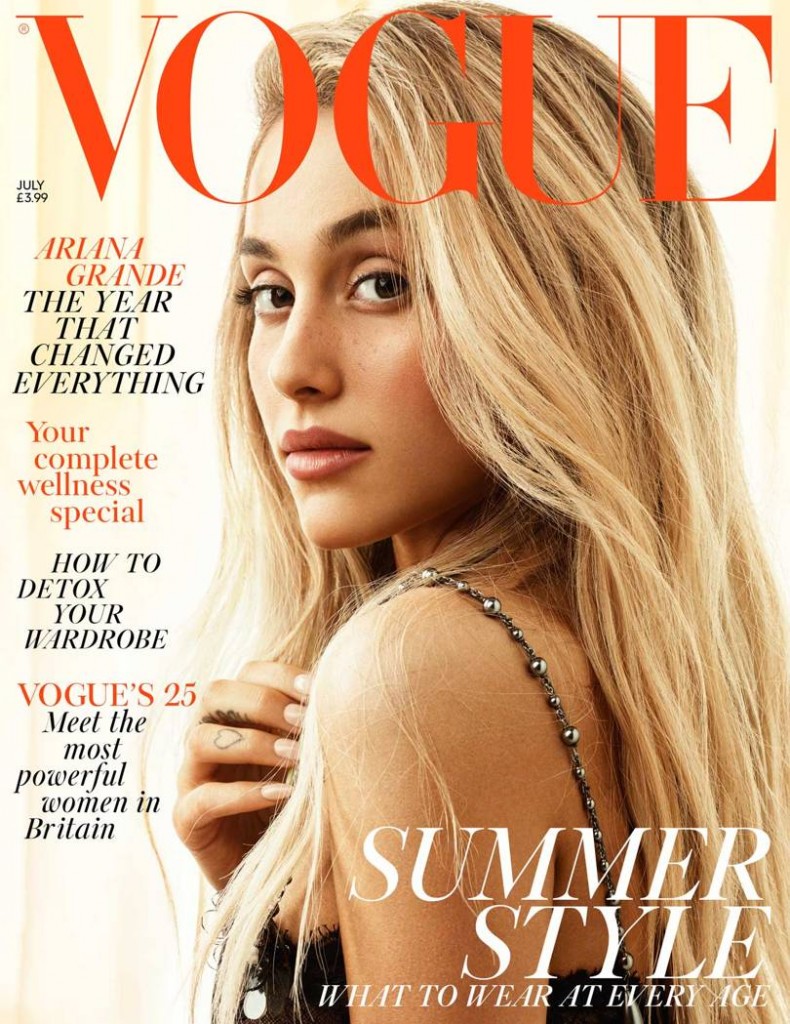 Ariana Grande covers Vogue UK's July issue. There's a lot of buzz over how different she looks with her hair down and blonde and with minimal makeup. She looks like a different person and she's gorgeous. (She normally is though, you know what I mean.) Her boyfriend and friends think so too. Pete Davidson commented on Ariana's IG post "I'm the luckiest contest winner ever," Bella and Gigi Hadid commented "OMG" and Katy Perry wrote "I've never seen you like this." You can see more photos from the shoot in the Instagram post below.
Vogue has some details from Ariana's interview. She said she has PTSD following the Manchester bombing at her show, in which 22 people were killed and 139 were wounded. Ariana feels guilty even talking about her pain though as she knows other people who were there have it worse. She also revealed that she's always had anxiety but she didn't think it was notable as she thought everyone had it.
On having PTSD after the Manchester bombing
"It's hard to talk about because so many people have suffered such severe, tremendous loss. But, yeah, it's a real thing. I know those families and my fans, and everyone there experienced a tremendous amount of it as well. Time is the biggest thing. I feel like I shouldn't even be talking about my own experience – like I shouldn't even say anything. I don't think I'll ever know how to talk about it and not cry."

On her anxiety
"I think a lot of people have anxiety, especially right now… My anxiety has anxiety… I've always had anxiety. I've never really spoken about it because I thought everyone had it, but when I got home from tour it was the most severe I think it's ever been."

She was back in the studio the day after her concert wrapped in 2017
"Everybody thought I was crazy when I got home and wanted to hit the ground running."
I can't imagine not only being in a mass bombing like that and witnessing it but having it be at a show you're headlining. She's been through so much. As for her anxiety, I guess if she's always had it she might not know anything else and would assume everyone felt that way. I've only had anxiety the past few years so I know it's something different for me and not my normal. I understand why she went right back to work after the tragedy though. When things get difficult in my life I focus on work too.
This IG post links to more photos from Ariana's Vogue shoot.
photos credit: Vogue UK and Getty