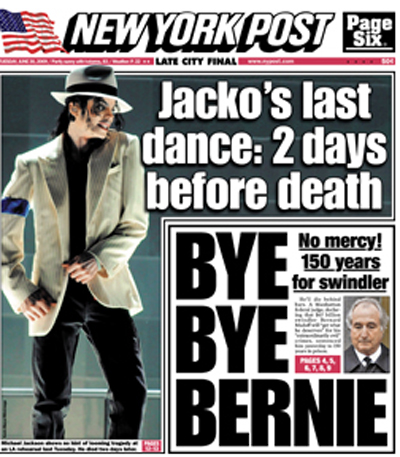 Michael Jackson's will, drawn up in 2002, leaves the bulk of his estate to his mother, Katherine, his children, and to charity. Jackson's dad Joe is not mentioned at all. While Jackson had around a 1/2 a billion in debt from some estimates, his holdings are worth quite a bit more and he surely has a fortune in memorabilia remaining along with his share of the Beatles song catalog and the rights to his own songs. A Reuters report estimates that his estate is worth $1 billion, while the Wall St. Journal says it's worth "possibly $200 million more than he owed," or around $700 million. That's no small fortune with $200-$500 million at stake.
The Wall Street Journal reported Tuesday that Michael Jackson's most recent legal will, a document signed in 2002 which names a lawyer and a former music executive as executors of the pop star's estate, may be filed as early as Thursday.

The will reportedly divides Jackson's immense estate among his mother, three children and one or more charities, but does not name his father, Joe Jackson, according to people close to the late singer.

The singer died suddenly last Thursday at the age of 50. His parents, who filed Monday for custody of his children, have suggested a will might not exist.

According to the Journal's report, the 2002 document names lawyer John Branca and veteran music executive John McClain as executors. Branca, who authored the will, was Jackson's main attorney from 1980 to 2006, and was rehired by Jackson the week before he died. Neither Branca nor McClain could be reached by the newspaper for comment.

People familiar with Jackson's finances told the Journal that the singer died with something in the region of $500 million in debt, but that his estate is likely worth an even greater sum – possibly $200 million more than he owed.

No confirmed legal will has surfaced yet for the global star, but the celebrity news Web site TMZ.com reported Monday that Jackson's lawyer has a copy of a will and he intends to file it with the court.
[From CBS News]
That's strange that Jackson re-hired the lawyer who drew up his will just a week before he died. He probably needed his help with tour details, and it makes for an odd coincidence. Jackson's parents filed court papers yesterday to probate his estate, or essentially settle it. At that time they listed him as "intestate" or without a will, but now that a will has allegedly been found it may make matters easier. The papers asked for Katherine to be the administrator of the will, but if an attorney has been named executor things could go a little easier – or not. Remember how it took a full two months James Brown's body to be buried as his family and executors battled over his estate?
MSNBC's The Scoop reports that no matter what happens with Jackson's estate his kids will be taken care of. He had a whole catalog of new, unrecorded songs, perhaps up to 200, and he left all rights to his children. They could be worth up to $100 million.
Newspapers worldwide are running front page photos today featuring Jackson's final rehearsal just two days before he passed. It's claimed that he was outwardly healthy and enthusiastic about his upcoming 50 date tour, although his former nanny, Grace Rwaramba, supposedly claimed he thought he was signing a contract for just 10 performances, not 50. Jackson's trainer, TV's Incredible Hulk Lou Ferrigno, said he was "in great shape" before his death.