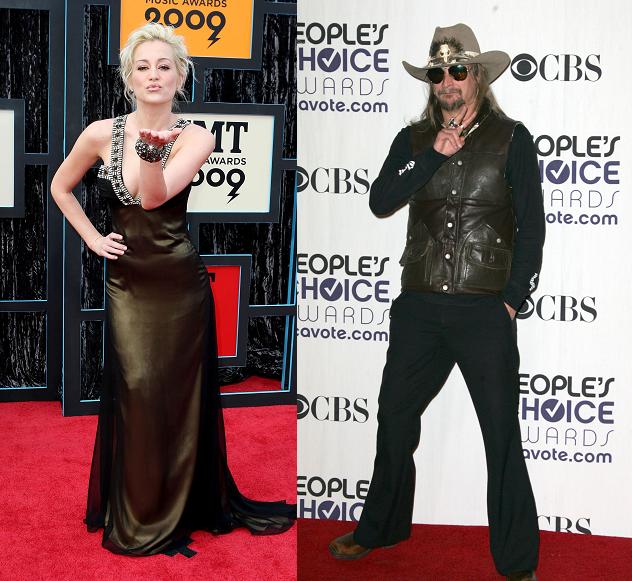 Apparently the worst-kept secret in Nashville has still been one of the best-kept secrets outside of it. According to the San Francisco Gate and general internet buzz, Kellie Pickler (of "American Idol" fame) and Kid Rock have been dating – for over a year now! While they haven't been public, Kellie's let the word slip a few times, including a vague mention to during a radio interview.
Rocker Kid Rock is secretly dating "American Idol" star Kellie Pickler, according to tabloid reports.

The hitmaker showed up at the recent CMT Video Awards in Nashville, Tenn., with ex-girlfriend Sheryl Crow, but he was really at the award show to be close to his new love, according to the Globe.

A source tells the publication, "The romance between Kellie and Kid has been the worst-kept secret in Nashville."

Insiders claim Pickler was talking about Kid Rock when she recently told a radio interviewer, "I'm seeing someone. I got a man. He's a great, great guy. We've been seeing each other for over a year."

Rock, real name Robert Ritchie, has been linked to a string of lovely ladies and was briefly married to Pamela Anderson in 2006.
[From the San Francisco Gate via Associated Content]
As the Gate mentioned, Kid Rock has very recently been linked with longtime friend Sheryl Crow – but somehow that match just didn't make sense. They seem firmly ensconced in platonic territory, and frankly she seems too smart to date him.
For some reason I really do like Kellie Pickler. Even though she walks a fine line between ditzy and dumb (who could forget her hilarious turn on "Are you Smarter than a 5th Grader" in which she thought Europe was a country, didn't know that Hungary was one, and asked what country Budapest was the capital of?), you can tell she's genuinely a sweet, good person. And given her tough upbringing, I find it impossible not to root for her.
That said, I don't really like the idea of her and Kid. I mean he married Pam Anderson. Beat up Tommy Lee. Has done dirtier things – and there's video to prove it – than some adult movie stars. Kellie is hot and naive, and that's a combination that's bound to get her into trouble. Unfortunately she'll just have to figure that out for herself – or surprise us when it turns out just fine.
Here's Kelly on "Are you Smarter than a 5th Grader?"

Here's Kellie at the CMT Music Awards in Nashville on June 16th. Images thanks to Fame Pictures . Kid Rock is shown at the People's Choice Awards in January. Image thanks to Fame Pictures .