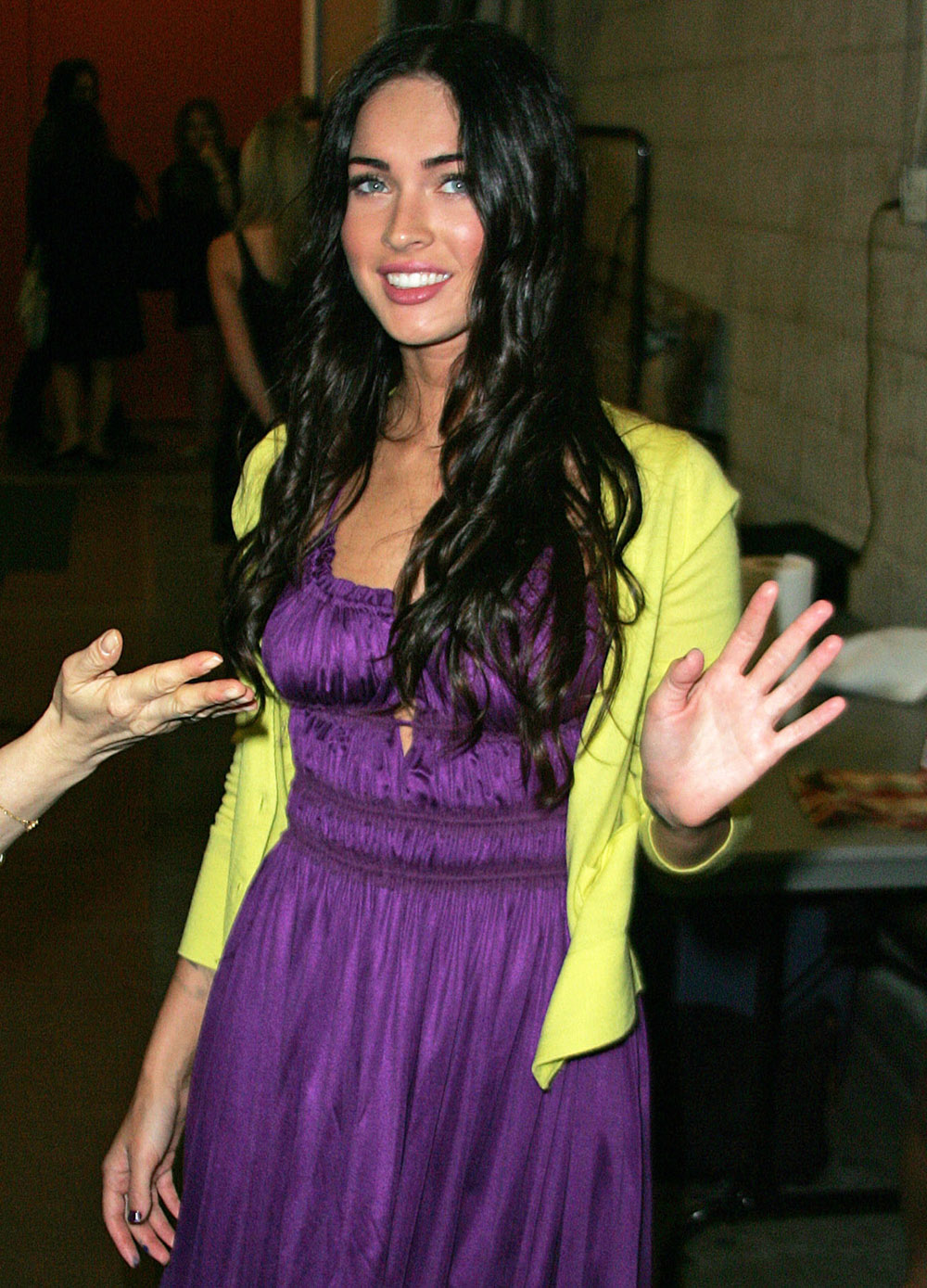 For a girl who repeatedly claims not to like comparisons to Angelina Jolie, Megan Fox sure remembers to mention Angelina in interview after interview. Almost as if… perhaps Megan likes the comparisons, and wants to encourage them? But of course not. Not Megan Fox. Not the girl who complained to Entertainment Weekly that the comparisons were "a lack of creativity on the media's part. Because I have tattoos and dark hair and I was in an action movie? That's as far as the similarities extend. I'm not the next anyone." Not the girl who a few days later said that "Every time a relationship ends, I say, 'If I could just be Angelina's girlfriend, I would be so happy.' I love Angelina Jolie. She's someone I admire and look up to. She's my favorite actress in Hollywood. I just love that she's incredibly honest, and I feel that she's not afraid to be herself. She tells you exactly what's on her mind."
So Megan did her due diligence and made sure that whenever we see a picture of her we think "Budget Jolie". This was a surprisingly smart move for Megan – because gossip has been heating up over the past six months that Megan was a shoo-in to "replace" Angelina as Lara Croft. Apparently some producers wanted to reboot the series (like Batman), showing Lara as a young Tomb Raider, and Angelina was deemed "too old" at 34. The Sun ran a huge story about all of the alleged drama between Megan and Angelina, but that version just seemed like a bitchier version of a Life & Style article that we covered the week before. Here are some of the highlights from that Sun article:
A source said: "Angie was intent on reprising her role [as Lara Croft]. She feels it's something she helped define and feels robbed that it looks likely to be handed to someone who she considers less capable than her."

A source added: "Angie isn't a fan of the Transformers films and believes Megan won't do the Lara Croft character justice. She's also annoyed because she thinks Megan copies everything from her, from her tattoos to her style."

And Angelina isn't going to take it lying down – she is using her industry "experience" to launch a counter-attack. It is rumoured she is working on a new all-action project which she hopes will challenge Meg's Tomb Raider effort.

An insider said: "Angelina is collaborating on a concept with a new sexy female action character which will absolutely blow Megan out of the water."
[From The Sun]
Oh my God, Angelina thinks Megan is a copycat! Scandal! I tend to think that source is giving Megan too much credit for even being on Angelina's radar. Between Megan, the OctoMom and that prostitute Mel Gibson got pregnant, Angelina seems to have a lot of stalkers, none of which Angelina probably knows or cares about. In any case, it looks like Megan isn't interested in taking over the Lara Croft role:
Megan Fox has denied rumours she is trying to pinch Angelina Jolie's role as Lara Croft in the next Tomb Raider film.

The rival beauty, 23, says: 'I haven't been offered that. No one has even spoken to me about doing that yet.'

'I think that's a role that Angelina Jolie mastered, and I would never attempt to take that over from her.'
[From Metro]
"Now if you'll excuse me," Megan Fox continued, "Angelina Angelina Angelina Angelina." And when did the Lara Croft franchise become such a hot potato? Bruce Willis can make a bajillion Die Hards, and yet Hollywood is crippled by a massive (and probably fictitious) catfight over a potential third Lara Croft movie. How sexist. Oh, right. We're talking about a woman that was originally a video game character with huge bazongas. Now that's sexist.
Here's Megan getting swarmed by fans in New York City on June 25th. Image thanks to Fame Pictures .