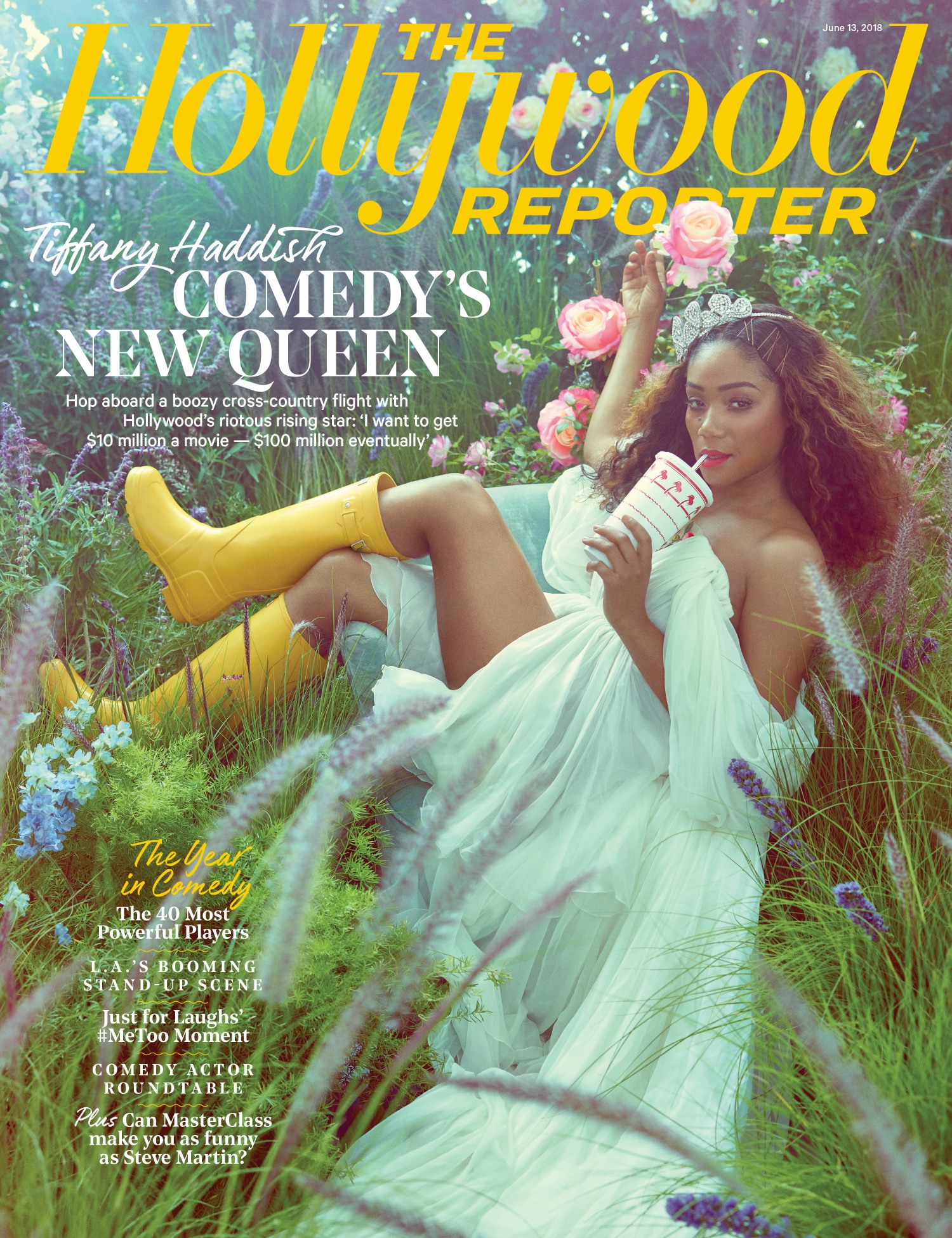 Tiffany Haddish covers the latest issue of The Hollywood Reporter and it is amazing. I haven't even finished reading it… because I was laughing so much. Tiffany starts the interview with one of the funniest stories about Leonardo DiCaprio I've heard in my life, and then from there she talks about other celebrities, like Kevin Hart (who mentored her and helped her) and Sanaa Lathan (who was the bitch who bit Beyonce). She also talks about the history of abuse in her life, from her mother to her first husband. You can read the full piece here. Some highlights:
Sanaa Lathan bit Beyonce: "I'm super good friends with her stepmom and her dad, and they were mad at me. They were like, 'Why would you do this to the family? You know, black actresses, you guys have to stick together, it's so hard for you guys to get work as it is, why would you try to ruin her career?' But I didn't try to ruin her career. I never said her name! I was just trying to say how Beyoncé kept me from goin' to jail that night. I coulda just shut my whole career down."

On her raunchy encounter with Leonardo DiCaprio: "Yeah, I met him at a party two, three months ago, and I asked him if he'd let me hit that. He's like, 'Tiffany, you're so funny' … I told him, 'My only stipulation: I wanna do it with you as your character in What's Eating Gilbert Grape.' He starts bustin' up laughin'. 'Why?' he asks, and I say, 'Cause I feel like that performance deserves a real reward and that reward is this (gestures at her own body).' "

On her racist encounter with Roseanne: "Now, I loved Roseanne, and the next day we walked by [her home], and she was in her yard. I say, 'Hiiii, Roseanne.' She looks at me (makes a disgusted face), and ran in the house. I thought, 'Maybe she don't want to be bothered today.' A week later, we walk by again, and I told Anna — she's Hispanic, but she looks white — she should say hi this time. So she says, 'Hi, Roseanne,' and Roseanne goes, 'Hey!' I thought, 'Maybe she got to know us.' Then I go back, like, a week later, I wave again and say, 'Hi, Roseanne! I love your comedy,' and she (makes the same disgusted face) and turns her head. I think 'F–k that bitch.' That was 2000, maybe 2001, so it's not new. She been racist, why'd you all give her a TV show?"

On her relationship with Tracy Morgan: "When the Jimmy Kimmel thing came out, he's like (in Morgan's voice), 'I saw you on Jimmy Kimmel, you was nervous as f–k, huh?' I'm like, 'No …' 'Haddish, come on, I could see it in your eyes, you were scared.' … But you don't argue with Tracy, you just say, 'OK, yeah, you're right.'"

On an interview in which Morgan slighted her: "He's probably just tired of hearing my name. It's exhausting. I'm tired of hearing my name. I could see how that could be irritating, like, 'Hello, I died, people. I'm back from the dead. Tiffany's cool, but it's me sitting here now.' So, I get it, I'm not mad about it, I love me some Tracy."

On her perfect day off: "I'd wake up, smoke a little weed, have a sip of vodka, eat some food, go back to sleep, wake up again, turn on some cartoons, take a poop, smoke a little more weed, have some water, go back to sleep."
I love that her perfect day mostly involves sleeping, eating, smoking weed and pooping. I love her Leo D story and if you read the full THR piece, there's even more to their interaction. He wasn't hitting on her, but when she mentioned Gilbert Grape, he started telling her about all the stuff he did to prepare for that role. After he said his piece, she was like "All that's good, I just need to know, When's this gonna happen?" And it didn't happen! Why doesn't Leo want to be with Tiffany? Is it because she's 38???
As for Sanaa Lathan being outed as the Bey-biter… look, Sanaa brought that on herself when she bit Beyonce.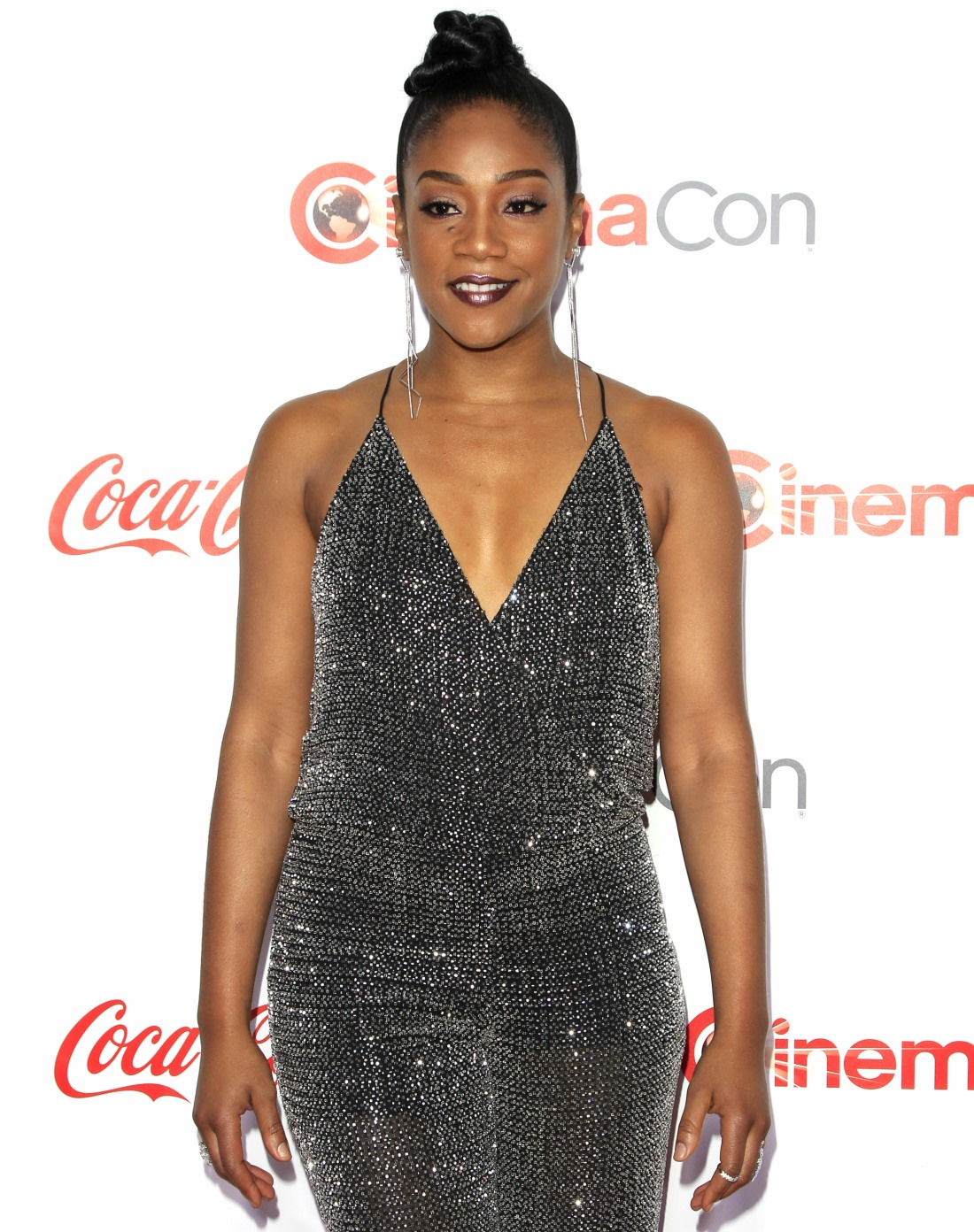 Photos courtesy of WENN, cover courtesy of THR (sent from promotional email).