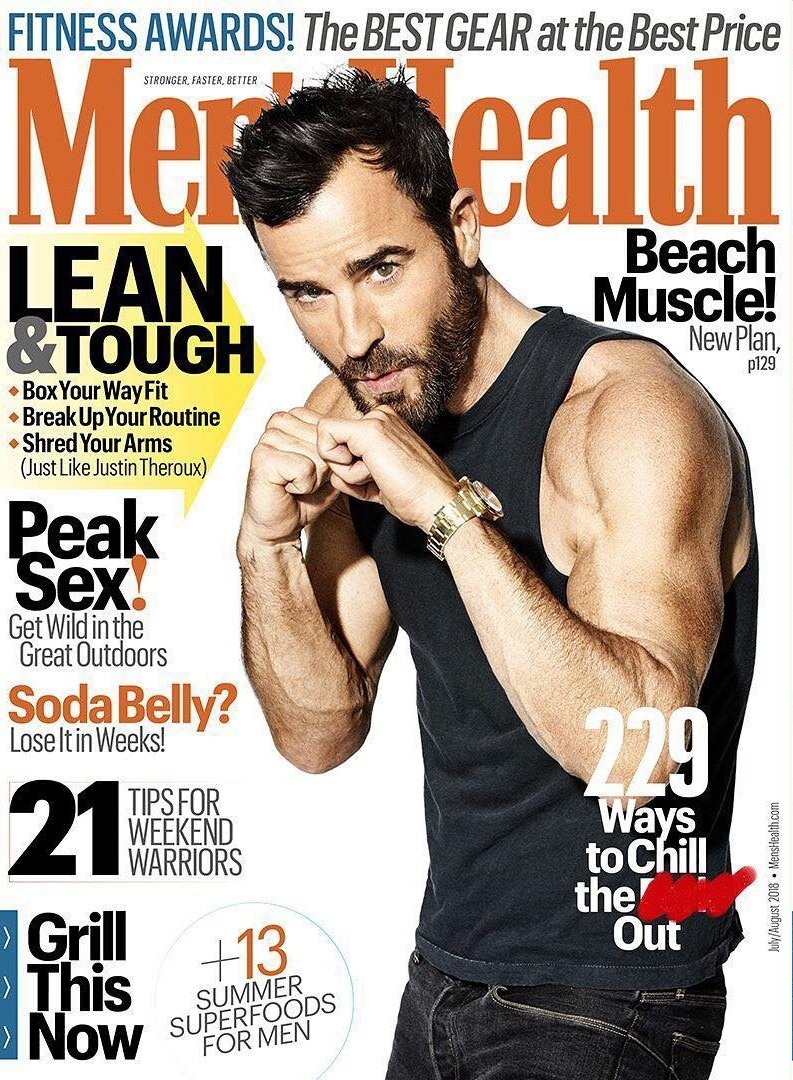 Justin Theroux covers the July/August issue of Men's Health to promote his role in The Spy Who Dumped Me. It's a lighter action-comedy with Mila Kunis and Kate McKinnon, and Justin plays the "spy." It's one chance to play that kind of badass spy character and it's in a comedy. Still, I'm interested in seeing how the film does, and I'm interested in the reviews. As for this interview… it reads like Mid-Life Crisis Monthly, quite honestly. Maybe Justin Theroux is truly edgy, but if he was really edgy, would have to perform his edginess so thoroughly in Men's Health magazine? I don't know. You can read the full piece here – it starts out in a boxing ring and the piece ends with Edgy Justin's weekly workout tips. Hint: he doesn't do leg days!! He's all about the arms (and his torso, to be be fair). Some highlights:
Life at 46: "When I was in my early 20s, I was impatient. Always wanting things to happen the way I wanted them to happen. And that has gone away. Not completely—because there are definitely things I want to happen in the time I want them to happen. But I don't lose sleep over things anymore the same way I used to… I learned—not early, but at some point—if you do the things you like to do, you'll produce better work. When you're doing things you don't want to do, the work suffers. How could it not?"

What happens when something's not working: "I get up and do what I do. When I do things I don't necessarily want to do, or I get stuck in a situation where I'm like, 'Oh, this was not the best choice,' I'm still aware there's something to be gleaned from that experience. You have to just find some nugget that makes it worthwhile. Otherwise you'll completely give up. Bad work experiences are instructive: (A) what I shouldn't do again; (B) how things are done wrong and how I can do better."

Why he signed on to The Spy Who Dumped Me: "I can tell you I am a spy, and I do dump someone. This little bonbon popped up and I love Mila and Kate, so I was like, 'Yeah, let's go to Budapest and do this. I get to shoot things, blow things up, and be a spy for a while.'"

On bucket lists: "I was talking to someone recently about bucket lists, and I was like, 'I don't have a bucket list.' In ideal circumstances, the bucket list just starts to happen if you're leading your life well. I happened to be driving by a skydiving school once and decided to go skydiving. A split-second decision. It wasn't anything I planned. I always wanted to ride a motorcycle across Europe. I've done that three times now."

His tattoos: "I don't put a lot of thought into mine. I never had a stage when I was like, 'I want to get a tattoo, it has to be really meaningful, it's also gotta have a yin and yang in it and be an homage to my mother.' There are a lot of people designing their own tattoos who are frustrating a lot of tattoo artists. I'm real easy. I'll go in, like, 'What should we do?' 'I dunno, what do you wanna do?' So it's kind of when the mood strikes."
Won't anyone think of the frustrated tattoo artists who just want to be left in peace to design tattoos without people wanting something personally significant to ink on their bodies for the rest of their lives? My God. I honestly don't care about tattoos at this point – some people have them, some don't, some look good, some don't. But trying to prove your I'm So Hardcore And Edgy pass by claiming he'll just let tattoo artists do whatever they want to his body? Dude. As for the rest of it… as I said, the whole piece came across as Mid-Life Crisis Monthly. He wouldn't say anything about Jennifer Aniston either, which just adds to my suspicions about whether they were even truly married.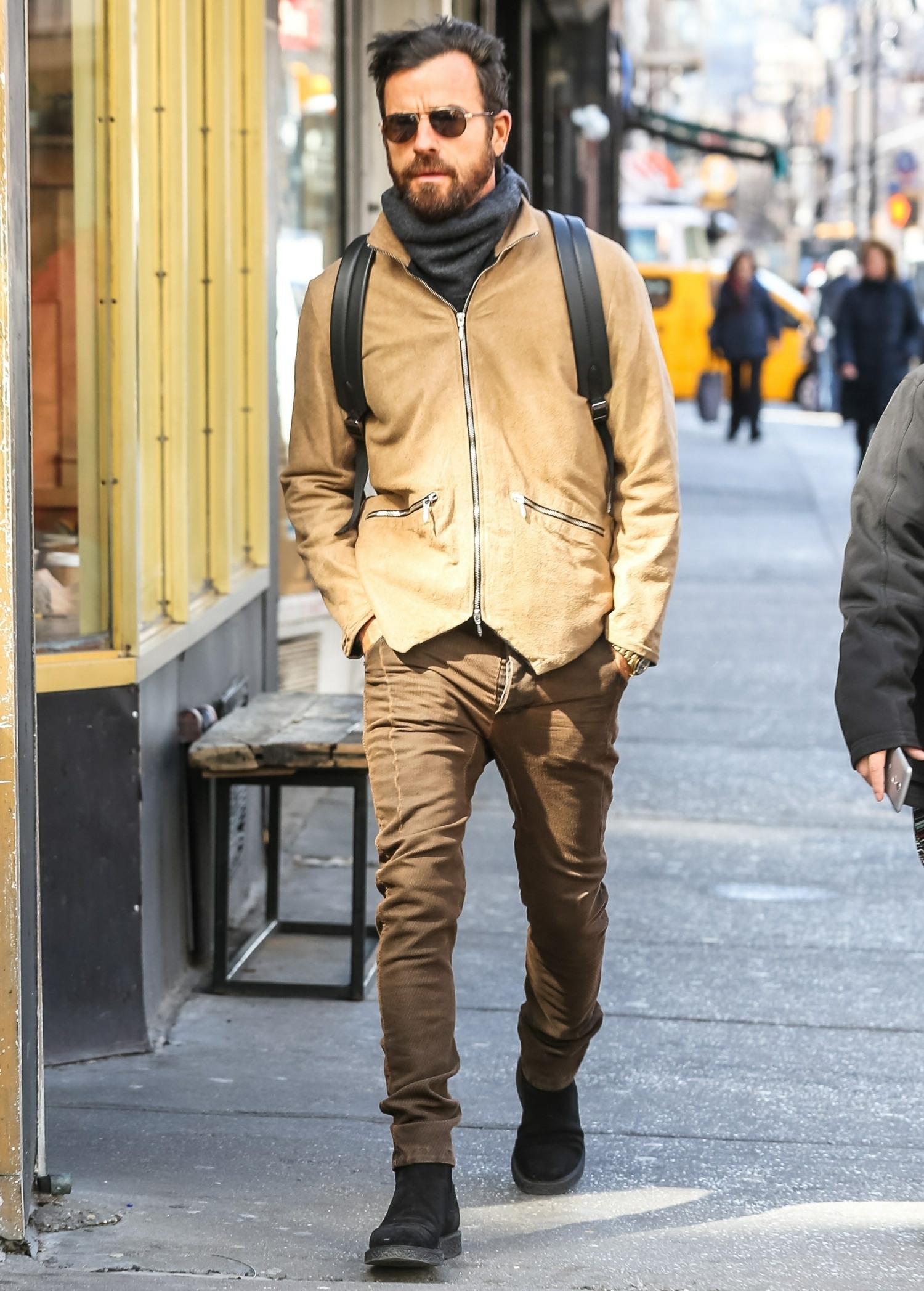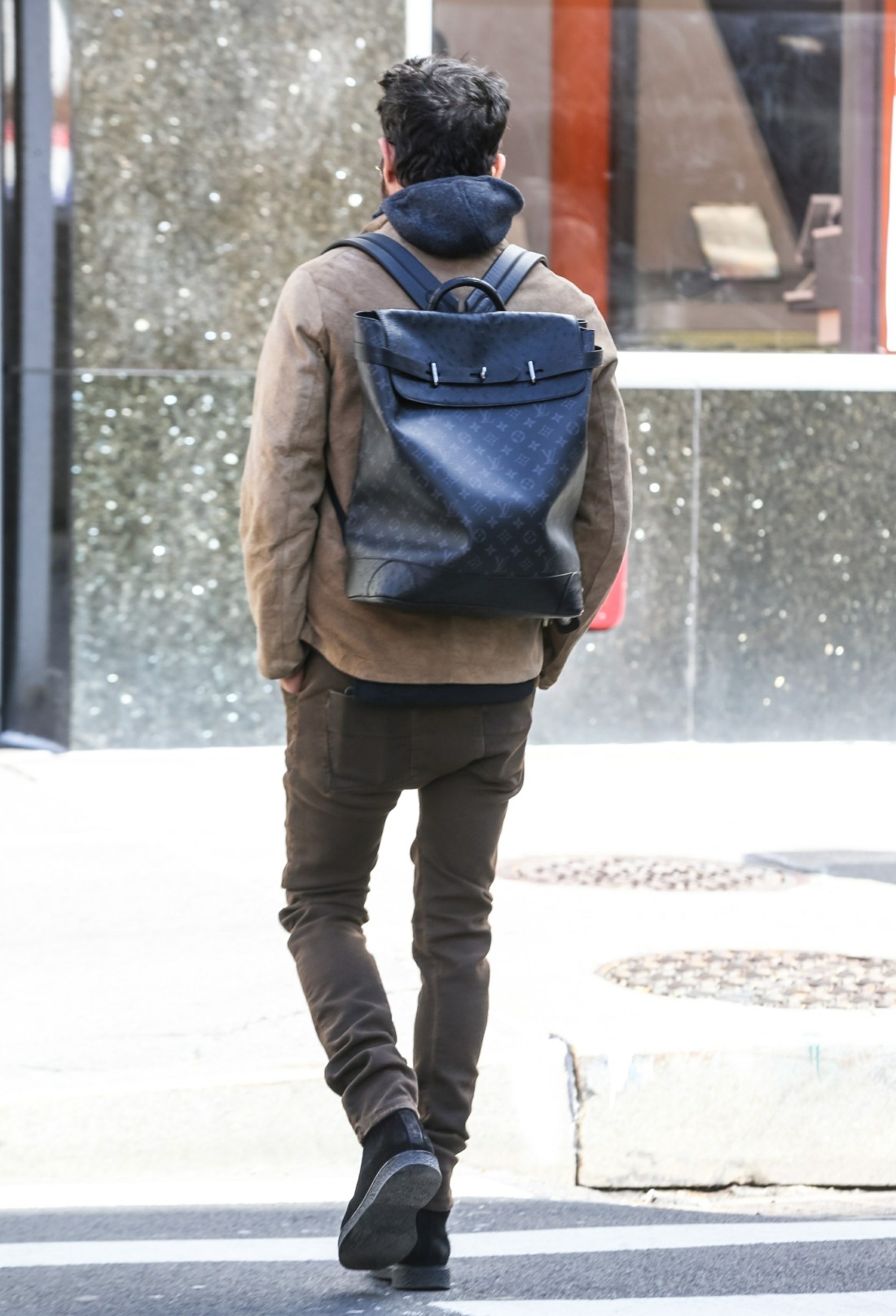 Photos courtesy of Backgrid, cover courtesy of Men's Health.