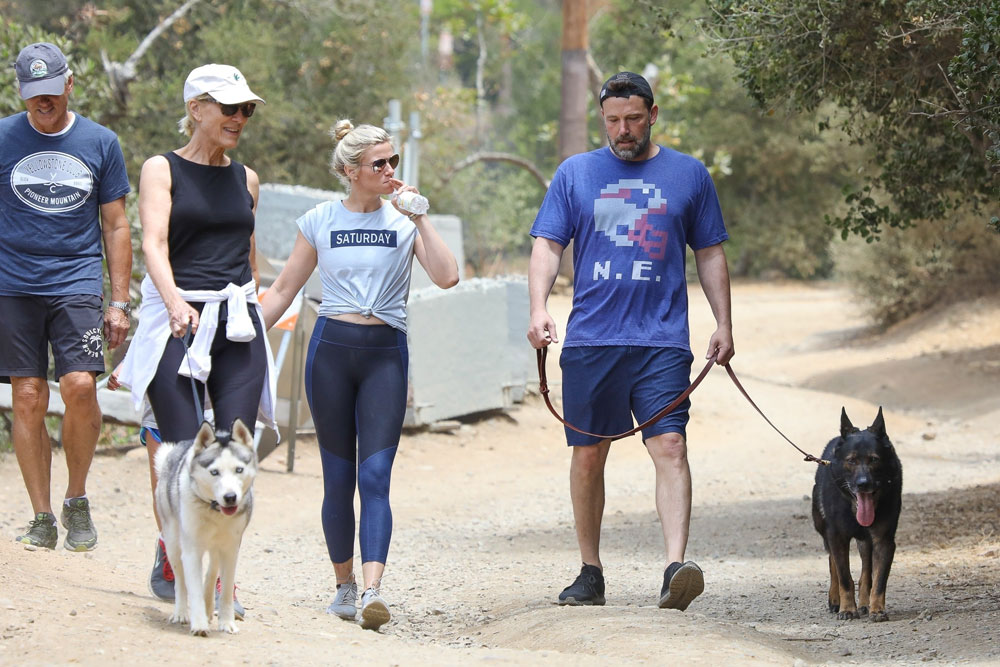 These are photos of Ben Affleck, Lindsay Shookus and her daughter and parents out hiking yesterday with their dogs. Ben adopted the husky as a "stray" puppy in October of last year. He's had the German Shepard for some time as I'm pretty sure he was photographed with that dog back in 2012. (A search for "Ben Affleck German Shepard" reveals that the dog's name is Hutch.) He also has a three year-old golden retriever that stays with his family.
E! Online has the news that Ben Affleck and Lindsay Shookus had a date night along with her parents. Lindsay's parents are staying at Ben's new mansion along with Lindsay's five-year-old daughter. (The photos of Lindsay, Ben and her family at dinner are exclusives and you can see them on X17 and E!) E! curiously adds the detail that Lindsay had a glass of wine. We know that Ben has been struggling with his sobriety and from that angle Lindsay's drinking is noteworthy. However this reads like a publicist-sourced article, which suggests another reason for emphasizing Lindsay drinking. Remember how X17 has been suggesting Lindsay is pregnant (because she has a normal-looking stomach from some angles)? Lindsay and Ben even went to a doctor together, leading X17 to double down:
she's totally pregnant! @BenAffleck and Lindsay Shookus visit the doctor together… get all the details! https://t.co/H2pHHXJsgv pic.twitter.com/3yim1meXol

— X17online.com (@x17online) June 22, 2018
So it's likely deliberate that Lindsay is wearing her top knotted to show her flat stomach and that she had wine with dinner. I doubt Ben's people want to make headlines by denying that she's pregnant. Some of you have said that Lindsay has been spotted out with an engagement ring, but if that's the case my Google skills are lacking. Plus there was just that whole ET Online article claiming that they're taking it slow and that "Ben isn't ready to propose and has no plans to get engaged anytime soon." That would be bad optics too considering that he isn't even divorced yet.
Well Ben and Lindsay are still together, they're serious and want us to know about it. People even has a bunch of quotes about how great everyone got along. They add the detail that "Ben picked up the check at the end of the night."