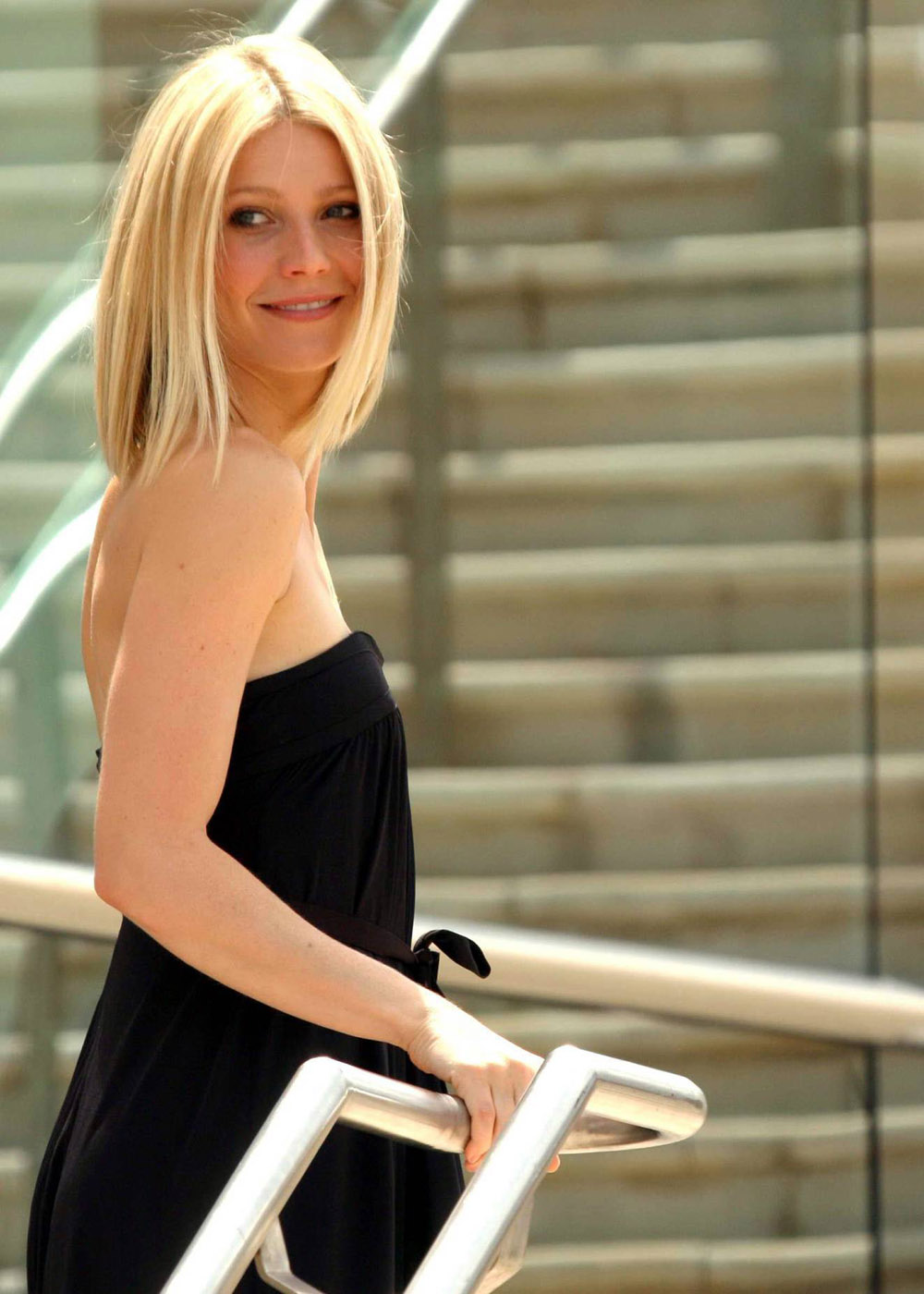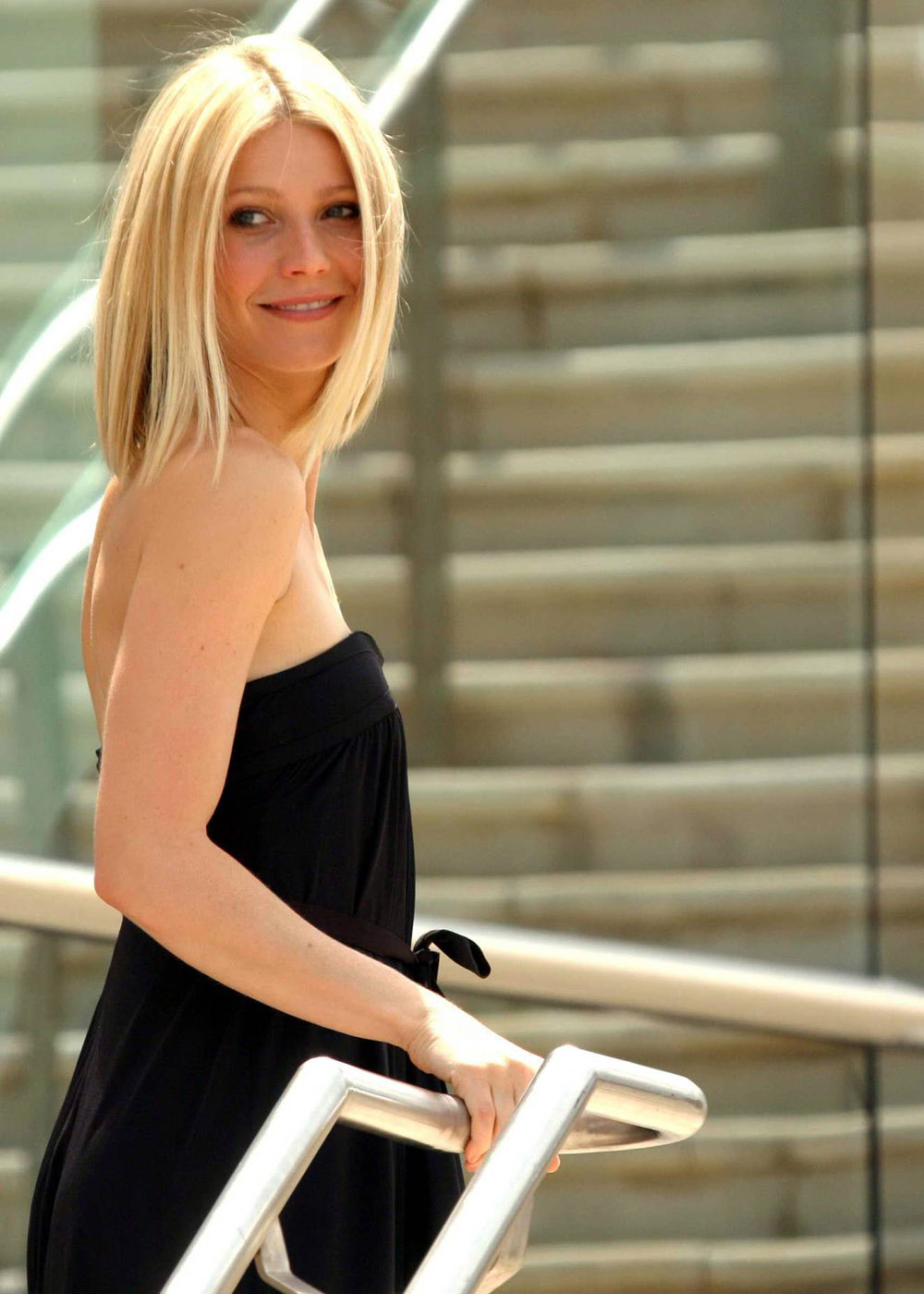 Gwyneth Paltrow has deigned to speak to us peasants once again! This time she's not trying to teach us fat morons how to make a sandwich, thank God. But you know that as she was being interviewed she was thinking to herself "I bet this common hillbilly knows nothing about vegetarian bacon. He probably tried to butter his forehead."
For this interview, Gwyneth has decided to condescend to tell us how Spain is so much cooler than wherever we're living. She raves about the "history" of Spain and how much she enjoys "the way people live over there… They enjoy time with the family. They don't always have their Blackberries on." Oh, for Christ's sake. Some of us have jobs, Goopy! We have stuff to do. We don't have the luxury of waltzing around a film set a couple of months a year and stashing away a seven-figure salary for our trouble.
I think the interview is being done to promote two of her projects – first, this vanity food thing with Mario Batali called Spain… On the Road Again. The second is something very, very special. Wait for it… wait… ¡Goop En Español! That's right. Gwyneth is launching her Goop monstrosity in Spanish. Dios mio…
Gwyneth Paltrow speaks almost perfect Spanish _ and she does it with an Iberian accent.
The Oscar-winning actress says she traveled to Spain as a teenager, fell in love with the country, and embraces the culture to the point that she visits at least once a year and makes sure her young children, Apple and Moses, also speak the language.

"When I was 15, I went to a small town outside Talavera de la Reina and I had the most wonderful experience. It really changed my life," Paltrow said in fluent Spanish during a recent interview.

Paltrow said Spain "became a second home."

"It is so different from the United States. It seemed to have a history, and the buildings are years and years and years old. Here in the United States an old building is about 17 (years old), and over there it's from 500 B.C., it's incredible," she said.

"Also, the way people live over there. They seem to enjoy life a little bit more. They aren't running around as much as in New York. They enjoy time with the family. They don't always have their Blackberries on."

Paltrow remains close to the family she lived with in Spain, calling them "my Spanish mother" and "my brothers" from Spain. Her success as an actress, she says, hasn't impressed them.

The 36-year-old actress, who is married to Coldplay's Chris Martin, says she talks to her children in Spanish.

"Moses speaks a little bit, but understands everything. Apple speaks a lot," she says.

Paltrow shot "Spain … on the Road Again" with chef Mario Batali, cooking expert Mark Bittman and actress Claudia Bassols. They traveled throughout the country, sampling traditional foods and praising the virtues of Spain, its people and cuisine.

She's also writing a book on U.S. cuisine with Spanish influence that is due out next year.
" … I love food, I love to eat," she says. "I can't go on diets. I have to do a lot of exercise."

Paltrow recently launched a Spanish-language version of her Web site, GOOP.com, a weekly bulletin in which she writes on topics ranging from health advice and travel to fashion and cooking. Contributors include Madonna, Steven Spielberg and Deepak Chopra.

Has she considered acting in Spanish?

"I would love to. I haven't found the script yet, but the first (movie) would have to be a small role, not very important, because I imagine I would have to get used to acting in Spanish," she says.

Paltrow says she'd like to work with Spanish directors Pedro Almodovar and Alejandro Amenabar and Mexico's Alejandro Gonzalez Inarritu. And she says she would like to work again with Mexico's Alfonso Cuaron, who directed her in 1998's "Great Expectations."

She is now shooting "Iron Man 2," in which she reprises her role as Pepper Potts.

"We're all back together: Robert Downey, Jon Favreau, the director. And Scarlett Johansson is with us, Mickey Rourke. … It's a phenomenal group, we are having a great time."
[From The Associated Press via Huffington Post]
After she said the part about acting in Spanish, I bet Penelope Cruz's eyes rolled out of their sockets. Doesn't this interview remind everyone of that alleged Paltrow interview from a few years ago? The one where Goopy claimed she was "misquoted" when she was talking about how great "the English lifestyle" was because "it's not as capitalistic as America. People don't talk about work and money… they talk about interesting things at dinner." How does one say "little sanctimonious b-tch" en Espanol? Las Goopitas, perchance.
Here's Gwyneth at the photocall for "Two Lovers" at the Cannes Film Festival on May 19th. Images thanks to Mavrix.