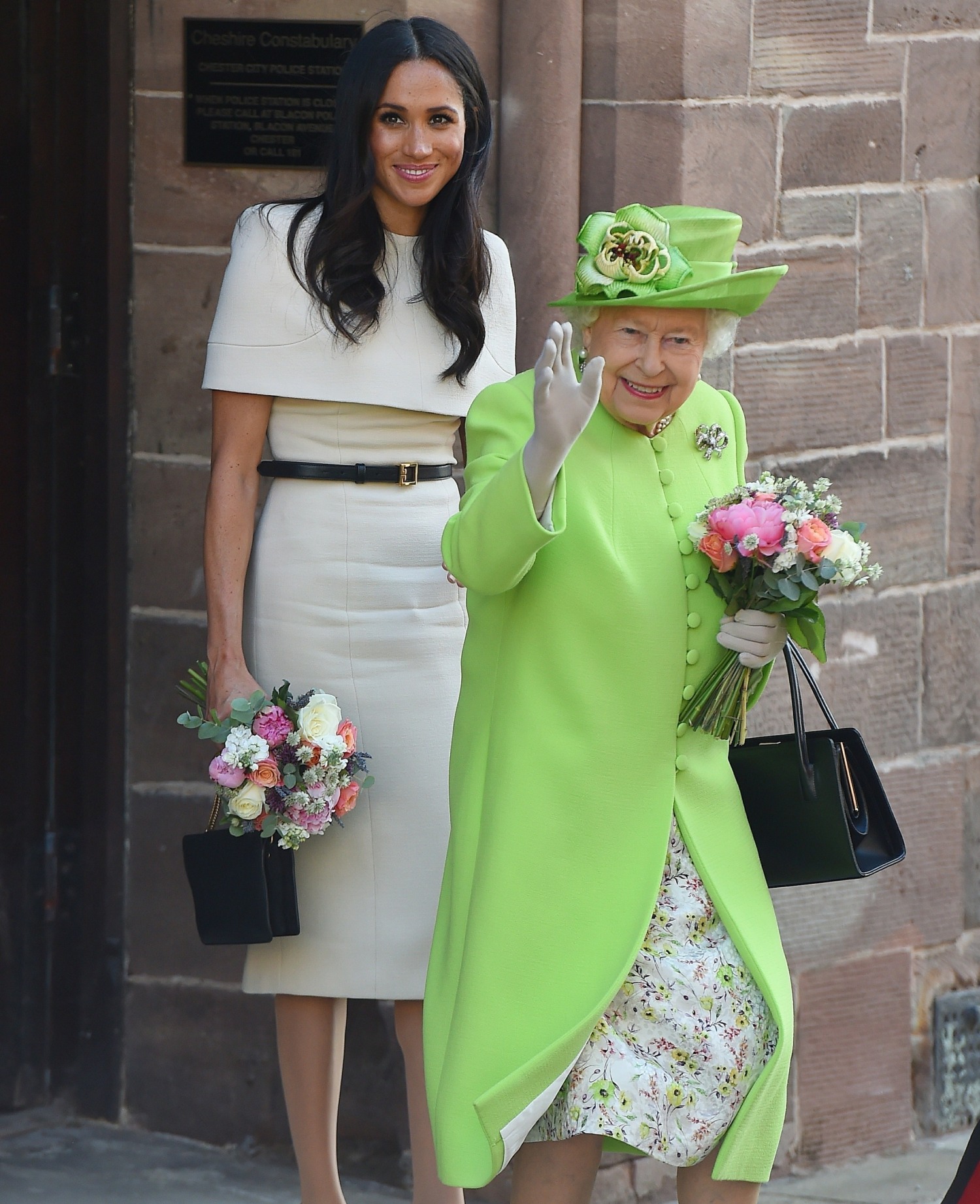 I can't wait for the inevitable comments on this post: "WELL KATE IS GOING TO BE QUEEN!" Yes, we know. We know that in 20 or 30 years, the Duchess of Cambridge will be the work-shy Queen Regent Consort of the United Kingdom. We also know that it's pretty interesting that the current queen, Queen Elizabeth II, seems to have a lot of time and affection for her new granddaughter-in-law, the Duchess of Sussex. The Queen has organized sleepovers and girls' trips and invited Meghan to the palace. The Queen has shown a – dare I say – KEEN interest in showing Meghan's the royal ropes.
Learning from the best! Since she wed Prince Harry May 19, Duchess Meghan has been learning the royal ropes from the ultimate expert: Queen Elizabeth II. Her majesty "has met Meghan on more than a few occasions, privately and publicly," a source reveals in the new issue of Us Weekly. "It's been a fantastic opportunity for her to get to know more about Meghan and where her passions lie."

So far, the 36-year-old American has impressed her grandmother-in-law. Meghan "quickly demonstrated that she is intelligent, polite and keen to learn," says the source, adding that her "enthusiasm towards living a life of service and humanitarianism excites the queen and it's just the type of vim and vigor she likes to see in someone."

The 92-year-old has impressed the former actress as well. "She has a brilliant sense of humor. That's one of the first things that brought her and Meghan closer," says the source. "It's that warm side of her that has made Meghan feel so at ease."
For those diehard Keen Defenders, let me share my theory with you, in the hopes that there will not be so many "but Kate will be queeeeeeen" comments: I think QEII would have done this with Kate too. I think Queen Elizabeth was probably willing and eager to spend time with Kate and take Kate under her wing. And it just didn't happen, because Kate's priority has always been William and whatever William wants. Kate hid away in Anglesey and then in Norfolk. Kate had no interest in being tutored on royal life by the Queen, because that would seem too much like "work." So at some point, the Queen stopped trying with Kate. And now Meghan gets the Queen's tutelage.
Photos courtesy of Getty, Backgrid.