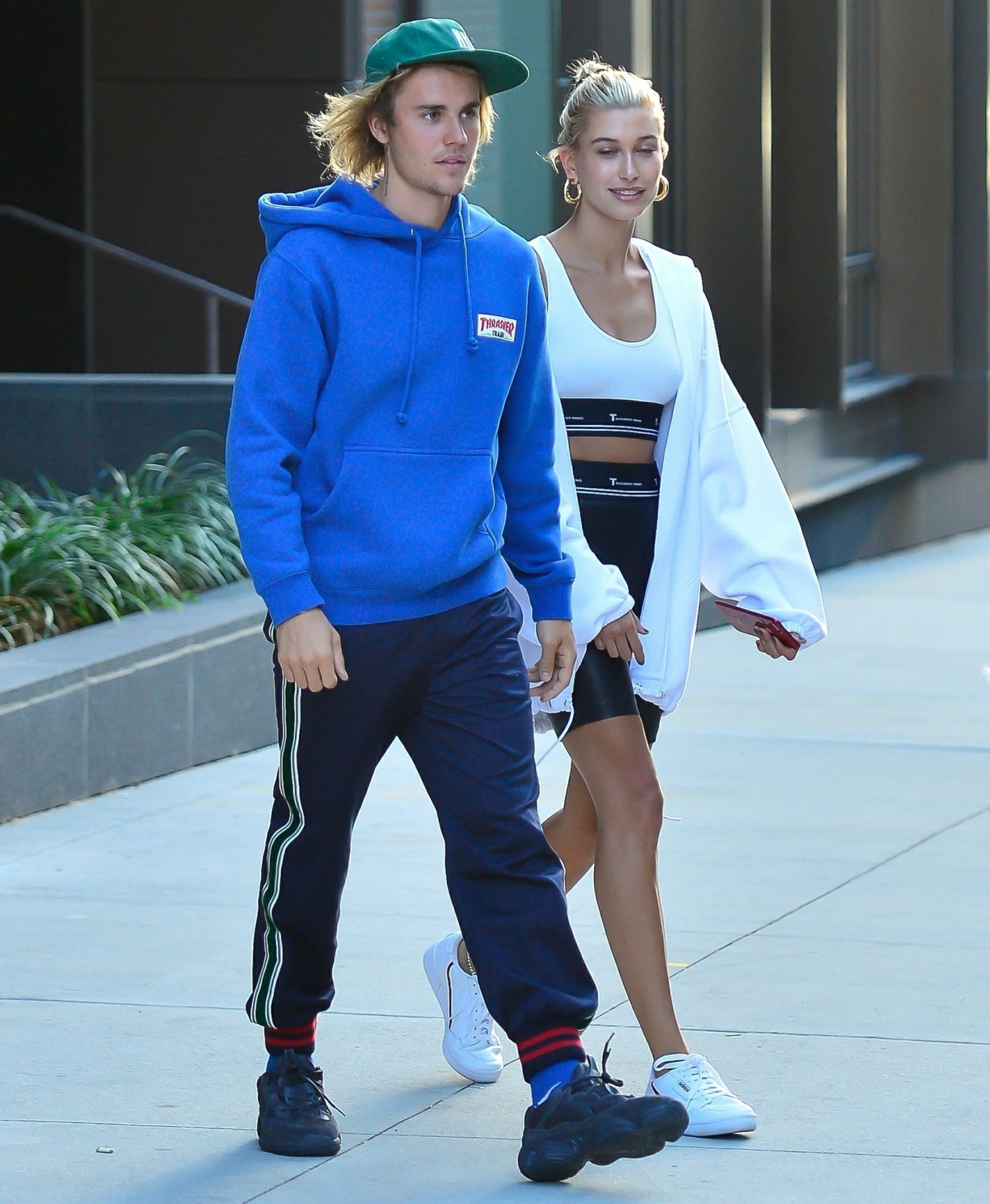 Justin Bieber and Hailey Baldwin are still engaged. It's lasted a whole week, let's celebrate! Seriously, I still don't know what to think about this engagement. Will it end in a month? Will they elope? Will they try to organize an actual wedding? Is it all part of some Scooter Braun conspiracy? Does the Hillsong church have anything to do with this? We still don't know. Sources did speak to Us Weekly about WHY Justin proposed to Hailey right now:
All about timing? Justin Bieber "needed" this engagement to Hailey Baldwin, a source exclusively tells Us Weekly, noting that the singer was craving a sense of normalcy.

"He has been a kid sensation for as long as he can remember," the source explains. "You become muted to that fame. He finally feels somewhat normal and it's a right time for him to settle down with one person."
This actually wouldn't surprise me, you know? It's less about Hailey being the love of his life and more about his "light being on," and Justin just making up his mind that he was ready to try a for-real committed relationship. He doesn't realize that he could just date someone, fall in love, move in together and NOT cheat on her and that would be a committed relationship too. Instead, he just dropped half a million dollars on a diamond ring for the first girl he saw when he decided he was ready for a commitment. Speaking of the ring, People Magazine has some details:
Justin Bieber put careful thought into planning fiancée Hailey Baldwin's engagement ring, says the man behind the diamond, Jack Solow, a private jeweler based at New York City's family-run jewelry store Solow & Co.

"Justin did have a hand in selecting the diamond because I sent videos to his team," Solow tells PEOPLE. "I know him through [his manager] Scooter Braun. When it came time to find a ring, Justin asked Scooter and said, 'I'm ready to pop the question' and he said, 'There is only one place to go, ask Jack.'"

Solow, who is best friends with Braun's father, designed engagement rings for Braun and his entire family and was honored to help the singer find the perfect stone for Baldwin.

"In the end, Justin wanted something that would gracefully accentuate Hailey's beautifully-shaped hands. We settled on an oval stone that was just exceptional in its length and grace. Look at her hands — she's exquisite," says the jeweler, who had a "few weeks" to make the custom diamond sparkler, which is somewhere between 6 to 10 carats.

"Justin gave this a lot of thought. When I saw him, I think he was very happy about what we did together. He was in a very good head space for the decision he was making," Solow recalls. "I showed him all the details and all the intricacies like I would give any other 25-year-old boy who would come to the office to buy an engagement ring. He seemed really excited. He was looking inside the diamond with the loop, and said 'I think I see Hailey's face.' "
He started shopping for an engagement ring after he had been dating Hailey for maybe two weeks, tops. As I said earlier in the week, Hailey and Justin have known each other for a long time, so it's not like they just met. I'm pretty sure that they've gone through some hook-up cycles before too. But still… you don't put a ring on it after just a few weeks. Ridiculous.
Photos of her ring are all over Twitter and the internet – it's a large oval diamond, between 4 to 6 carats, and the clarity and brightness are quite good. I'm not sure if it's worth $500K, but it's a beautiful stone.
Congrats @justinbieber @haileybaldwin on a spectacular design collab💎💍🤝❤️In honor of the young couples engagement SOLOW & CO. is proud to mark the occasion w a $5K donation to Haileys charity of choice, the Carol M. Baldwin Breast Cancer Fund✨🙏 #justinbieber #haileybaldwin pic.twitter.com/YNfazMkTd2

— SOLOW & CO. (@SolowCo) July 11, 2018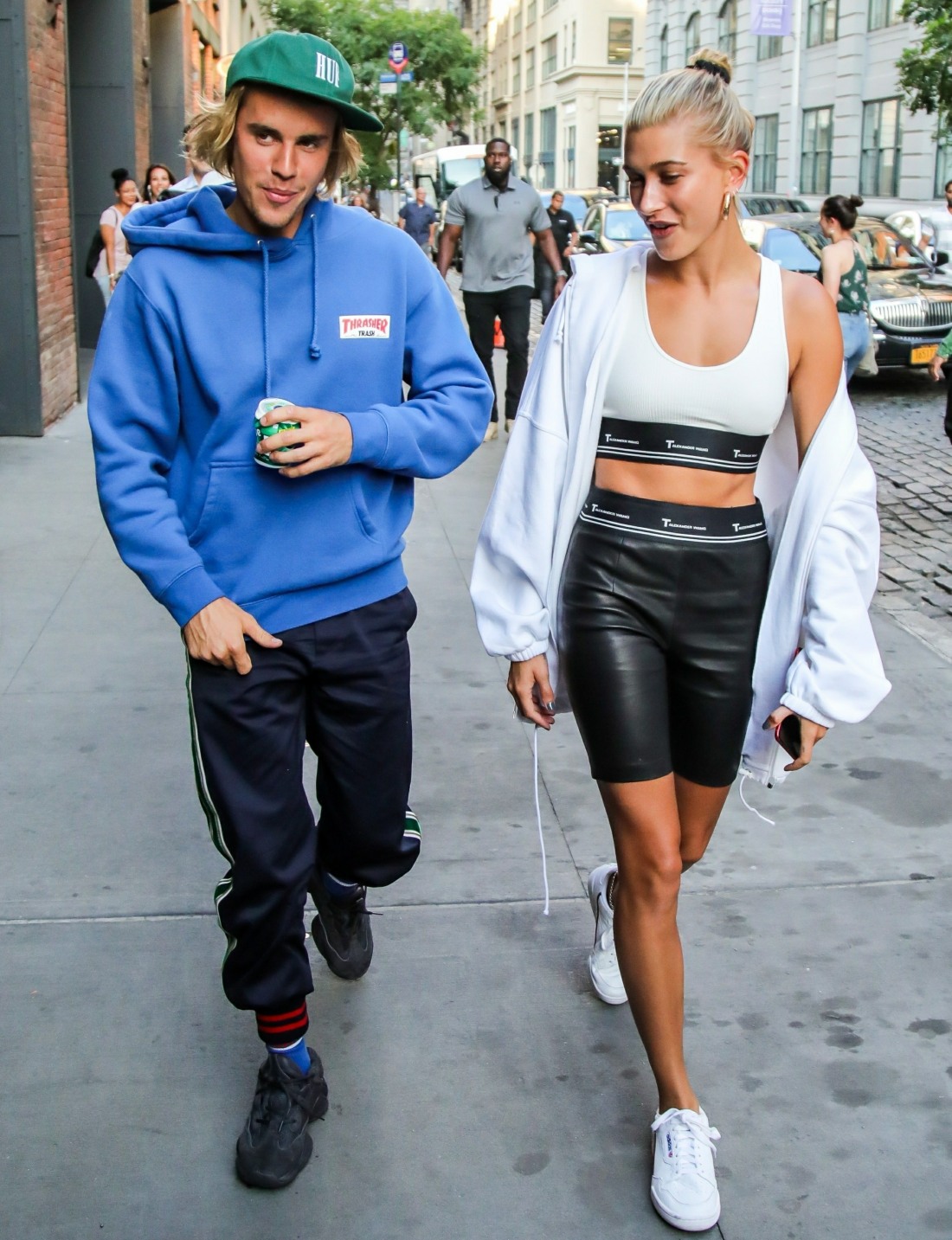 Photos courtesy of Backgrid.