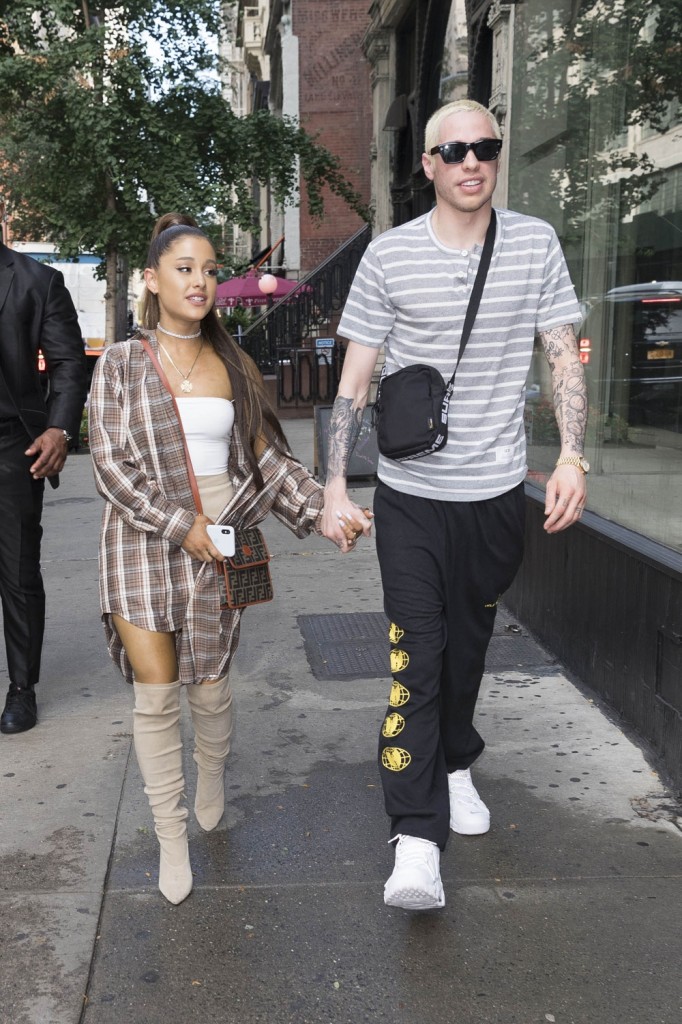 Ariana Grande recently got her sixth tattoo for Pete Davidson, the word Pete on her ring finger, and he has a similar number of tattoos for her. (I couldn't figure exactly how many in the three minutes I tried.) They have at least four matching tattoos, one of which is the number 8418, which was the badge number of Pete's hero dad, a firefighter who died in the World Trade Center on 9/11. Pete gave Ariana his dad's firefighter badge pendant, which is sweet, and defended his decision when someone questioned him about it.
Later, when people pointed out that Pete's ex, Cazzie David, used to wear that pendant, he said that he gave her a replica and that Ariana has the real one.
Fans flocked to David's Instagram and pointed out that the Davidson's ex, whom he dated for two years before calling it quits in May, is seemingly wearing the necklace in a photo posted in December 2017.

"Same chain he gave to Ariana his dads fire department one 👀," one user wrote in the comments of David's photo of herself at the beach with a friend.

A second person commented, "welp the there the same necklace."

"The same necklace Pete gave Ariana 💀💀🤡," another fan replied.

Amid the fan speculation, Davidson revealed that the necklace he gave David was actually a replica of his father's badge.

"@iamcharicehughes actually i didn't give that to my ex. yes she had one but it was a replica," he replied to a fan who said called giving the necklace to both women "ridiculous."

"i had a bunch of replicas made," he continued. "my sister and grandpa also have one. the one that ari has is the one my dad actually died in and the one [he] wore his entire career and the one i've worn for 17 years. i've actually never taken it off other than for snl or work. so it means a lot of me. hope this helps. please learn to be nicer and not to assume the worst in people. it's a terrible way to live. much love."
There's speculation that Ariana and Pete are going to pull a Beyonce and Jay-Z and get married on a date that's significant to them, which would of course be August fourth of this year, coinciding with Pete's late dad's badge number. Considering how crazy they are about each other, and the fact that they got engaged less than a month after they started dating, I don't think this is out of the question. [via Dlisted! They have more details]
I have yogurts in my fridge I still plan to eat which are older than this relationship. Of course they should wait a minute and get to know each other better, I doubt they've spent a night apart since they got together, but you know they're not going to do that. They're going to get married, they'll Instagram the whole thing, and it will be fun to watch. They'll last longer than Kim Kardashian and Kris Humphries probably, at least they're living together first, but they're going to have a reality check at some point. Given how open they've been on social media, I think we'll know exactly when that happens, if only because they'll stop posting so often.
On the topic of love and making relationships love last I want to recommend a podcast I listened to over the weekend called The Good Life which interviewed the author of The Four Noble Truths of Love, Susan Piver. If you've studied Buddhism or are Buddhist you might not find it as fascinating as I did but she blew my mind a few times. She said that relationships suffer the closer we get to someone because we start to think of them as part of us. We treat ourselves like crap and we're hard on ourselves so we tend to do the same to our partners. (Abusive situations are different.) There's so much more wisdom in that episode.
Anyway I want Pete and Ariana to last, they clearly adore each other, and hope they wait at least until next year to make it official. They still won't be out of the honeymoon phase but at least they'll have some perspective by then.
Ariana posted this clip of Pete watching her perform "God is a Woman," her new single. (The video is here, she's wearing body paint so maybe it's not suitable for work or around little kids. It's catchy I like it. My favorite part is at 1:37!) He stares at her intently and then gulps afterwards like he's nervous. He looks really tired.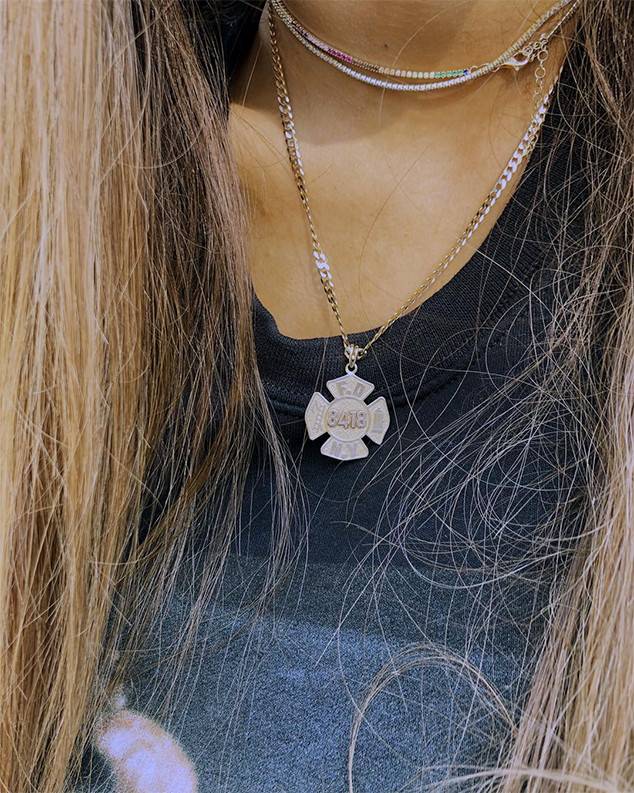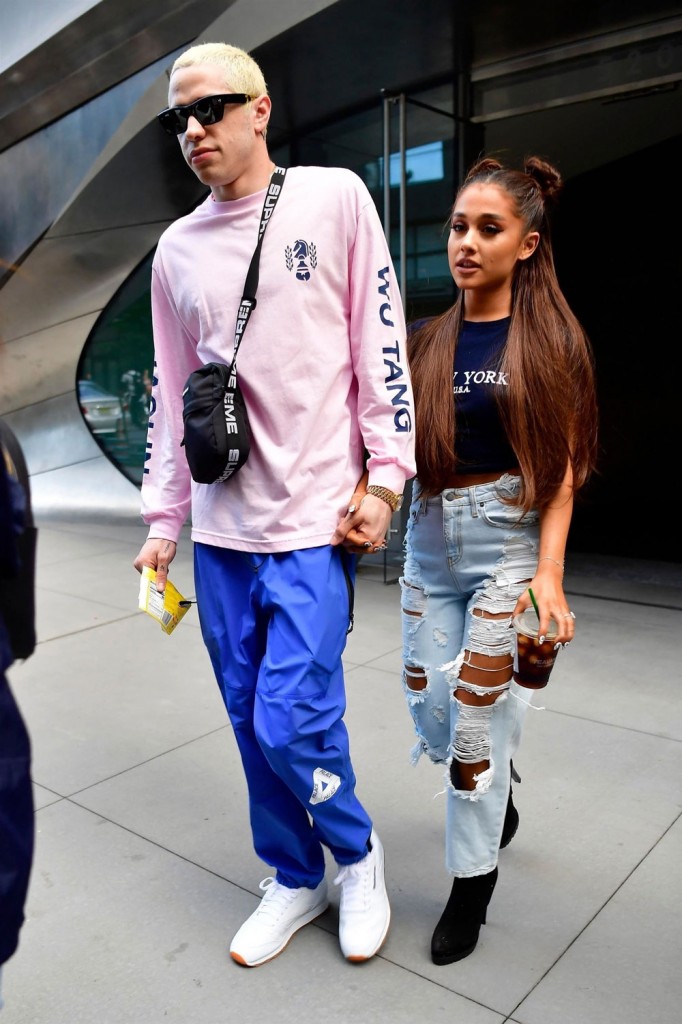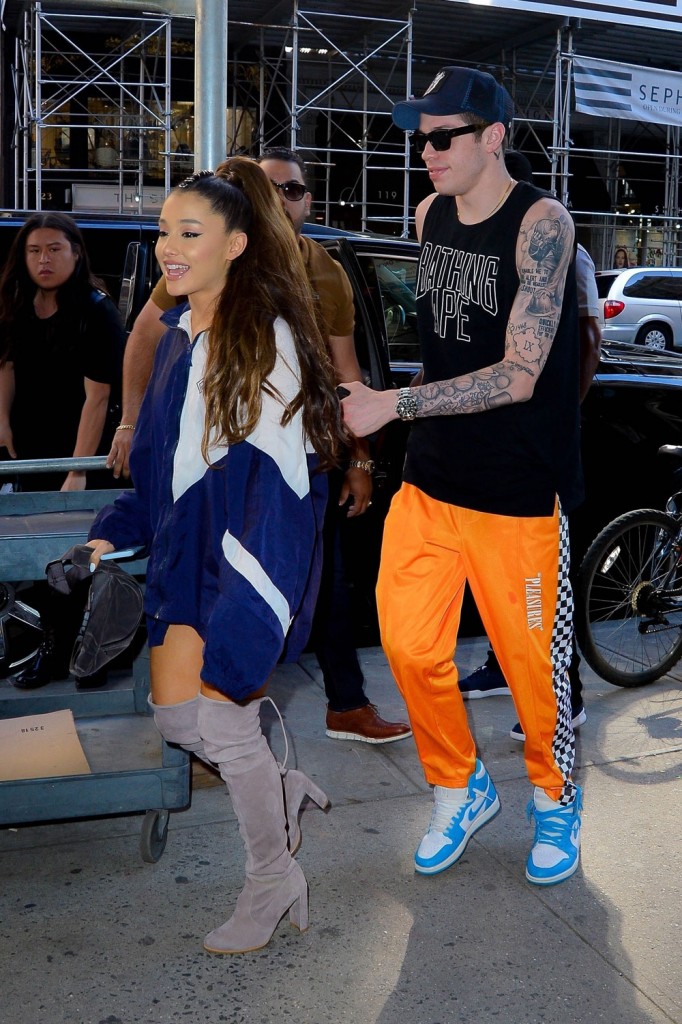 Photos of Ariana in the blue and white jacket are from 6/29. The photos where she's wearing jeans(!) are from 7/11 and the ones where she's wearing a flannel shirt over a tube top are from yesterday, 6/16. Credit: Backgrid