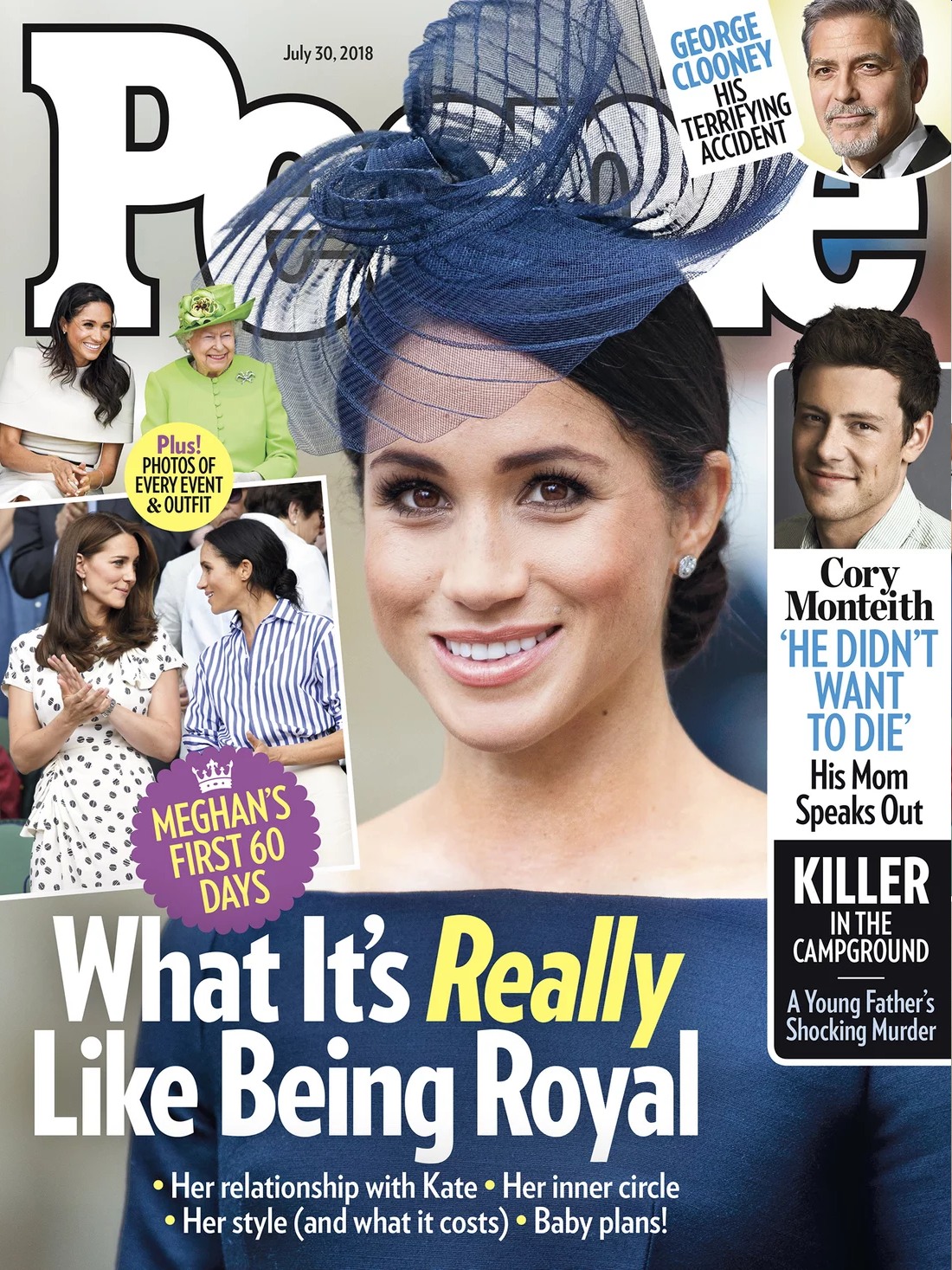 So, I know I'm really, really late to the party, but I finally started watching The Crown. I'm enjoying it, even though as an Anglophile royalist, I know a lot of the history being covered. As I'm watching, I'm like "hahaha, sh-t it going to get real when Diana comes on the scene!" Because so far (in Season 1), it's all about the Queen's duty and how public opinion means next to nothing and everything is being done a certain way because that's how everything has always been done. It's a stifling way to live and exist, and as an American, of course you're asking yourself, "no really, she's the Queen, she should be able to make *some* of these decisions herself, right? When can I call 'bullsh-t' and make my own decisions?"
So modern American girl Meghan Markle finds herself in the same predicament now that she's a duchess. I told her – as did many other people – that she wasn't just marrying a charming ginger prince, she was marrying into an establishment which uses "protocol" like a switchblade. Meghan finds herself asking "but why do things have to only be done this one way?" And the answer is always: because that's the way they've always been done. That's People Magazine's cover story.
Meghan Markle has expertly navigated her new duchess role since joining the royal family two months ago. But between outings with the Queen and royal christenings, she's learning the ups and downs of life as the Duchess of Sussex.

Although she has quickly adapted to many of the minutiae of royal dos and don'ts, she "has found certain rules in the royal household difficult to understand, like the fact that the Queen prefers women in dresses or skirts rather than trouser suits, and is often asking Harry why things have to be done in a certain way," a source tells PEOPLE in this week's cover story.

"I think she finds it a little frustrating at times, but this is her new life, and she has to deal with it," the source adds.

Stepping into an entirely new world has also brought a new set of challenges. The outspoken former actress, who includes a reference to being a "feminist" on her page on the official British monarchy website, landed in the headlines after a July 10 garden party at the British ambassador's residence in Dublin, when Senator Catherine Noone tweeted that Meghan had said she was "pleased to see the result" of Ireland's recent referendum to legalize abortion. (Royal family members typically steer clear of political discussions, and Noone subsequently deleted the tweet.)

"That's an example of her naïveté," says Crown historical consultant and royal biographer Robert Lacey. "Within the royal family they talk freely, and everyone knows the rules. She's learning the hard way that you can't trust anyone outside the narrow circle."

Of course, she has her new husband by her side to help show her the royal ropes — along with the Queen's former assistant private secretary, Samantha Cohen, who has been helping her with protocol.

"You can see Prince Harry's hands-on approach, steering her, helping her," photographer Mark Stewart tells PEOPLE.
When we get to The Crown Season 7, I imagine we'll be saying "oof, just wait until Meghan comes along and shakes everything up." Because these people desperately need to be shaken. The Queen "preferring" something is not the same as "royal protocol." Many have said that, over the years, the Queen cares less about these bullsh-t protocol "rules" than the people who work around her, the people who are the real snobs. The Queen likes Meghan, Charles likes Meghan and Harry loves and adores Meghan. That should be enough, but it's not enough for the people around the family, the people who are going to nitpick her and treat her every show of individuality or personality like she's some dumb, gauche peasant.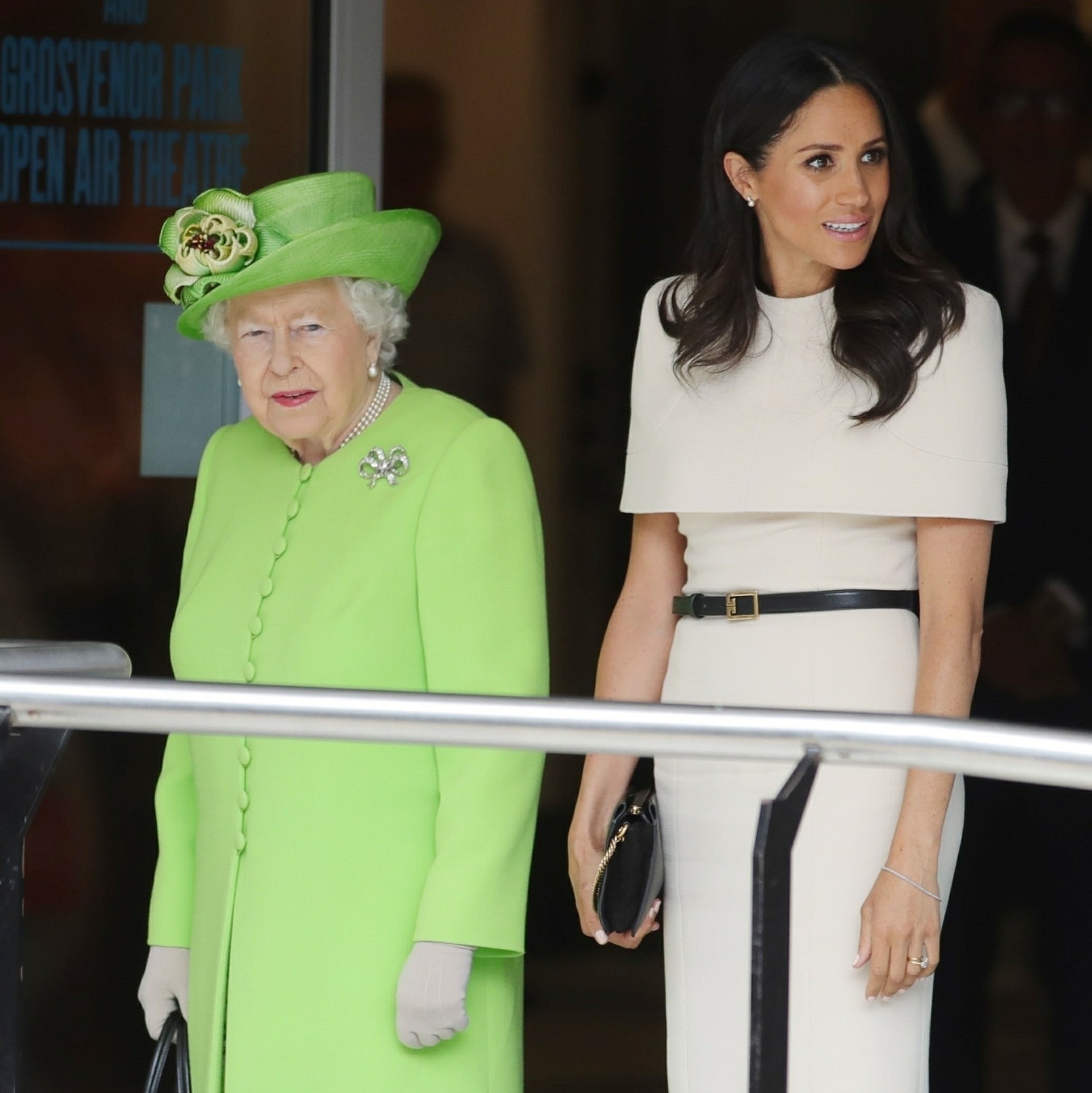 Photos courtesy of WENN, Backgrid, cover courtesy of People.