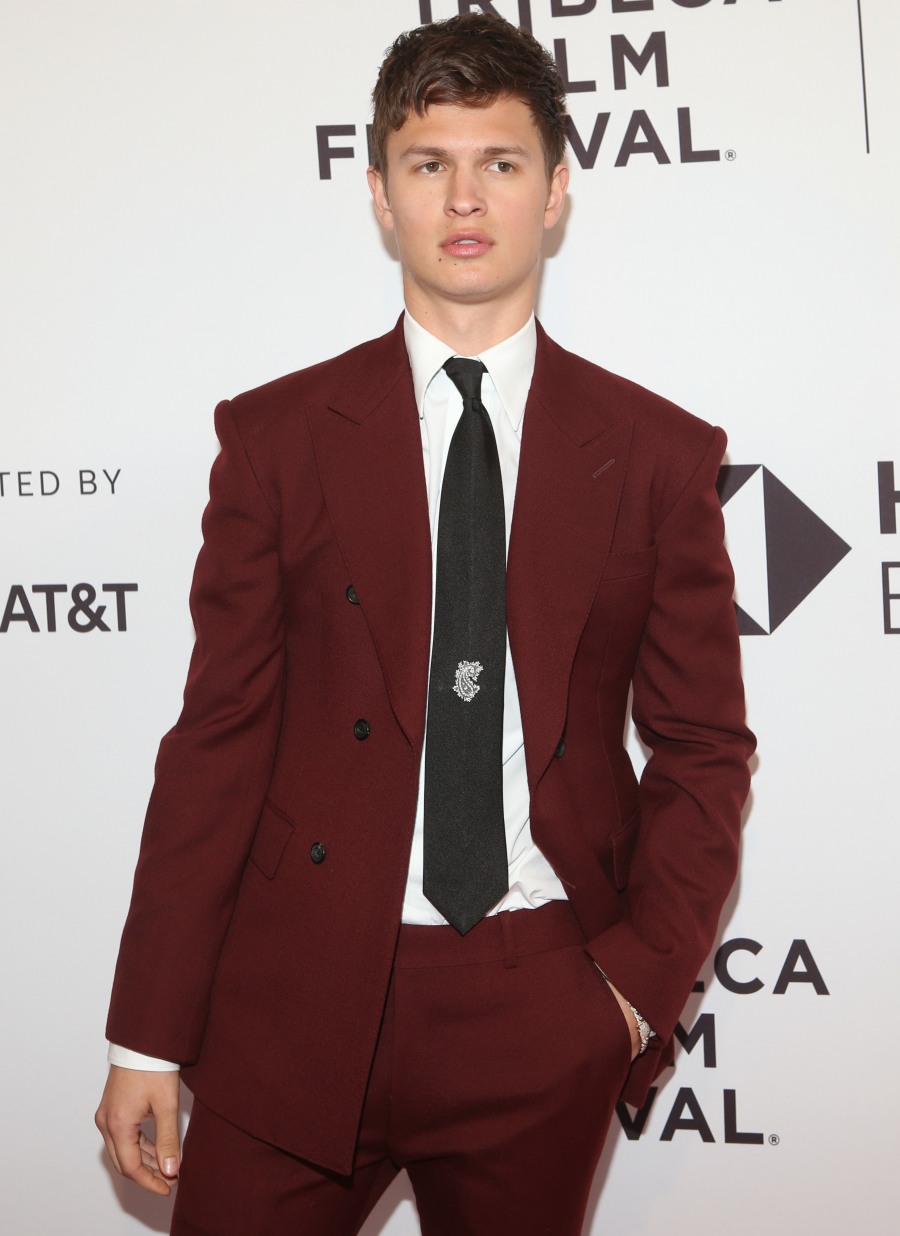 I sometimes think that Ansel Elgort was supposed to be the Bad Rich Boy Villain in all of the '80s teen movies, but somehow he got time-traveled to the current era. That's his vibe to me – rich boy villain from the '80s. But Ansel also amuses the hell out of me, and I enjoy covering him on the rare occasions that he says something gossip-worthy. Ansel was just made the new face of Ralph Lauren Polo Red Rush cologne, and to celebrate, he sat down with People Magazine for a lengthy interview about how he smells, how he shares purses with his girlfriend and how he's anti-fanny pack. I laughed outloud at several points in this interview. He has VERY strong opinions about purses. Some highlights:
On his cologne gig: "It's gonna be a long partnership. I do hope to bring myself to the brand and I think that's what they want. Hopefully [the partnership] does bring fun, nice new energy to the brand in general — not that they need it. It's a big brand. It's global. It's pretty cool."

He always wanted to smell good: "When I was growing up I think the thing that pushed me to always dress well or try to smell good was girls. When you're a young guy and you're chasing after girls it's the idea that I could spray something on me that makes me smell good and help me in that department. As soon as I could buy it I did."

His girlfriend, ballerina Violetta Komyshan, influences his style: "We share handbags — I wear handbags now," he says, adding that they also wear the same rings. "Purses are really cool, or like the ones you put over your shoulder. You can put your camera in there, your phone, your wallet. Sometimes if I'm wearing tight pants I don't want to put anything in my pocket. Or sometimes it falls out of my pocket. So we share those now."

He hates fanny packs: "I don't like the fanny pack trend. If I'm not into it and it's a trend, I'm not going to wear it. And the over the shoulder thing, I've never liked this one either. I always just felt like the other kind of man bags were just boring."

He wishes he could wear women's clothes sometimes: "I think that style should always be personal and you should do what you feel, whatever that is. If something inspires you or you see something you like… If I see clothes on women that I like, unfortunately I can't fit most of it because I'm too big, but anything I like, I'll wear, even if someone else is telling me, "What the hell are you wearing?" It's not going to stop me from walking out of the house wearing it."

Grooming notes: He doesn't wash his hair, he says he only washes his face if he has a "dirty" day and he'll occasionally use one of Violetta's face masks. But he does moisturize, he says. "I never moisturized before I started becoming an actor. That's the important thing. Apparently Pharrell exfoliates. Brad Pitt takes care of his skin."
When I was growing up, it was an oddity to meet a guy who appreciated eyeliner or the functionality of a purse. I feel like Millennials are different though, and I appreciate it. I'm being totally honest, I like that Ansel Elgort is in People Magazine, talking about how he shares purses with his girlfriend. I think it's cute as hell! I wonder if he buys purses for her and tells her "we're sharing that, girl." As for wanting to wear some cute women's clothes… that's fine too. Jaden Smith says hi.
Here's Ansel's new ad!
Photos courtesy of WENN.