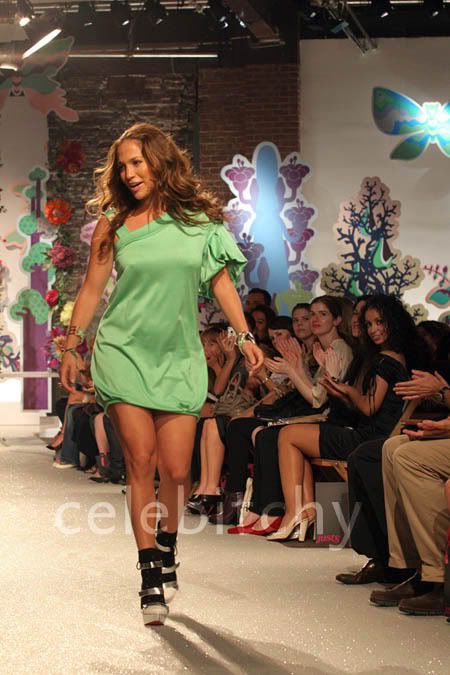 People are buzzing that Jennifer Lopez, 38, is finally pregnant after she showed a slight bump under her loose dress at the NY fashion show for her god-awful new clothing line, Just Sweet. Lopez has been rumored to be seeking fertility treatment and has made no secret of the fact that she would like a child with her husband of an unexpected three years, Marc Anthony. She could be in the early stages of pregnancy or she could have a little bloat and wearing an unflattering dress of her own design.
Of the new fashion line, which features clothing so unattractive and ill-fitting that even Sienna Miller would be hard pressed to wear some of the outfits, Lopez seems to think it's made for just about anyone who has the nerve to wear it:
Girls who are young who are going to wear it are going to feel sophisticated in it because it does have a chic kind of feeling to it… But people who are older who wear it are going to feel young, flirty and fun. It really has a nice mix.
[From PopSugar]
If she is expecting, that poor kid is in for a lifetime of bad fashion.
There is one picture in particular that you can view over at PopSugar that makes her look extra bumpy.
Thanks to SplashNews for these pictures.
Update: Here are some more pics of the show, thanks to PRPhotos.