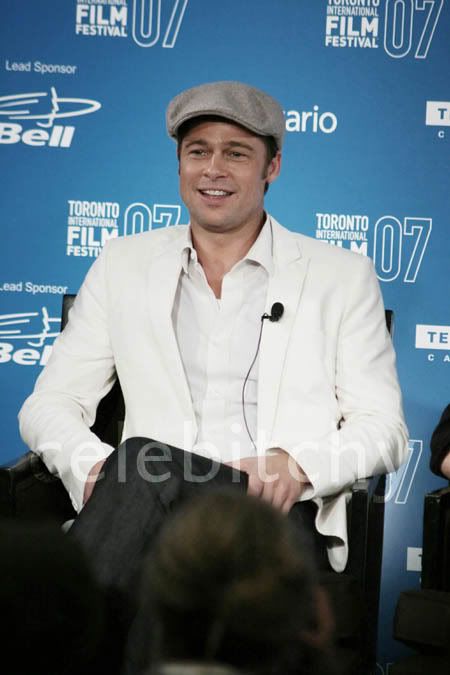 The owner of the Burning Shore Lodge where Brad and Angelina holed up with their security force in Swakopmund, Namibia before Shiloh was born has found an enterprising way to cash in on the famous couple's stay in his resort. For people who can't afford a full night's stay on the bed where a nine-months pregnant Angelina struggled to get comfortable, there's still a way to still have some fleeting contact with the world's most famous couple. Pay $5 and you can sit in Brad Pitt's favorite chair in the lobby. For $7 you can get your picture taken there:
Parking your posterior where Brad Pitt once plunked his movie-star butt will cost you five bucks in Namibia, Africa – baby Shiloh's birthplace! That's what the owner of the resort where Brad and Angelina Jolie stayed charges tourists who want to sit in a lobby chair frequently warmed by HunkyBoy's behind – and here's an update from my on-the-scene source, who reports "If you want your photo taken while you're in the chair, it's seven dollars."
[From The National Enquirer, print edition, Mike Walker's column, September 17, 2007]
I wonder if that's five bucks in US funds or in Namibian currency. One Namibian dollar is worth about .14, so that makes a difference in the price of sitting in Pitt's chair.
At least the owner of the resort didn't save the sheets Brad and Angelina slept on and try to sell them on eBay. Someone once auctioned air from an event that Brad and Angelina attended, so it seems like their sheets would be worth something.
Here is Brad Pitt warming up another chair with his fine posterior at a press conference for his film The Assassination of Jesse James at the Toronto film festival yesterday. Thanks to Splash News for these pictures.