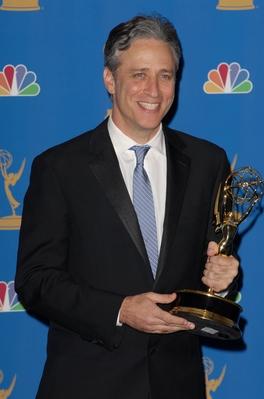 Well the ever-so-fickle Academy has decided against asking Ellen DeGeneres, last year's host, back again. Apparently there's a different producer most every year, and the producer picks the host. So this year's producer produced 2006's Academy Awards and wants to go with 2006's host, Jon Stewart. Stewart as given so-so reviews after his first hosting gig. DeGeneres was apparently considered "too nice" – though I didn't realize the Academy Awards were supposed to be edgy.
"Jon Stewart will return as host of the Academy Awards. The star of Comedy Centrals 'The Daily Show with Jon Stewart' will get his second shot at hosting Hollywood's premiere event, which will be held on Feb. 24 at the Kodak Theatre in Hollywood. He hosted the 78th annual awards show in 2006.

"Stewart was 'a terrific host' for that event, Oscar telecast producer Gil Cates said Wednesday, announcing the selection in a statement from the Academy of Motion Picture Arts & Sciences. The academy didn't indicate why it decided to go with Stewart after using comedian Ellen DeGeneres this year. 'I'm thrilled to be asked to host the Academy Awards for the second time because, as they say, the third time's a charm,' Stewart joked.
[From the Associated Press]
I didn't realize hosting the Oscars was such a revolving door situation. I know it's considered kind of the "be all end all" for a lot of comedians, but I have yet to watch one that didn't cure my chronic insomnia in 30 minutes flat. But that's also the reason I haven't watched one in a few years. I thought Jon Stewart's humor didn't really translate from his show to the Oscars. His political humor is funny, but there's only so much room for it in an awards show format.
"Stewart, a political satirist, injected some political humor into his 2006 performance, taking jabs at the war in Iraq and ribbing Hollywood's elite about their ties to the Democratic Party. However, some jokes bombed and he got mixed reviews. 'His usually impeccable blend of puckishness and self-effacement fell flat,' a review by The Associated Press said, adding he was 'too deferential, too nice and too obvious in his targets.'

"The 44-year-old Stewart, who also hosted the Grammys in 2001 and 2002, noted the split decision on his own cable TV show the night after the Oscars, saying he had a great time but didn't know how he did until he saw the reviews.

"'I sucked and was great!' he said. 'I was a painfully smug and unfunny heir to Johnny Carson.'"
[From the Associated Press]
Does anyone else find Hollywood's obsession with awards kind of annoying? Why is so much congratulation necessary? I guess it's just the fact that they're all awarding each other, like it's some great accomplishment. I think it's kind of the grown up children in us that want a blue ribbon for doing well at the science fair. Only the science fair involves a lot of low cut strapless dresses and cummerbunds. I don't even want to tell you what's in their juice boxes.
Picture note by JayBird: Here's Jon Stewart at the Emmy Awards last year. Images thanks to PR Photos.