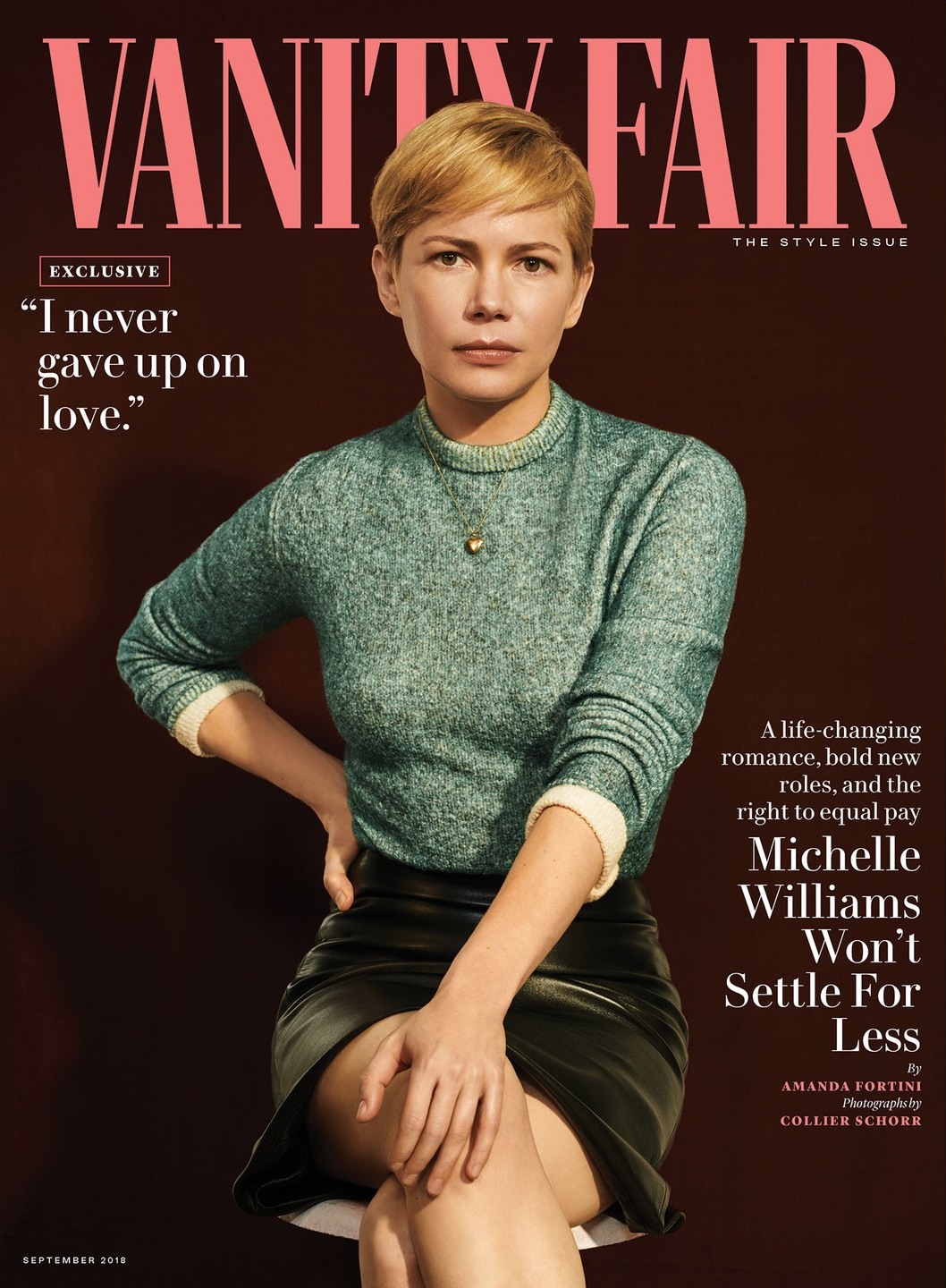 Michelle Williams covers the latest issue of Vanity Fair. In the olden days of VF, I would have expected the cover lines to be much more revealing of just what she's discussing, namely the nitty-gritty of pay inequality AND the fact that she quietly eloped and didn't tell anyone until Vanity Fair came along. But under VF's new stewardship, everything feels very… low-key. Substantial, vaguely hipster, intellectual, non-exploitative, etc. It sort of lulls you into thinking you're about to read a dull profile and you're happily surprised that Michelle actually gossips a bit and spills some details about her life. You can read the full VF profile here. Some highlights:
On how she received 1% of what Mark Wahlberg made for the 'All the Money in the World' reshoots, following Kevin Spacey's removal from the film: "It wouldn't have occurred to me to ask for money for the re-shoots. I just wanted to do the right thing on his behalf," says Williams, referring to Anthony Rapp. Upon learning about the difference in paychecks, "You feel totally devalued. But that also chimes in with pretty much every other experience you've had in your workplace, so you just learn to swallow it. A private humiliation became a public turning point."

On the chill in a hotel room: "I read somewhere that things are kept cold for men, because men prefer to be cooler while women prefer to be warmer,. Office buildings are kept colder for men."

Why she signed on to a Marvel movie: "I always like to do things I haven't done before—genres, parts. I like a challenge. And one of those challenges has been stepping into a bigger world. You know, if something like Venom works, it's life-changing. I wanted to open myself to that possibility. Before this, I had a real fixation on… purity, but I've started to address that notion as I've gotten older, and as I talk to more women, and more women artists, and I think about my long-term future, I've started to adjust my thinking about…how to make a life, how to support a life."

How the Wahlberg-pay story came out: "The teachable moment is that the story came out and no one cared. It didn't go anywhere. It was like it never happened, which just confirmed to me there is no recourse." After Jessica Chastain tweeted about it and everyone picked up on what happened, everything went crazy. "I've never really been at the center of something like that, of a news cycle like that—other than, you know, traumatic death. I was one woman by myself and I couldn't do anything about it. But in the wolf pack—the phrase Abby Wambach uses—things are possible. And that's really what it took: somebody who was at the head of the pack, Jessica Chastain, pulling me up with her, and then all these other women surrounding me, teaching me."

She got married to singer-songwriter Phil Elverum: They met through a mutual friend, they got married in a secret ceremony in the Adirondacks, witnessed by only a handful of friends and their two daughters. Her new husband, an indie musician who records and performs under the name Mount Eerie (and, before that, the Microphones), also lost a partner in tragic circumstances while parenting a small child. His late wife, illustrator and musician Geneviève Castrée, was diagnosed with inoperable stage-4 pancreatic cancer in 2015, four months after the birth of their daughter.

On love: "I never gave up on love," she later tells me, saying that she has spent the 10 years since Ledger's death looking for the kind of "radical acceptance" she felt from him. "I always say to Matilda, 'Your dad loved me before anybody thought I was talented, or pretty, or had nice clothes.'  Obviously I've never once in my life talked about a relationship but Phil isn't anyone else. And that's worth something. Ultimately the way he loves me is the way I want to live my life on the whole. I work to be free inside of the moment. I parent to let Matilda feel free to be herself, and I am finally loved by someone who makes me feel free."

Why she speaks about all of this: "I don't really want to talk about any of it. But there's that tease, that lure, that's like, What if this helps somebody? What if somebody who has always journeyed in this way, who has struggled as much as I struggled, and looked as much as I looked, finds something that helps them?" In the end, she says, what she's learned is simple: "Don't settle. Don't settle for something that feels like a prison, or is hard, or hurts you. If it doesn't feel like love, it's not love."
There have been moments where I rolled my eyes at Michelle, whether it was her girlish-widow vibe or her Civil War Ghost style, but you know what? I was really feeling her throughout this whole piece. I think it helps that she had something else to talk about rather talking around the subject of Heath Ledger. She's in love, she's married, she's figuring out that she can't just do an endless stream of low-budget indie films (which few people see). She's figuring out how to better negotiate and fight for herself. I like how she describes her reasoning for signing on to Venom too – "I think about my long-term future, I've started to adjust my thinking about…how to make a life, how to support a life," aka she just realized that she needed to start putting away some money for her future and Matilda's future.
As for the surprise wedding… I think it's great. I think it's great that she got to announce it on her own terms. I think it's interesting that her husband is someone who experienced profound loss and someone who experienced that loss through the prism of parenthood. It sounds like they have a lot in common. And I honestly didn't even know she was seeing anyone.
Photos and cover courtesy of Vanity Fair.