After a busy spring and summer, Lea Michele was finally able to celebrate her engagement to Zandy Reich with a garden engagement party on Saturday. Lea, 31, and Zandy, president of clothing company AYR, got engaged in April. Lea's BFFs, Stephanie Levinson and JoAnna García of Reba fame, threw the bash. Guests included Hilary Duff, Jamie-Lynn Sigler and Ashley Tisdale. Ashley congratulated Lea on Instagram, writing, "I couldn't be happier for this girl, she deserves the best because she is the best."
Also in attendance were Lea's Scream Queen sisters Billie Lourd and Emma Roberts, who posed for an impromptu Kappa Tau reunion. Emma's beau, Evan Peters, was also at the party.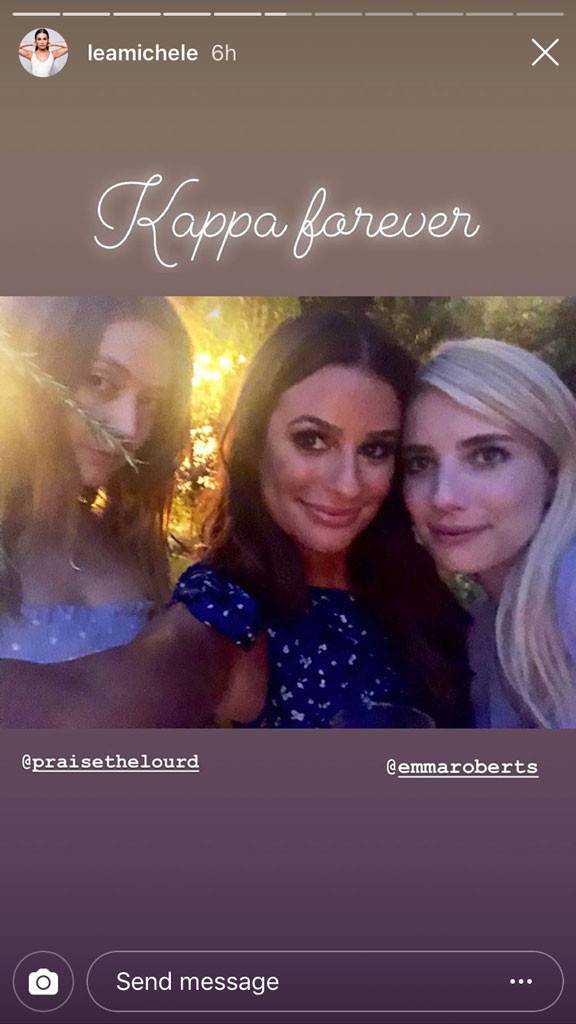 Lea shared love on an Instagram story, acknowledging, "The outpouring of love from our friends and family who showed up for us today and threw us the most epic and beautiful engagement party we could have ever asked for was truly so incredible," adding that, "Z and I love you all and are forever grateful."
The actress also shared a special message for her "incredible" parents, Marc and Edith Sarfati, who had just celebrated their 38th wedding anniversary on Friday, stating, "Z and I look up to you both so much and we love you both more than you know."
Lea, who wrapped up her wrapped up her LM/DC tour with Darren Criss earlier this month, is in the process of planning her wedding. She's already chosen a "Maid of Honor," her former Glee co-star Jonathan Groff, if you believe the photo she posted on Instagram in May.
And as for wedding reception entertainment, Lea addressed rumors that Darren would be performing at the wedding, telling Wonderwall.com that,
"I want him to be able to enjoy himself truly, but I also know Darren: If he sees a piano, there's no stopping him. So I'm just gonna leave it up to him and he can get up and sing if he wants. If not, then totally fine by me. … I will have a lot of great singers there, that's for sure."
You know whatever she's got in mind, it's going to be extra. But hey, as much as she exhausts me, I always have to root for love, and I wish the couple all the best. Also, I actually like her off-the-shoulder blue, floral print dress, especially considering that she has a penchant for showing too much skin. Well-played.
💍 @ashleytisdale, Christopher French, @RobertsEmma, @evan_peters, @becbecbobec, and Zach Martin celebrating @LeaMichele's engagement pic.twitter.com/34QIWA05wS

— Lea Michele News (@leamichelenews1) July 29, 2018
💍 @LeaMichele celebrating her engagement with Billie Lourd, @RobertsEmma, and her parents pic.twitter.com/snPeIHutgj

— Lea Michele News (@leamichelenews1) July 29, 2018
💍 @LeaMichele celebrating her engagement with @HilaryDuff, @JamieLSigler, Lindsey Margolis, Elsa Marie Collins, and Kiki Gordon pic.twitter.com/3PaH7XDj7m

— Lea Michele News (@leamichelenews1) July 29, 2018
Photos: Instagram, WENN, Getty