Earlier this month Dax Shepard posted a photo of his wife, Kristen Bell, in the pool wearing a sun hat and gloves. You might assume the gloves are to protect her hands from the sun too, but he wrote "my wife hates the feeling of pruney finger tips on skin." So I thought that meant she hated feeling her own pruney skin after some time under water. That is a weird feeling, but those must be some water tight gloves. It turns out that Kristen hates feeling other people's pruney skin on her own, namely her kids. She doesn't like to touch people's pruny skin or have them touch her. OK. She explained her reasoning in an interview with USA Today:
"I don't know if you'd call it a tick, but when pruney fingers touch other skin, I have a gag reflex," Bell explains. "And when I'm in the pool with my children, it's troubling because they reach for me when they're having trouble swimming, and I have to respond maternally, I have to reach for them. But it's difficult.

"My best friend Amy said, 'Try these gloves. That way you can save your children if they're drowning in a pool and you don't have to have this crazy gag reflex.' It works for me. I'm not ashamed."

Who knows what else will be revealed when Bell and Shepard hit the road this fall on a live tour for his popular "Armchair Expert" podcast.

"It's so funny because when he told me he was starting a podcast in the garage, I touched his hand and like a condescending wife, I said, 'Oh, sweetie, that's so cute. You're going to have a garage podcast like everyone else,' " Bell says, laughing. "I didn't think anything of it, and he and our friend Monica (Padman) started a podcast in January. In February, I looked at their numbers and I was like, 'I'm sorry, you have 1 million listeners a week? Who are you? What is happening?'"
That's something I've never heard before, but at least it's an odd and potentially embarrassing story about her, and not about her kids. For someone who protects her kids' identities, she sure tells some personal stories about them. As USA Today mentions, Kristen and Dax are doing a tour for his Armchair Experts podcast. (I wrote that like I knew about it before but I didn't.) USA Today hints that these two are going to overshare because of course they are, that's their brand. I'm surprised they didn't do something like this sooner. Kristen had that MomSplaining Youtube show in conjunction with Ellen but there are only a few episodes of that. Several celebrities are doing these kind of DIY interview podcasts. Anna Faris has a podcast, as do Chelsea Peretti and Alec Baldwin. Jada Pinkett Smith's Red Table Talks on Facebook is just beyond though, I wonder if Kristen and Dax are using Jada and Will as inspiration. It's like nothing is off limits anymore.
This is Kristen at the premiere of Teen Titans Go! To The Movies in a sequin tuxedo jacket-turned-dress from Osman's 2017 fall collection. (I did not know that off the top of my head. I'm so grateful Redcarpet-FashionAwards is in business again. Unlike RCFA I think this is rather weird though. It's not a summer premiere outfit, it's more of an event or party look.) At Comic-Con to promote The Good Place she's in a Anine Bing suit with a Naeem Khan blouse. Now this is cool and I really like how she left her shirt bow untied and hanging.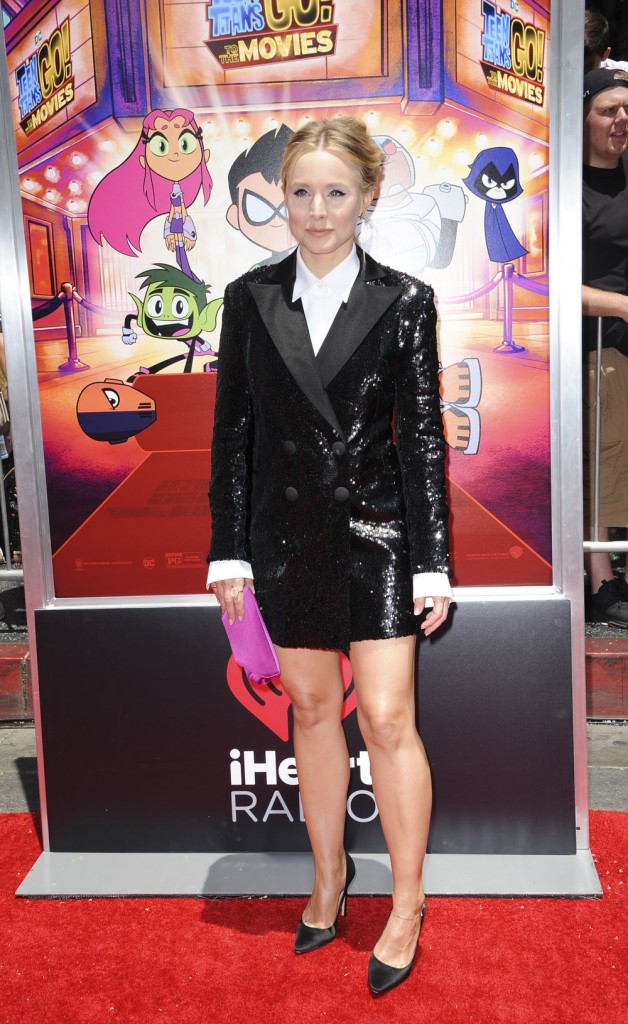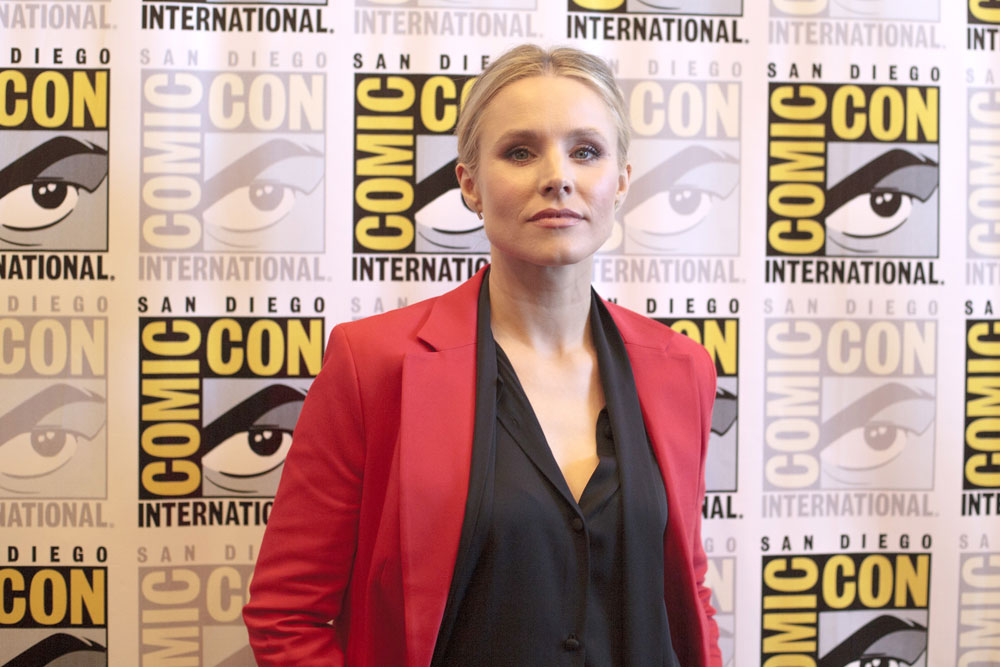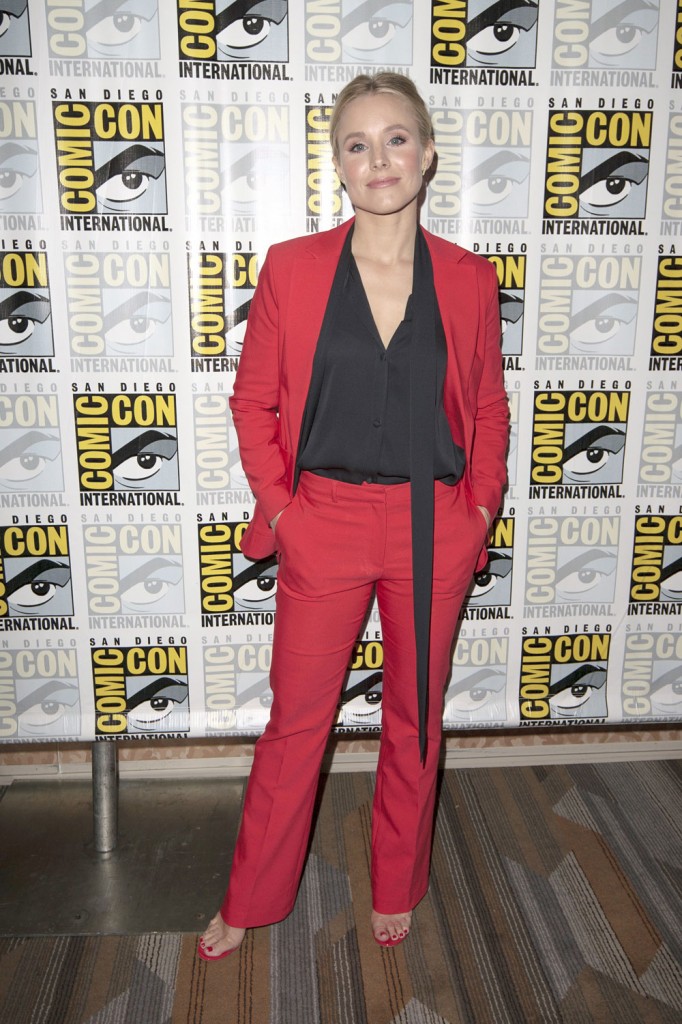 Photos credit: WENN