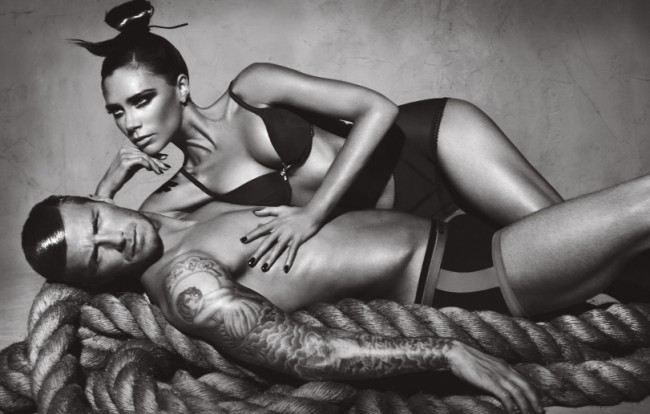 Apparently the people over at Armani have a funny idea of sexy. "Sexy" means giant spools of thick, twisty rope. It means shiny, shiny man hair. It means flat, dead, soulless eyes. Not ceiling eyes. Serial killer eyes. Ultimately, it means the Beckhams. Because what's the only thing that's sexier than giant, threatening curls of rope? Posh's collarbone, naturally. Both of which can be used as a weapon, interestingly enough.
A month after David Beckham unveiled his last underwear campaign for Emporio Armani, the footballer is back in another new advert – but this time with his wife Victoria. Following on from their first more restrained joint ad in January, the celebrity couple give us an insight to their private life as they cuddle up in their undies.

In a bizarre new image, a lingerie-clad Victoria, with a Geisha-style knot in her hair, lies astride her body oil-covered husband on top of a giant rope. Exactly what the couple are doing with the rope is unclear, but perhaps it's just as well we don't find out. In solo shots for the Italian designer last month, the 34-year-old athlete posed provocatively with the same rope wrapped around his toned body and six pack.

As well as the rope's return, it appears Victoria's former 34DD bust is back too. Wearing little more than a black bra and knicker set, the former Spice Girl, 35, appears back to her busty best in the cleavage-heavy shots. Posh was reported to have undergone a breast reduction operation down to a 34B in May – the same month these latest shots were taken.

In another new shot for Armani's new autumn/winter underwear collection, the couple lie beside each other in predatory semi-crouching positions as David hangs off a metal rail. Instead of her brunette bob, Victoria goes for the Cleopatra look with her plaited fake ponytail on the crowd of her head and her dramatic eye make-up. The new shots bring the couple closer than their previous ad, which shows Victoria sitting on the floor, while her husband lay on the bed.
[From the Daily Mail]
To be fair, I don't think the Daily Mail has ever written a single article that discussed someone's appearance in a positive light. Someone's either too fat, or if they lose weight they're anorexic, if they're sporting more than a teeny, tiny baby bump they're "heavily" pregnant. Let's not forget their epic series of articles tearing apart female celebrities disgusting knees. If someone looks good, they're criticized for airbrushing, and if they look bad, the Mail will pull in an expert surgeon to give advice on what they need to have done. It's never-ending.
All that said, Posh and Becks look like the undead. Assuming the undead are very, very sexy of course. But no way would I want to see David Beckham in his underwear sporting zombie eyes. I don't care how good he looks – he also looks like he wants to eat your soul. Do you really want that? David Beckham noshing on your soul? Sexy indeed.