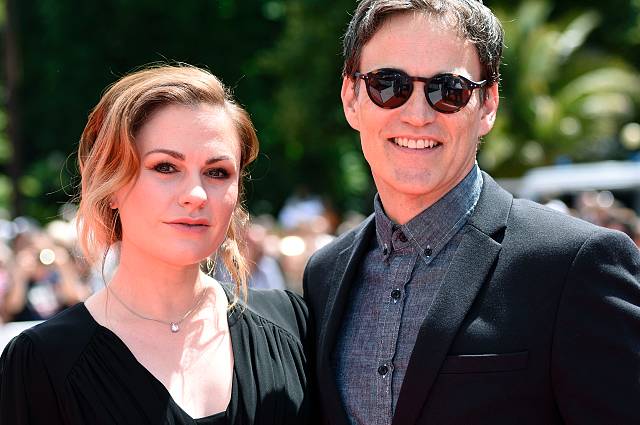 Anna Paquin and Stephen Moyer have twins Charlie and Poppy, a boy and a girl, who will turn six next month. The family keeps a low profile and while Anna and Stephen are somewhat active on social media they don't post photos of their children and aren't attention-seeking. So when Anna shared a story recently about being yelled at by a TSA agent at the airport it seemed genuine and not like she was exaggerating at all. She wrote on Instagram that the signs at security were confusing and when she asked an agent where she should go the agent got rude and loudly told her to read the signs. Anna was traveling alone with the twins. She later clarified that she was traveling coach and that her luggage is not designer or even matching, not that it matters. Here's what she wrote in a follow-up post, I believe her original post was an Instagram story. In the story she wrote that she was crying uncontrollably after this.
The kids and I had just done our goodbyes with Steven for the next several months (I'm aware we play make believe for a living it's not life and death but it's sad being apart regardless.)

Arrive at airport got checked in (and no yahoo.com I do not own a "full set of brand new Louis Vuitton luggage, the words best travel pillow or have a personal valet")

I do however have one nylon backpack and one rolling carry on, some reusable water bottles to fill after clearing security and comedically miss matched checked in bags.

There were two signs pointing in different directions with what looked to me like the same info on them so I asked a TSA agent (who was not attending to anyone else at the time) which line I should be in and tried to show our boarding passes. To which she snapped/yelled "lady you need to read the sign" so I tried to explain that the signs weren't clear to me to which I got an even louder and angrier repeat of "read the sign" "help". Honestly it was less the words used than the volume and tone that caught me off guard. I never raised my voice, I said please and excuse me.

I'm not saying this is the worst thing in the world and I'm sure as heck not asking for anything special. I just wanted to make sure I wasn't going to cause a problem by being in the wrong place because I'm not familiar with that airport. And when you're traveling with twins I feel like everyone already feels like you are in the way even if you aren't and I'm used to it."
[From Instagram]
Anna is referring to Yahoo's initial coverage of this story, I think they were covering her Instagram story which I missed, where they opened with the caveat that "even if you have a brand new set of LV luggage… commercial plan travel is a drag." They weren't saying that Anna definitely has LV luggage, but she's clarifying that she doesn't and that she travels coach. In her original post she wrote "Makes ya feel super dignified walking through the airport with kids and gear unable to stop crying." Aw, I feel her.
I used to travel overseas all the time and have lost my sh-t in airports twice. Once I burst into tears and another time I climbed over a divide to look for my luggage. (No one was there, I'd been waiting twenty minutes for my luggage after traveling over a day and a half with a six hour delay for my last layover and it was a small airport!) Both were after I'd been traveling at least 24 hours and was told my luggage was lost when I got to my destination. Some of the toughest times I've had have been at airports, which I'm sure shows what a sheltered life I've lived. Plus I haven't had to face consequences for flipping out. I'm a white lady and get a lot more chances and breaks than most people. Traveling while black or brown can be so much worse.
How hard would it have been for that worker to say "If you're in coach, go to the left and if you're in business class it's to the right?" Do you think the agent would have barked at Anna like that if she was traveling with Stephen? I don't.
Oh and I checked Stephen's Instagram and he had to be treated in the emergency room yesterday after he broke up a dog fight at the dog park! That post is below. Crazy.
This reminds me how much I miss True Blood. I've seen the first two seasons twice and I think I'll start at season three and rewatch the rest. Anna is about to start working on the TV show Flack, on the Pop Network, which is out next year. Stephen is currently on The Gifted, on Fox.
photos credit: Instagram and Picture Alliance/Avalon.red