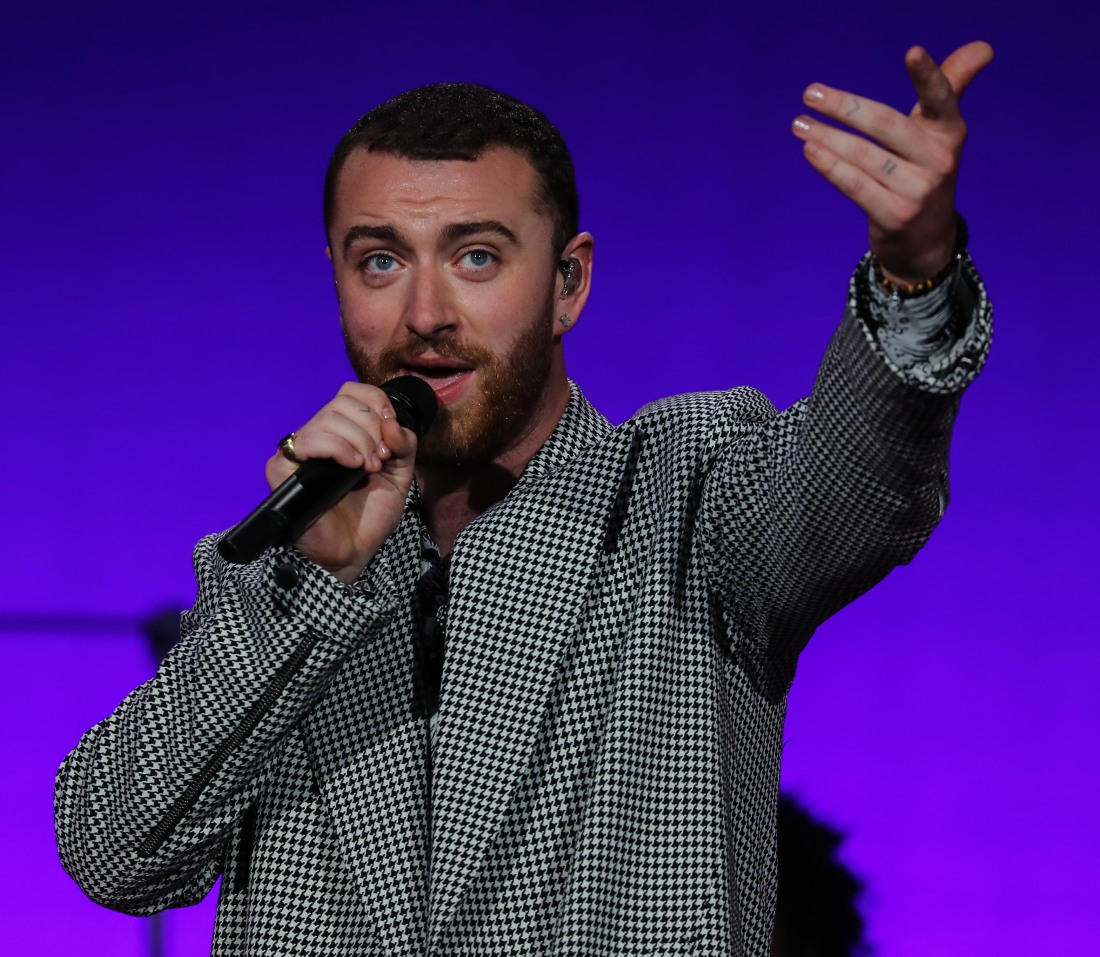 I like Sam Smith. I like his voice. I like his personality. I like the fact that his success riles up the haters who think he's nothing more than the latest blue-eyed soul artist/one-hit wonder. I've always assumed that Sam is a serious student of the greatest R&B, soul, gospel and pop music of the past fifty years. But apparently he's not? Sam was hanging out with Adam Lambert on a boat, and Michael Jackson was playing. Sam says on the video, "I don't like Michael Jackson, but this is a good song."
Adam Lambert accidentally posts a video of Sam Smith saying:

'I don't like Michael Jackson, but this is a good song' pic.twitter.com/Rhw1lnA5O0

— Music News Facts (@musicnewsfact) August 10, 2018
I'm not even sure Adam Lambert intended to post a shady video of Sam dissing the King of Pop. But as soon as it was posted, everyone in the Jackson family came for him:
While Sam Smith, 26, may not have thought twice about what he said, the internet certainly did, with hundreds quickly taking to social media to slam the singer and point out that his song "Writing's on the Wall," from the 2015 James Bond movie "Spectre," sounded like Jackson's "Earth Song." One of the many people angered by Smith's comments was R&B legend, and former Jackson girlfriend, Stephanie Mills who tore into him on Instagram.

"Don't come for MICHAEL JACKSON when you wish you have sold as many records and you wish you were the King of Pop like he was," Mills, 61, wrote. "I'm so tired of you people studying our music, and studying our artist and claiming that you don't like our music. Go sit your 1 HIT WONDER ass down and learn how to finish a tour. When you can sell as many records as the king of Pop, Michael Jackson then maybe you can say something. So I say to you Mr. Smith have several seats and come for me if you want to."

Jackson's nephew TJ also weighed in on the matter, tweeting, "Sam Smith made a career on singing R&B/soul music. So to look into a camera and disregard one of its pillars is ignorant, disrespectful and arrogant. Everyone has opinions but @samsmithworld don't disparage a soul pioneer when they helped paved the way for you and your music."

He added that it was fine if Smith didn't like Jackson's music, the issue was that he made the comments on video, whether or not he expected that video to go public.

"Anyone can like ANYONE they want," he tweeted. "What bothers me is SS is a popular SOUL artist. So when he looks into ANY camera there is a good chance what is said will become public 1day. And for HIM to disrespect ANY classic soul Motown/Stax/etc artist publicly is arrogant. Period."
I would feel like this reaction was entirely appropriate if Sam had dissed Michael Jackson in an interview, or made the comments in some kind of public setting. But he was on a boat and as I said, I'm still not 100% sure he ever intended this comment to be made public. Beyond that, I'm of two minds – one, everyone has the right to like or not like whichever artist. It really is as simple as that. But on the other hand, it's ridiculous that Sam seems so uneducated about the pop-soul pioneers who came before him. Of course he was influenced by Michael Jackson. Of course he was influenced by many black artists, but when it comes to giving them credit, I guess Sam isn't feeling it.
Had the most beautiful few weeks with family and friends in California. Basically been listening to music non stop & laughing and eating 🥑🎼 Second leg of tour starts on Tuesday in Saint Paul. Can't wait to see you all xxxx pic.twitter.com/IWVcneWb2q

— Sam Smith (@samsmithworld) August 12, 2018
Photos courtesy of WENN.