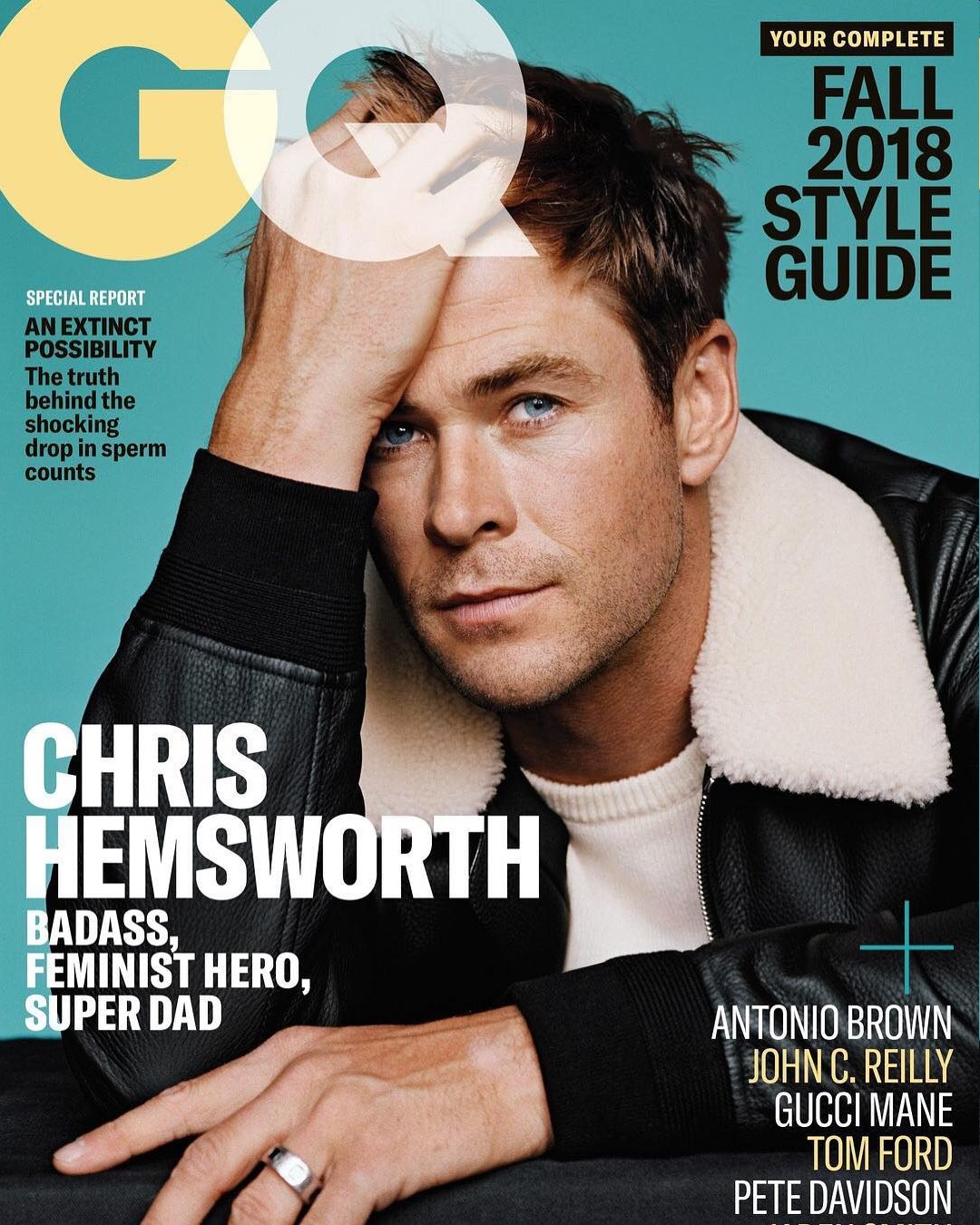 The cover line for the September issue of GQ is "Chris Hemsworth: Badass, Feminist Hero, Super Dad." Inside the magazine, the headline is "Chris Hemsworth Is Post-Hunk." As I was reading the piece, I became really sad though. It's not that Hemsworth comes across as a bad guy, or that he says anything stupid – he does not, on both counts. It's just that we set the bar so low for conventionally attractive white men. Nothing he says in GQ convinces me that he's anything other than a completely normal dad and a husband who is away from his family for large stretches of time for work. Talking about his family doesn't make him a feminist, and taking an occasional role in a comedy film doesn't make him "post-hunk." As I said, he comes across fine here. But can we stop building up dudes when they're merely doing average things? "Oh, he adores his daughter, GIVE HIM AN AWARD." You can read the GQ piece here. Some highlights:
His daughter was upset recently when he left for work: "She's normally like, 'Yeah, see you, Daddy. Cool.' She was like, 'Papa! Papa! Papa!' She doesn't always call me Papa, either. I wasn't, like, sobbing, but…" But it shattered him.

He tried to be a "bad boy" briefly when he came to Hollywood: "I remember trying to be Colin Farrell. Thinking, 'People love the bad boy.' Going out and being sort of reckless. But no one cared. There wasn't the presence of paparazzi, nor the presence of social media, nor the immediacy of all these platforms."

People who knew him were surprised when he was typecast as an action hero type: "It was quite jarring for my family and friends when I was on-screen doing a straight, heroic, sort of overly masculine kind of thing."

His new film, Bad Times at the El Royale: "It's got a kind of Tarantino energy to it. It's a thriller and a drama, but there's some humorous moments—in an insane way. I just want to be surprised. I have a real fear of being bored."

His early years on Aussie soap opera Home and Away: "I look back at that time, and I go, 'Man, you were 19 years old, you were living on the northern beaches of Sydney.' I was getting paid 3,000 bucks a week, which was a lot of money where I'd come from. I was surfing in the middle of the day on set if I had a break, I was experiencing fame, I was a young single guy. Why didn't you enjoy that? We can wish years by saying, 'Ah, when I get here it'll be okay. When I get here it'll be okay.' We just keep moving that bar until we get to that place."

The Thor franchise: "The first one is good, the second one is meh. What masculinity was, the classic archetype—it just all starts to feel very familiar. I was so aware that we were right on the edge."

His career now: "I really do feel a sense of ease for the first time in years. I don't mean that as an assessment of my achievements. I just mean I'm content with what's going on and relaxed and open about it… I came into Hollywood thinking I had to be Russell Crowe. I loved his performances, and because of my physicality and my size, that was the obvious choice. I think I was aware that it could kind of get me in the door. But it wasn't me."
The piece features quotes from Elsa about how Chris is a good father and how she knew very early on when they were dating that they would have a family together. I believe that, just like I believe that Australian men are just *built* differently when it comes to marriage and domestic life. I'm sure that there are some Aussie men out there who are commitment-phobic douchebags, but over and over again, it just seems like every Aussie dude is like "I met this girl when I was 19 and I married her and we've been together for fifty years now and it's still amazing." American men are rarely like that. They're not built that way as a general rule.
As for all the talk about masculinity and how he doesn't want to play up his natural masculine energy… I mean… sure. I get it. He doesn't want to be the beefcake, forever and ever. But maybe he shouldn't bad-mouth the movies that got him here?
Sometimes Chris Hemsworth can't control the superhero within—like when he competed in a "Running of the Dads" at his daughter's school field day https://t.co/Nrs24VgqGk pic.twitter.com/KrZjao5FEs

— GQ Magazine (@GQMagazine) August 20, 2018
Cover and photos courtesy of GQ.