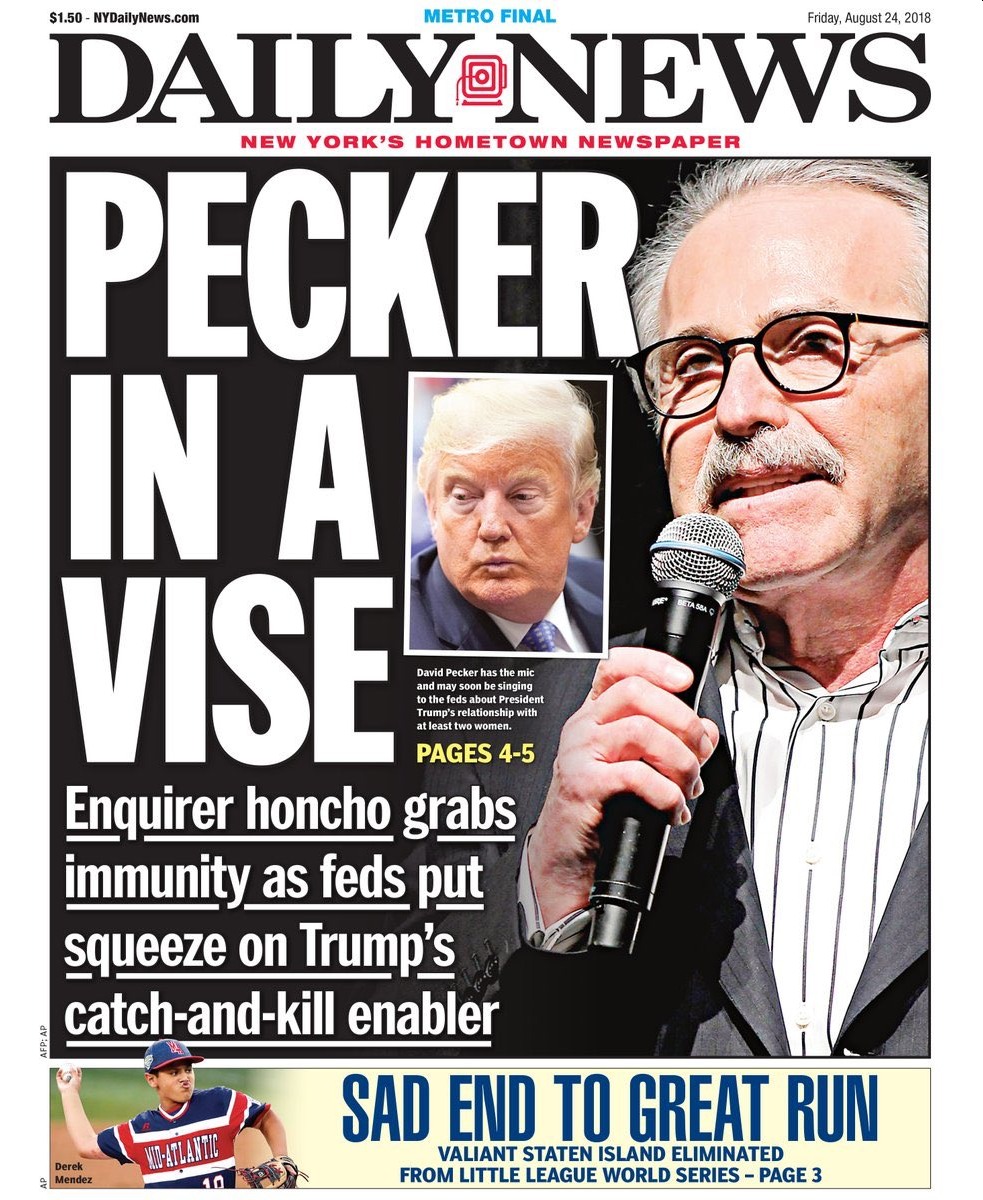 This one seemed like a no-brainer to me, but people were shocked yesterday. It seems like the National Enquirer's CEO David Pecker has TURNED. Of course he's turned. The feds got to Michael Cohen. Ronan Farrow's reporting exposed Pecker's relationship with Donald Trump and Cohen, and everyone had accepted the information that Pecker was openly in cahoots with Trump for years. The Enquirer, as we now know, was paying Trump's mistresses for their stories and then refusing to publish those stories. And now Pecker has gotten an immunity deal:
The National Enquirer kept a safe containing documents on hush money payments and other damaging stories it killed as part of its cozy relationship with Donald Trump leading up to the 2016 presidential election, people familiar with the arrangement told The Associated Press.

The detail came as several media outlets reported on Thursday that federal prosecutors had granted immunity to National Enquirer chief David Pecker, potentially laying bare his efforts to protect his longtime friend Trump. Five people familiar with the National Enquirer's parent company, American Media Inc., who spoke to the AP on the condition of anonymity because they signed non-disclosure agreements, said the safe was a great source of power for Pecker, the company's CEO.

The Trump records were stored alongside similar documents pertaining to other celebrities' catch-and-kill deals, in which exclusive rights to people's stories were bought with no intention of publishing to keep them out of the news. By keeping celebrities' embarrassing secrets, the company was able to ingratiate itself with them and ask for favors in return.

But after The Wall Street Journal initially published the first details of Playboy model Karen McDougal's catch-and-kill deal shortly before the 2016 election, those assets became a liability. Fearful that the documents might be used against American Media, Pecker and the company's chief content officer, Dylan Howard, removed them from the safe in the weeks before Trump's inauguration, according to one person directly familiar with the events. It was unclear whether the documents were destroyed or simply were moved to a location known to fewer people.

Pecker's immunity deal was first reported Thursday by Vanity Fair and The Wall Street Journal, citing anonymous sources. Vanity Fair reported that Howard also was granted immunity.
None of this surprises me. I'm guessing that the Vault of Secrets also includes a ton of dirt about people like Tiger Woods, Tom Cruise, John Travolta, and various political figures. The practice is somewhat common for the lower-tier media outlets, and frankly, it wouldn't surprise me if a few other outlets get caught up in this at some point (there has to be a reason why it feels like TMZ is in bed with Trump, right?). As for Pecker… he saw the writing on the wall and cut a deal for immunity, which makes him disloyal in Trumpland. But what other secrets does Pecker know? I'm guessing that Stormy Daniels and Karen McDougal are just the tip of the iceberg.
Cover courtesy of the NYDN, photo courtesy of Getty.