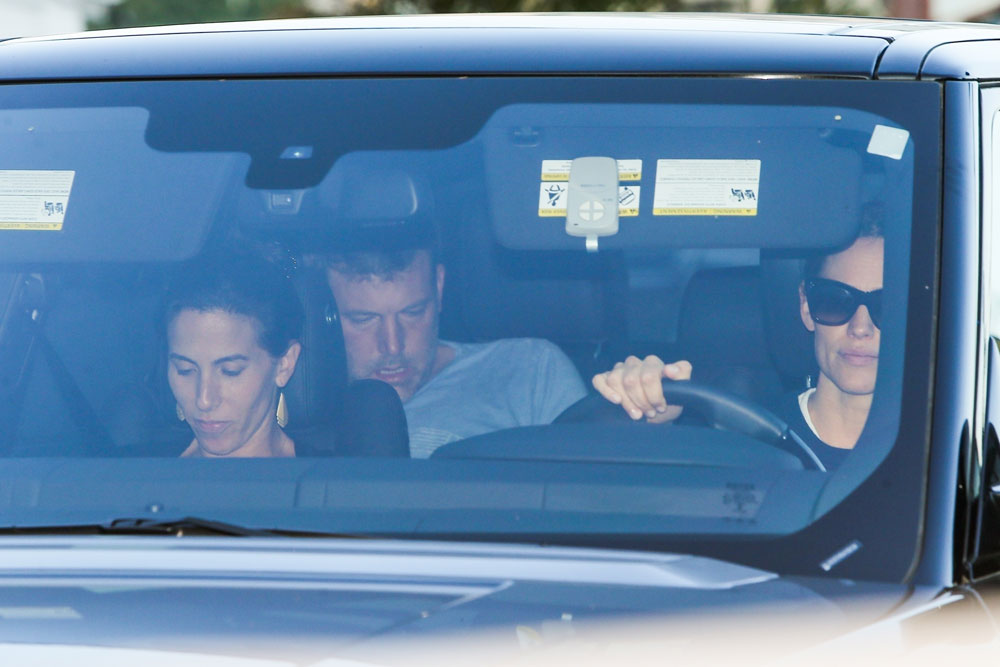 Yesterday we saw photos of Ben Affleck headed to rehab. He looked miserable and Jennifer Garner looked disgusted. One of our agencies had a video of Jen gracefully asking the paparazzi to move to the end of the block and to show respect. She did not ask them to leave or stop filming, maybe she knew that would be pointless. A photographer explained that there were new guys there who were parked closer to the house.
Several of you floated the theory that Jen may delayed signing off on the divorce so that she would have legal leverage over Ben. That's a valid take on this and one I didn't consider. As for why Ben went to rehab, US Magazine reports that Ben "wanted help and knew he needed help." Remember that Ben is covering US Magazine this week with a story from Jen's perspective, which came out before he went to rehab. The major celebrity outlets all have insider quotes about this sad situation and the fact that Jen staged an intervention to get Ben to go to rehab. I'm including quotes from several below. They reinforce the same points, which has been the Garner-Affleck's media strategy for years. They saturate the press with differently worded quotes and hope that their transparency will help them (Jen in this case) control the narrative. Here are the major points:
Lindsay and Ben split due to his drinking, after that he spiraled out of control
ET: "Lindsay was a huge support to Ben and he was doing really well. She truly helped him with his sobriety and Jen loved that he had a steady situation. Lindsay thought they had a future together, and she was a positive influence on him, but he felt tied down."

"Just the other night he was out late with a group of old friends and lots of women, all who were partying up a storm. It's truly worrisome for those who have seen him fall off the wagon in the past. The bottom line is he was going out again and hanging with drinkers, and it seems to have all happened too quickly."

US: "Ben's drinking was a driving force behind their split. The notion that Ben was taking steps to be healthier and sober prior to this intervention isn't all true. Ben hasn't been sober or been that present for his family and relationship with Lindsay, and now everyone knows the reason why. He was suffering, and his addiction undoubtedly took over."

Lindsay has washed her hands of Ben
US: "Lindsay does not want to be involved in the media circus that follows Ben — especially in this difficult time/ She is a private person and has taken the necessary steps to avoid the hurtful and often unwelcome attention."

Ben reached out for help
E!: "Ben was having a really tough time. He continues to battle addiction. He reached out for help this week."

"He told Jen and was not resistant. He asked her to take him and she wanted to be there for him."

People:"One of the key elements with taking control of your addiction is knowing when to seek help, which he did, and it is a major step in the right direction"

"One crucial aspect of Ben's recovery is for him to be able to seek help when he feels as though he is not in control — when his ongoing treatment and meetings with sober coaches aren't quite enough. The best case scenario is for him to seek help, which he has done willingly, and for that, we are all very grateful and hopeful.:

Jen saw the booze being delivered and staged the intervention
E!: "Jen had family in town and a lot going on but she was well aware of what was going on. She saw the photo of the alcohol being delivered to his house and knew he was home all day and that was the breaking point."

People: "It's very stressful for her. And also devastating for her to have to stage an intervention in the middle of the afternoon, pretty much in public. But this was a crisis situation."

What Jen told the kids
E!: "Jen told the kids that Ben is sick and needs help from a doctor. She is open and honest with them. It's extremely sad and disappointing that this has happened again, but she will continue to be there for him and not turn her back. She feels like she can't do that to her kids and that she wants him to be in their lives."
[Sources People, ET, E! and US]
There's been a lot of debate as to whether Jennifer Garner is in a codependent relationship with Ben, whether she's a saint or is doing this for her own image and if she should just cut him off. The answer is likely somewhere in between. Jen could be very image-focused, she's a celebrity and that's part of her job, and she could be extremely concerned that the father of her children is in the throes of addiction and is neglecting his health and family. She probably knows her romantic relationship with Ben is over but she's committed to being a support for him. To his credit Ben went to rehab willingly. I hope that he just he gets sober and maintains it for some time before he opens up to the press. I know there's so much interest in Ben and his family but he needs to take time to himself to figure things out. (See: Simon Pegg. He waited until he had seven years of sobriety before he talked about it. However he is a character actor at a lower level of fame and was able to keep it under wraps.)
Many people believe that alcoholics can't drink moderately and Ben has shown that he can't. Seeing an Oscar winner with lottery money in the bank throwing his career and relationships away for booze helps remind me never to go there again.
On a lighter note Shauna Sexton is about to go the way of Christine Ouzounian, right? She staged some bikini pics before Affleck's rehab stint, just like Christine. Incidentally, Jen was photographed at a water park with her son right before Ben went to rehab. Here she is doing her thing yesterday. We've heard she has a new boyfriend but details have been vague so far.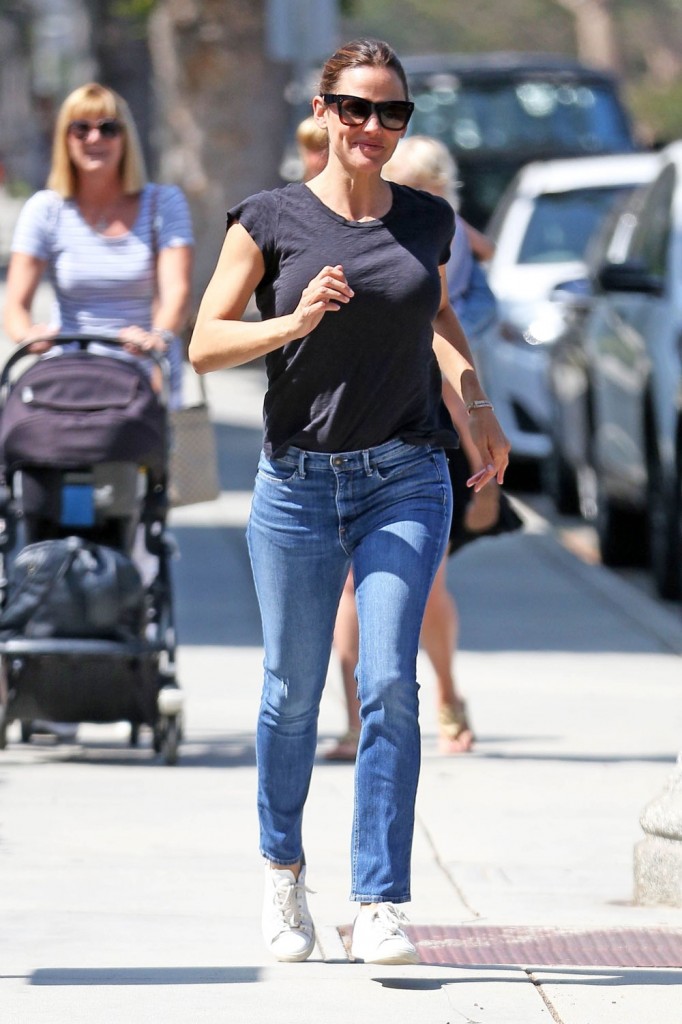 Jen approaching the paparazzi to ask them to move down the street before driving Ben to rehab.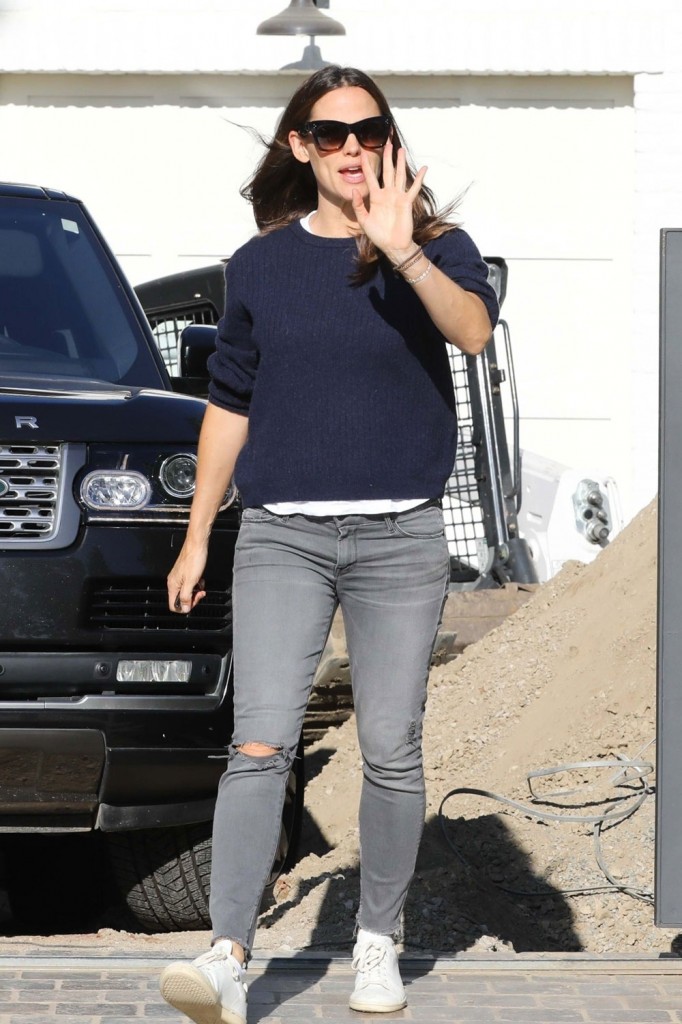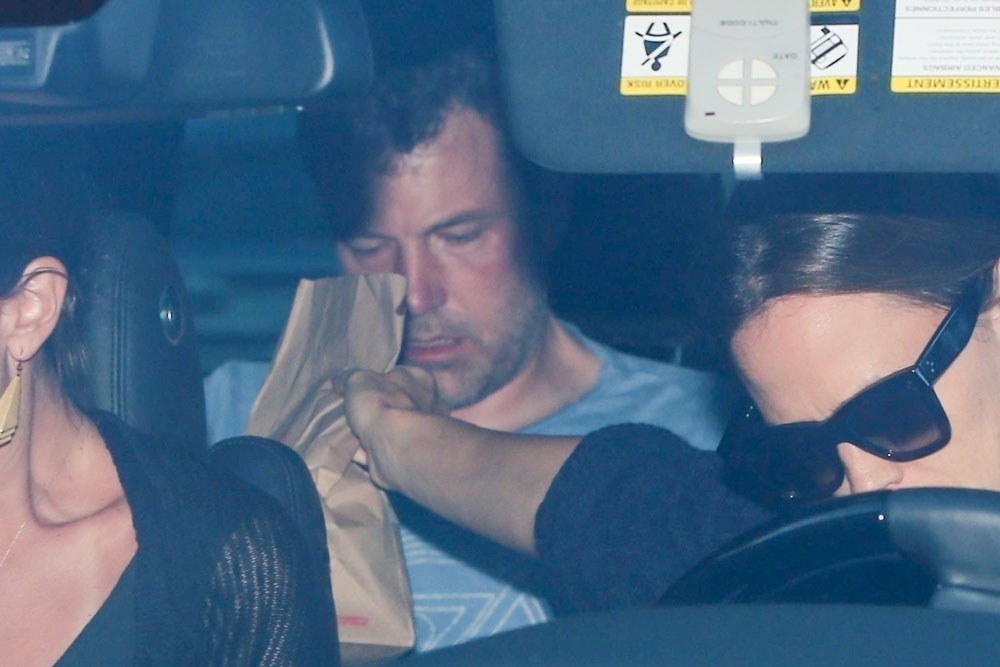 photos credit: Backgrid