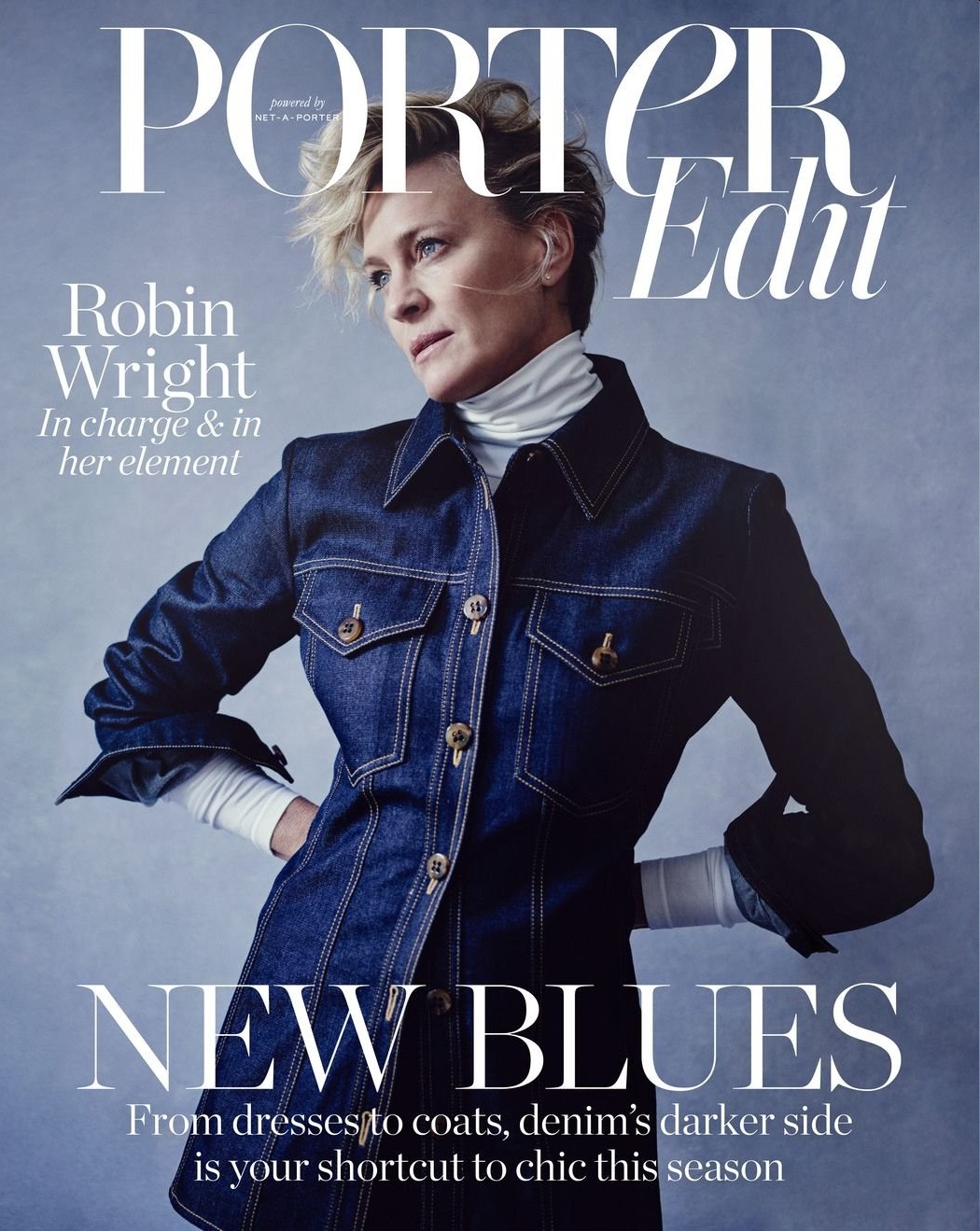 Robin Wright covers the latest issue of Porter Edit magazine. The shoot is severe, which I think is probably a reflection of Robin – nothing superfluous, nothing garish, nothing frilly. Robin did the cover interview to promote her "socially conscious clothing line," Pour Les Femmes, but she talks about other things too. The interview took place before her wedding to Clement Giraudet this summer, and it also took place right around the time that she first spoke about her House of Cards costar Kevin Spacey. She talks about Spacey at length in this piece and her comments are… not great. They actually border on offensive. You can read the full piece here. Some highlights:
She loves Paris: "I always knew I would end up [there]… I was there modeling, right out of high school, and fell in love with it. It's old school. You have to get up, put your clothes on and go down to the boulanger to get your croissant. Most of your day is about building the next meal. Being in nature."

Her clothing line, Pour Les Femmes. Inspired by a trip to Congo over 10 years ago, Wright started the company with her friend Karen Fowler to provide economic opportunities – and a skilled trade in sewing – for women in conflict zones around the world. The range consists largely of pajamas, partly because both of them love to sleep ("I wish I could sleep like a teenager. But I love being in bed, working in bed, watching movies in bed," says Wright), but also because pajamas represent comfort and security, which women in war-torn regions rarely have. "Buy our pajamas because you are helping a woman start her life again after being raped repeatedly," she says, frankly. "It's pretty simple."

How close 'House of Cards' came to being cancelled: "Very, very close. Because of the climate at that time. The air was thick, you know. Harvey Weinstein… People were [saying], 'We have to shut everything down or otherwise it will look like we are glorifying and honoring this thing that's dirty.' Our show's not dirty. I believed we should finish. I believed we should honor our commitment. To the people that loved the show, also. Why quit? They printed that it was 'only' 600 people out of work, but if you include security, cops, shooting on location in Baltimore, everything, 2,500 people would have been out of a job. And that's not fair – to take that security away from those people… They didn't do anything [wrong]."

Whether she'll reach out to Kevin Spacey: "No. He'll reach out when he's ready, I'm sure. I think that's the way it should go." Does she feel sorry for him? Another pause. "I feel sorry for anybody whose life is in the public arena. It's a nightmare, can you imagine? We do a job, we share [a performance] with viewers. Why does our private life have to be public? I hate that part of this industry. It's so invasive. I believe everyone's personal life should be personal. Positive, negative, neutral, whatever – I don't believe it should be anybody's business. But I'm not talking about this [#MeToo] movement," she clarifies, in case she's thought to be condoning Spacey's alleged behavior or criticizing those who came out publicly against him. "I'm talking about media. The exposure. It's an awful feeling. A stranger deciding they know who you are and they are going to put that in a…," she drifts off. "I mean, it's criminal, it really is."

Whether she thinks Spacey deserves a career reprieve? "I don't know how to comment on that, I really don't. I believe every human being has the ability to reform. Has the ability to reform. In that sense, second chances, or whatever you are going to call it – absolutely, I believe in that. It's called growth."
I absolutely loathe Robin's tangent – or was it? – about poor celebrities having to deal with media intrusion, like that was the issue regarding Kevin Spacey. That's what she was asked about, and she does the "pity poor celebrities" bit. Kevin Spacey's issue wasn't that part of his personal life got exposed. Spacey's issue was that he was and is a serial predator who has groped and assaulted multiple men and boys over the course of decades. And no, Spacey should not get a chance to "reform."
Cover courtesy of Porter Edit, additional photo courtesy of Getty.