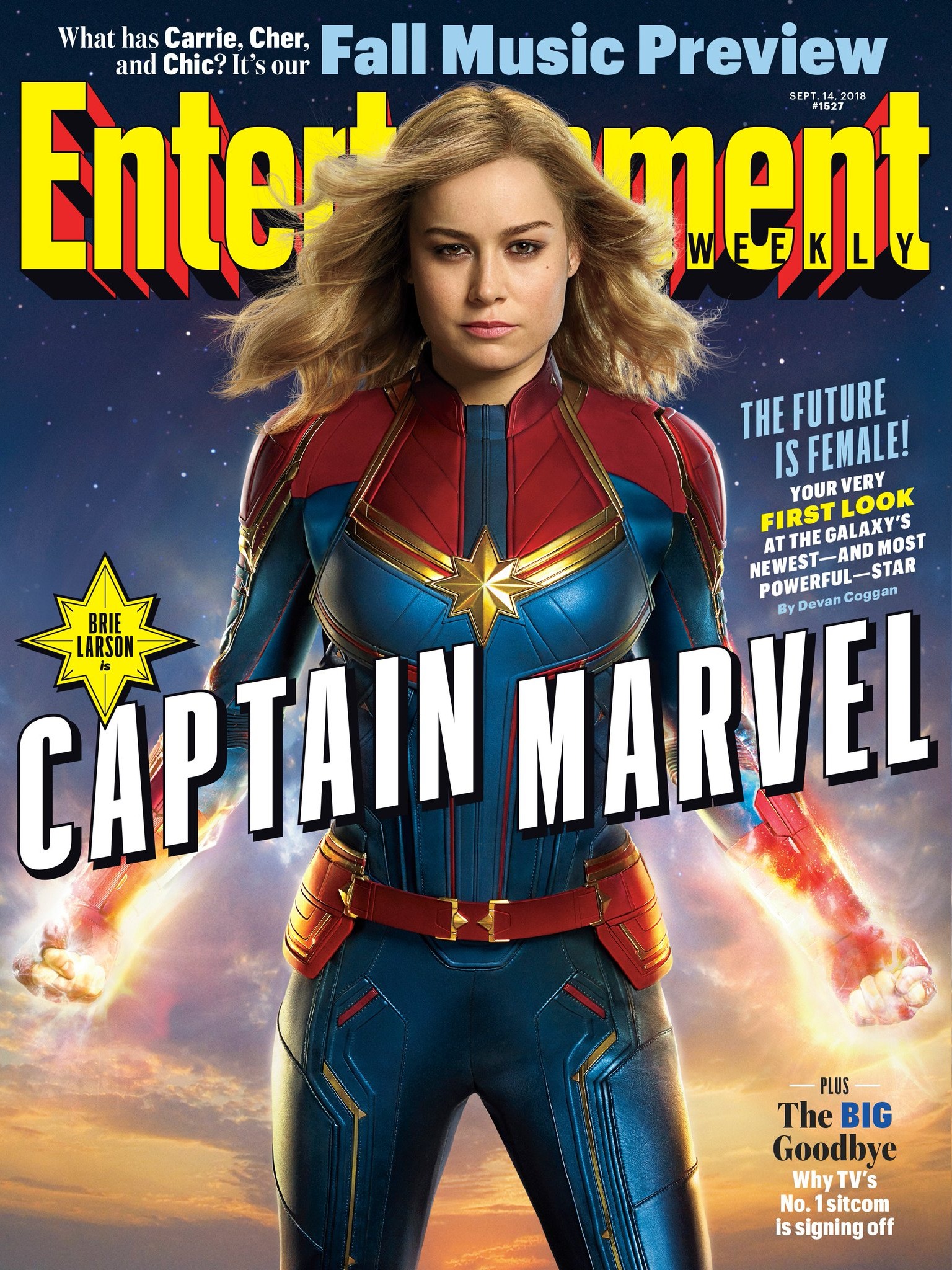 Since I'm not really into superhero films, I tend to side-eye Marvel's years-long reluctance to make a female-led superhero film. They had plenty of opportunities, but for years they were more than happy to churn out the sausage-party films and balk when anyone suggested that perhaps Black Widow should have a stand-alone movie. Finally, Kevin Feige got with the program and realized that girls see movies too (shocking!). So Brie Larson was hired to play Captain Marvel in a stand-alone origin film. The film is set in the '90s, because '90s nostalgia is a very real thing and Brie even wears a NIN shirt, which warms my heart. Anyway, Entertainment Weekly has an exclusive cover story about Captain Marvel, which comes out March 8, 2019. Some quotes from Brie:
Captain Marvel is a part-Kree, part-human pilot, and she's just being herself: "She can't help but be herself. She can be aggressive, and she can have a temper, and she can be a little invasive and in your face. She's also quick to jump to things, which makes her amazing in battle because she's the first one out there and doesn't always wait for orders. But the [not] waiting for orders is, to some, a character flaw."

She's not a godlike superhero: "You have this Kree part of her that's unemotional, that is an amazing fighter and competitive. Then there's this human part of her that is flawed but is also the thing that she ends up leading by. It's the thing that gets her in trouble, but it's also the thing that makes her great. And those two sides warring against each other is what makes her her."

Brie didn't say yes to the film right away: "I never saw myself doing something like this, mostly because I like being anonymous. I like disappearing into characters, and I always felt like if I was out in the public eye too much, it potentially limits you in the future….[but] just seeing a character who says how she feels and says what's on her mind and doesn't let people stand in her way is incredibly empowering," Larson says. And becoming the face of a Marvel superhero doesn't hurt, either: The first time she put on the Captain Marvel suit, she says, her first thought was, "Whoa, am I going to be a character at Disneyland?"

She trained for months to get the stunt work right: "I was an introvert with asthma before this movie. I really thought when they hired me, 'I am the worst choice for an action movie.' And I didn't know that I had a little Keanu Reeves in me! Who knew?"
[From Entertainment Weekly]
I'll admit it, it did surprise me when Brie was announced for this role, just because she seems like such an indie-film purist, someone who would never be down with a big Marvel role. But Brie is a pragmatist too, and a smart cookie: she knows that this will open her to a new fanbase and new opportunities. Plus, she probably loves that kids will come up to her now. And she loves the fact that they actually fleshed out a real character for her in a lead role.
.@brielarson took a long time to say yes to playing #CaptainMarvel. Here's why: https://t.co/K7yIdo2RdX pic.twitter.com/3SQZoTEo4z

— Entertainment Weekly (@EW) September 5, 2018
Here's your first look at Brie Larson as Captain Marvel, courtesy of @ew pic.twitter.com/amGwIK92AU

— IGN (@IGN) September 5, 2018
Cover & photos courtesy of Entertainment Weekly.