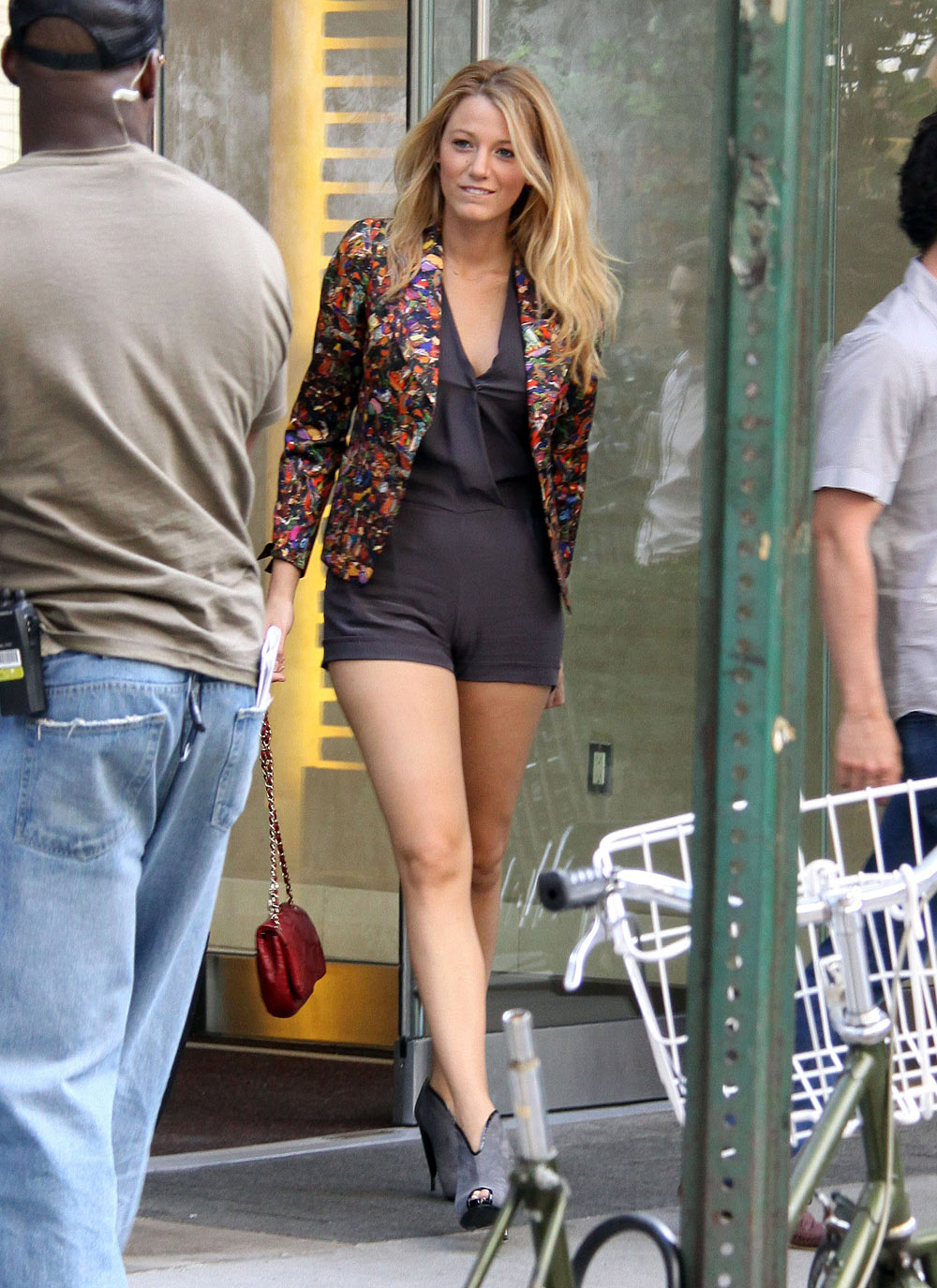 Blake Lively has that body naturally, although I'm not sure those hot pants do her body justice. Do you hate her yet? Blake got a little smug in her interview with Glamour UK, and she claims that she has barely any willpower with her diet, and she has "never worked out." Oh, Jesus. Enough! But before we get too upset with Blake's "look at me, I'm naturally perfect" bullsh-t, we can keep several things in mind: first, she won't always have that metabolism; second, I'm pretty sure that wasn't the nose she was born with, and those flotation devices on her chest are most likely implants, so Blake's not as "natural" as she wants us to believe; third, the carpets don't match the drapes. Feel better? I certainly do:
Although Blake Lively is known for wearing skimpy outfits on the set of Gossip Girl, the 21-year-old star confesses that she doesn't do anything to make her body look good.

"I do panic before I have to wear a really skimpy outfit, but I don't have enough willpower," she tells the August issue of UK Glamour Magazine. "I had to do a scene in a bra and shorts for the first time in two years," she continues. "On the day of the shoot, I ate a pork burrito, chips and coke. Afterwards, I thought, 'I probably shouldn't have done that.' But whatever."

So maybe she doesn't eat right, but at least she exercises, right? Wrong! "I have never worked out, but I know you feel better when you do," she says, "so I am planning on getting a trainer."

Lively, who has previously refuted reports of discord on the Gossip set, tells the magazine that she gets along well with her costars. "We hang out after filming," she insists. "We actually look forward to spending time together outside of work."

That includes her real-life leading man Penn Badgley, although she admits she was unhappy when he was cast on the series. "At first I was so upset that they hired him," she says. "I actually poisoned the whole cast against him. But then they noticed that he wasn't a jerk and was actually a really nice, charming person. Almost immediately I realized that too, but it took me about a week to admit it."
[From People]
I actually don't have any hate for this girl – she seems pretty harmless, and I do think she's rather pretty. A little boring, but pretty. She's hot stuff right now, with a couple of movies this year in addition to Gossip Girl. Since I don't watch the show, I'm not sure if this is a SPOILER or not, so beware all Gossip Girl fans… are they gone? Okay, apparently Blake's character Serena Van Der Woodsen is going to be spending some time next season looking for her real father. Blake has come out and told Mr. Paparazzi that she'd like none other than Brad Pitt to play her father. Hmm… I wonder if he'd be interested?
Here's Blake on the "Gossip Girl" set in New York City yesterday. Images thanks to Fame Pictures .