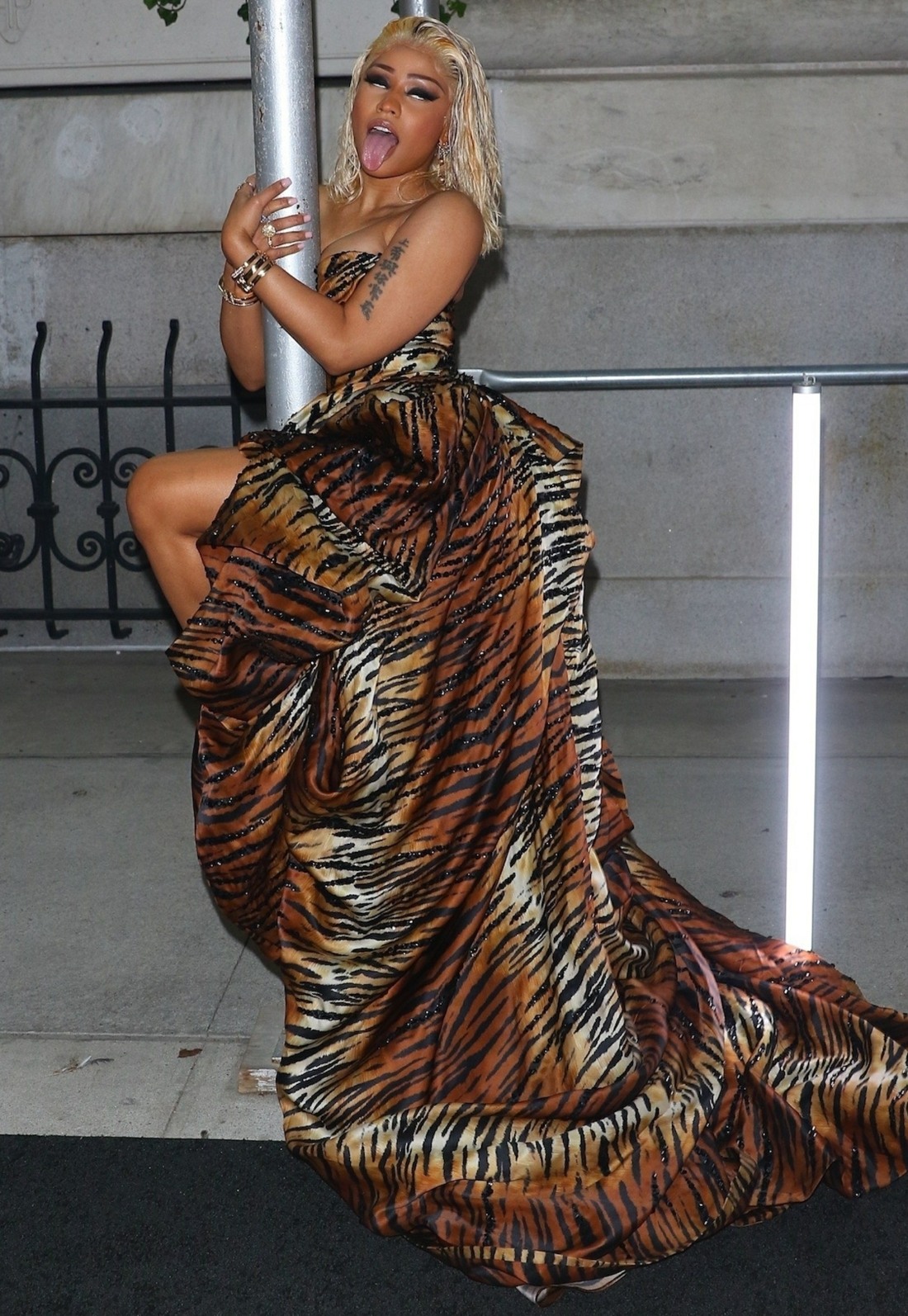 Yeah, I still don't really want to get too involved with this Cardi B-Nicki Minaj beef. I was pretty clear in repeatedly saying that I don't want to do minute-by-minute Beef Watch on these two, because most of it would just be a series of censored bleeps anyway. But everything came to a head at the Bazaar ICONS event on Friday night and shoes were thrown and Cardi had her ass out and wouldn't you know, Nicki Minaj is all talk?
Reportedly, someone said something and it likely involved Minaj saying something about Cardi's parenting of baby Kulture. Maybe. But to be clear, there was a lot building up to what happened on Friday. What I do know is that Cardi was more than ready to rumble and Minaj hid behind her bodyguards. I know that Cardi left the event with no shoes and a bump on her head. And I know that Minaj posed her ass off when she left the event (see these photos), even using a street post as a makeshift stripper's pole. Cardi posted her version of events on Instagram soon after it happened. Minaj waited a few days until she went on air on her Apple Music Beats 1 radio show, and she gave her side of the story. Some highlights:
The ICONS incident: "The other night I was part of something so mortifying and so humiliating to go through in front of a bunch upper echelon… people who have their life together. I was in a Gaultier gown — off the motherf—ing runway — and I could not believe how humiliated it all felt."

She would never say anything about a baby: "It's all lies…I would never ridicule anyone's child. [It's] so sad for someone to pin that on somebody. … These lies are ridiculous. I just want people to know that Onika Tanya Maraj has never, will never… speak ill on anyone's child. I am not a clown. That's clown s—."

Minaj criticizes Cardi personally: "You came into my f—in culture. I never had to bang a DJ to play my songs. You call black women roaches. Real bitches never attack a woman. You're angry and you're sad. This is not funny. Get this woman some f—in help. This woman's at the highest point in her career and she's throwing shoes?"

Why she took a few days to address the incident: Addressing Cardi, Minaj remarked that since "you knew that when that footage came out, you was about to look f—ing dumb," Cardi and her publicist "hurried up and put out a statement" right away. "I'm such an ill-ass bitch I didn't even feel the need to defend myself that night. She has built her career off of sympathy and payola."

She goes on to mock the idea that Cardi might have postpartum depression: "So very often I let a lot people do a lot of bullsh*t talking about me, and the world believes it. But people don't know what kind of disgusting pig this person is! Let's get up a 1-800 number for postpartum depression. The lord gave you a blessing with a bundle of joy and the only thing on your mind was to attack people and to stop their bags. Who are you angry at sweetheart? You're angry and you're sad, get this woman some f*cking help. I'm not one of these bitches in the strip club or on a reality show. My money is very f–king long too."
This was not good from Nicki. Cardi's not my favorite person but I still feel like Minaj has been poking the bear for too long and Cardi just had enough. Weirdly, I feel like Nicki Minaj and Taylor Swift have the same fundamental problem: brand confusion. Wild tonal swings. Nicki Minaj would have us believe that she's the hardest, baddest bitch out there AND she's classier than every stripper and hustler and video girl and reality star all put together. Minaj wants you to believe that she belongs at a high-class fancy event with a giant entourage to hide behind AND that she understands how to be "street."
To be clear, physical violence is never the answer… but if you spend months talking sh-t about people and acting like you're the baddest bitch around, people are going to expect you to do more than hide behind a bodyguard when one of people you've trashed comes looking for you. It was the same thing with Remy Ma – after years of Minaj poking the bear, Remy Ma dropped "shETHER" and suddenly Minaj went silent. At some point, even Minaj's fans have to acknowledge that she's all talk, right? That she is, in fact, a coward and a Mean Girl who hides behind a mic or a bodyguard rather than actually deal with people face-to-face.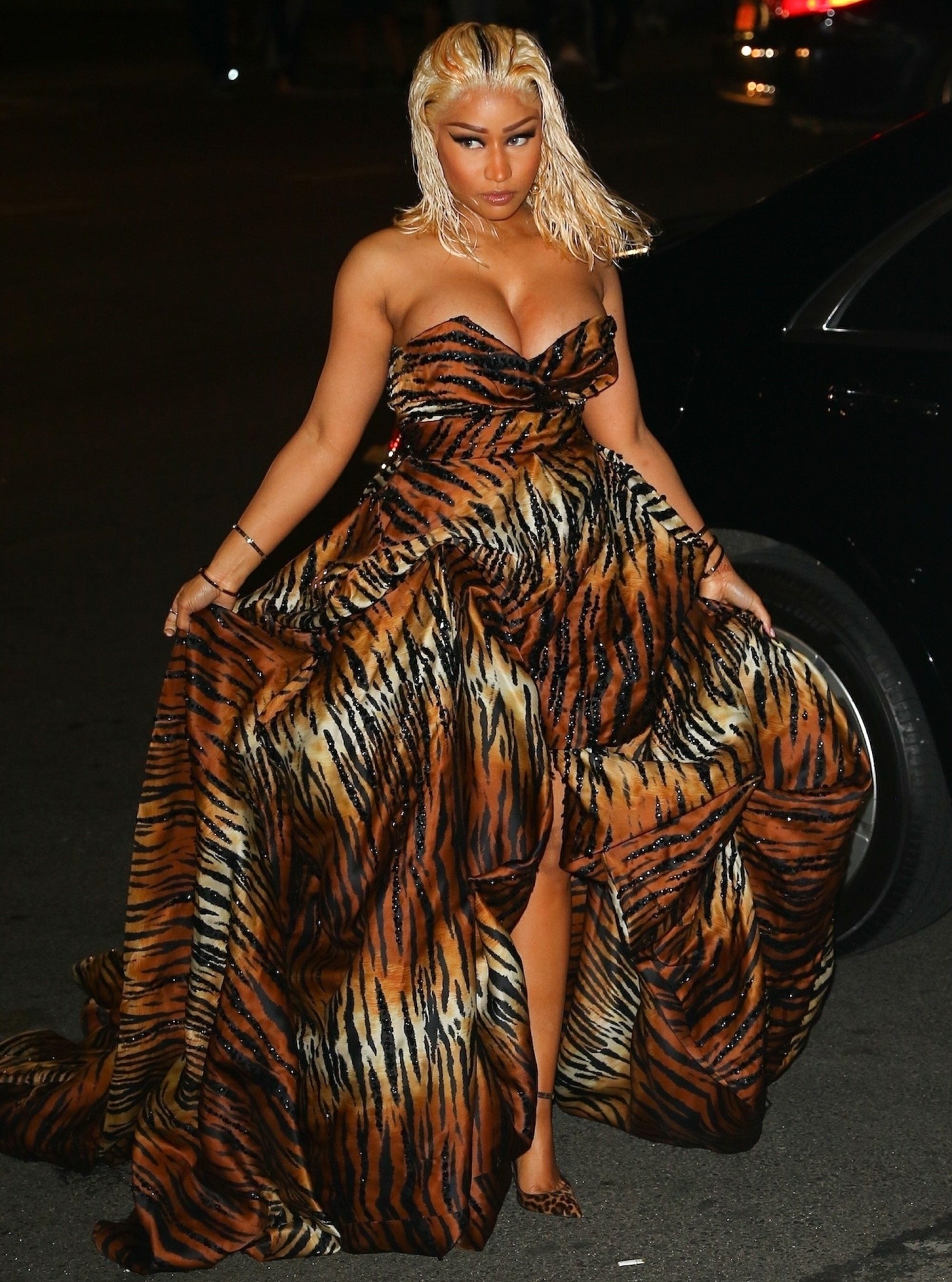 Photos courtesy of Backgrid.