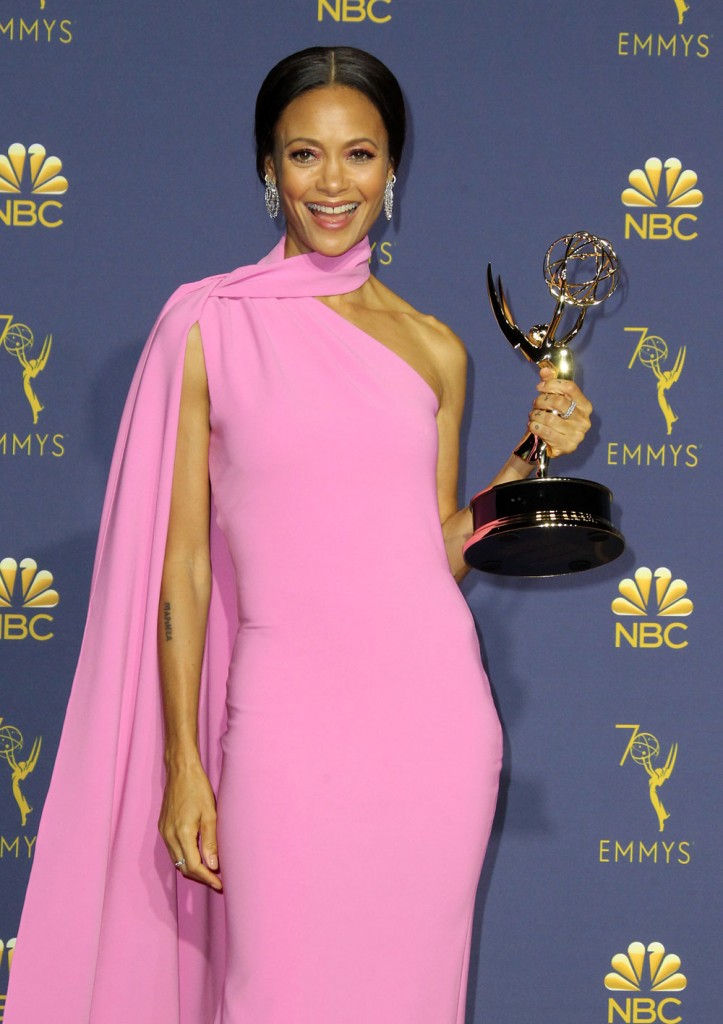 I watched Westworld up until about the third episode this second season. I like shows which make me think without being total downers (see: Black Mirror), but when they go over my head I start to tune out. Westworld is so complicated that several of the actors have mentioned not being able to grasp the plot. That's their full time job and they have access to all the scripts! Westworld is a punchline at this point. Thandie Newton's character, Maeve, is a standout though. She was my favorite in the first season (her scenes with Rodrigo Santoro!) and I was so happy that she won for Supporting Actress last night.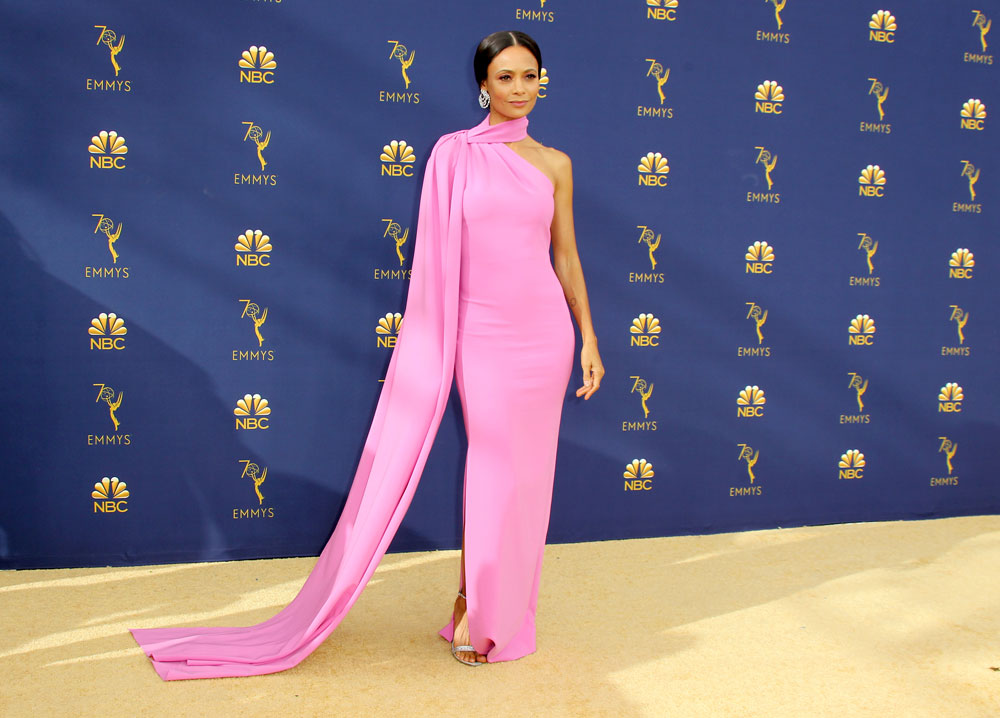 Thandie was a dream in a pink Brandon Maxwell gown with a long side train. The small details make this dress, like the way it's folded over expertly at the neck and how the one gathered shoulder perfectly matches the gathering at the top. Imagine the engineering and craftsmanship that must have gone into tailoring this. Also, I just googled "Thandie Newton exercise" because she's my age and my God, and apparently she's into yoga and light weights. Here's an interview with her trainer.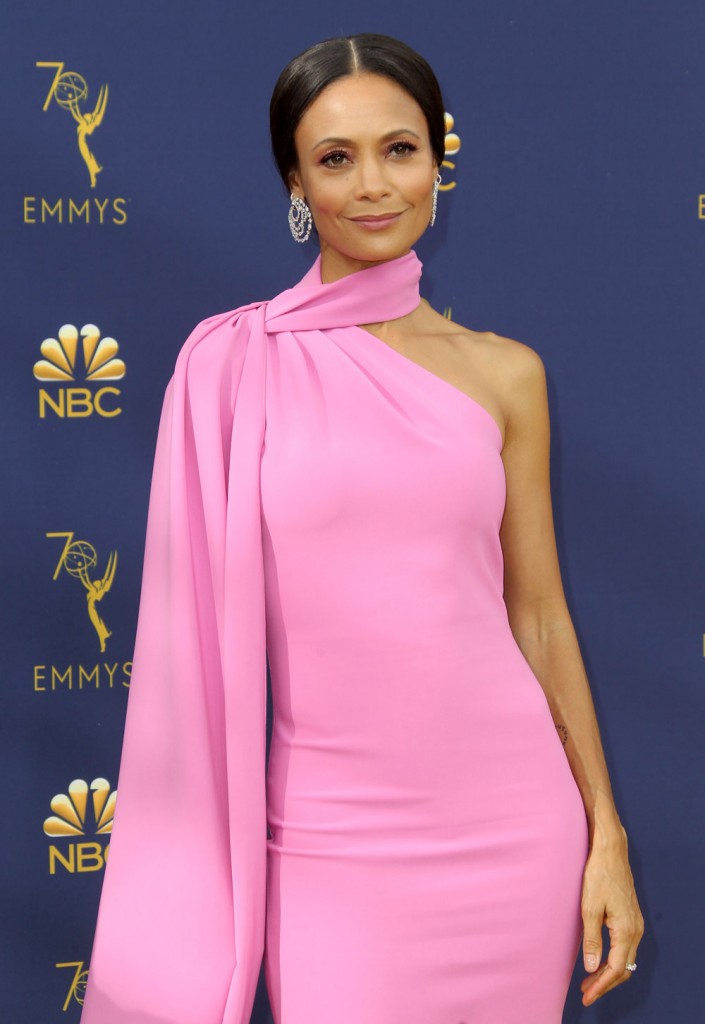 Heidi Klum must have a new stylist as she's been killing it on the red carpet lately. She was gorgeous in an off white Zac Posen gown which looked like it was a Vivienne Westwood knockoff, honestly. It's very elegant though and I love the way it's gathered and draped. Heidi brought her new boyfriend, Tokio Hotel's Tom Kaulitz, 29. She's been gushing about him in interviews. Apparently this is the first time in a while she's dated another German person so they have that in common. Don't worry, they're not engaged.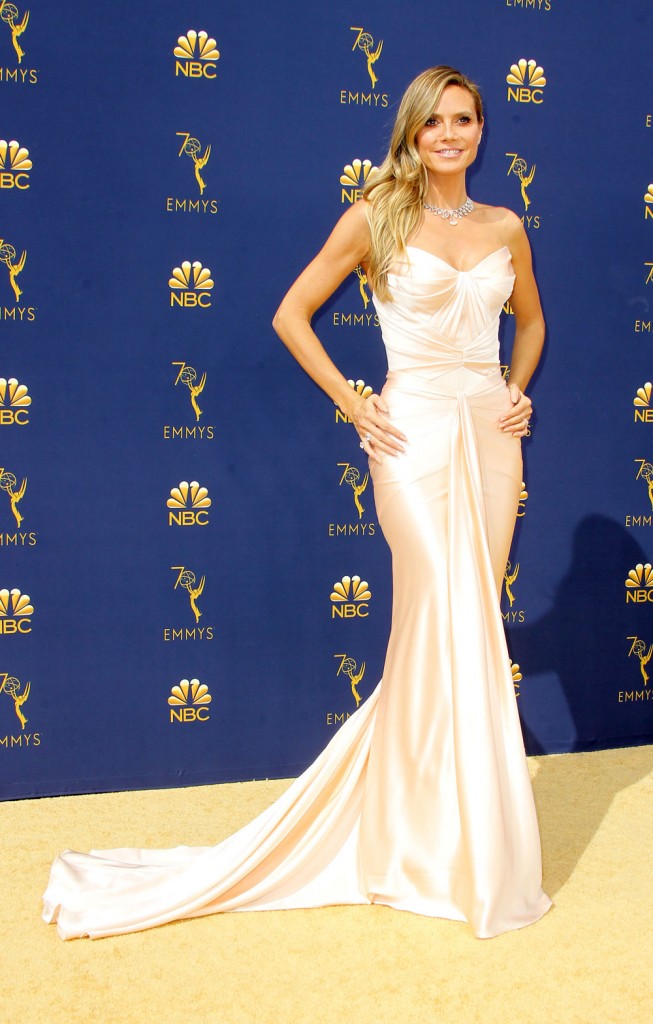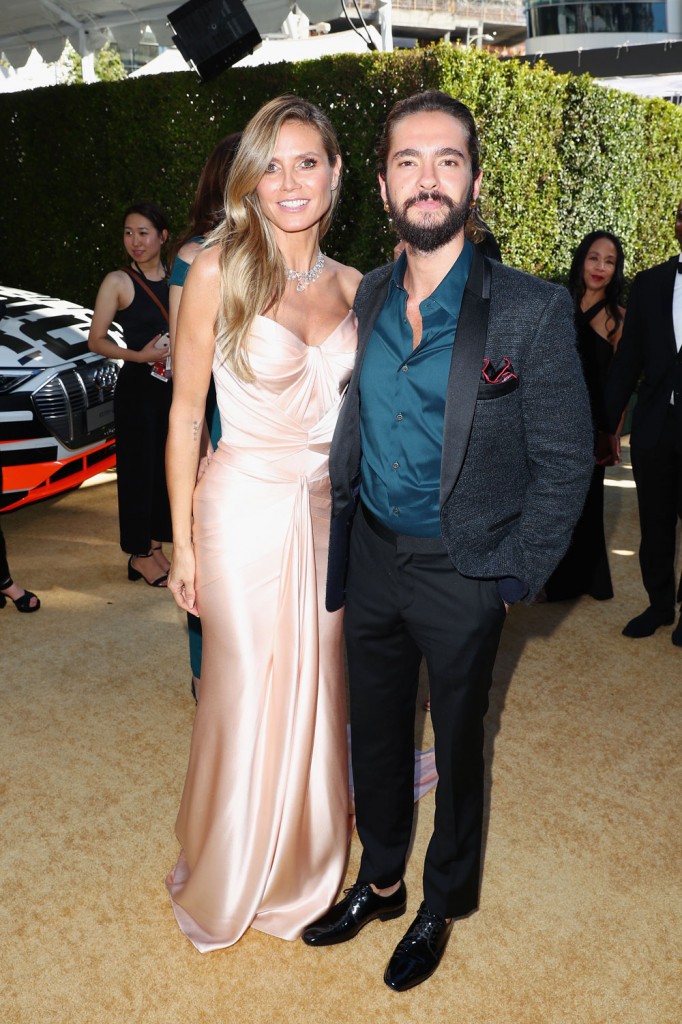 Kristen Bell was in a white form fitting full length Tom Ford accented with slicked back hair and gorgeous diamond drop earrings by Lorraine Schwartz. This dress is amazing on her and she really switched up her look with her styling. I'm so impressed with this look on her. Plus I've been watching The Good Place, I'm about halfway through the second season, and she's incredible in that. The Good Place was only nominated in one category last night, Lead Actor for Ted Danson.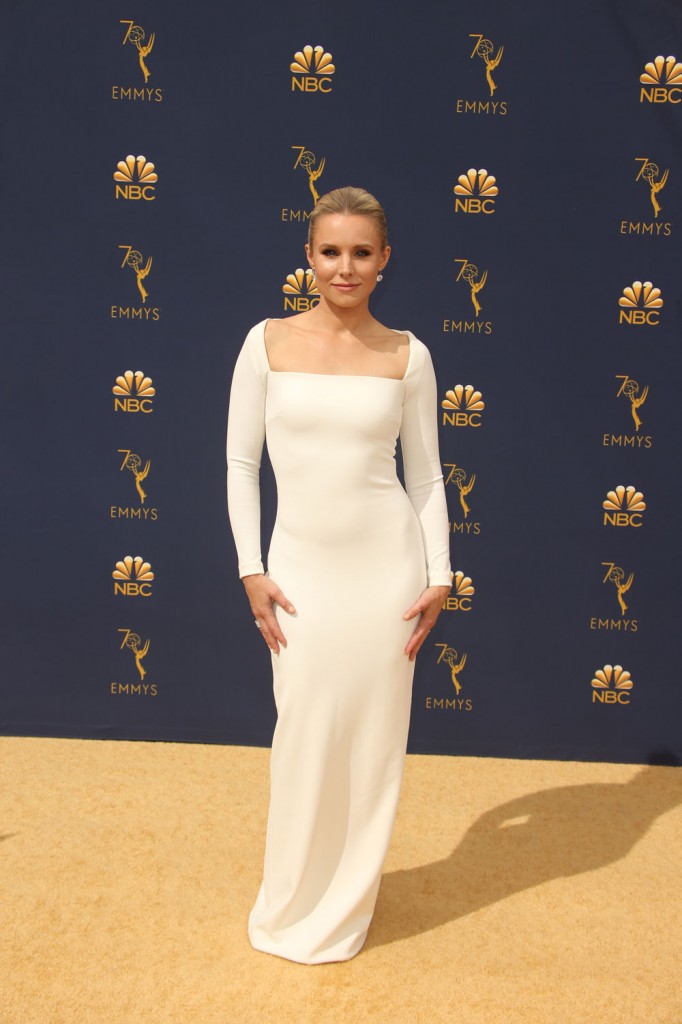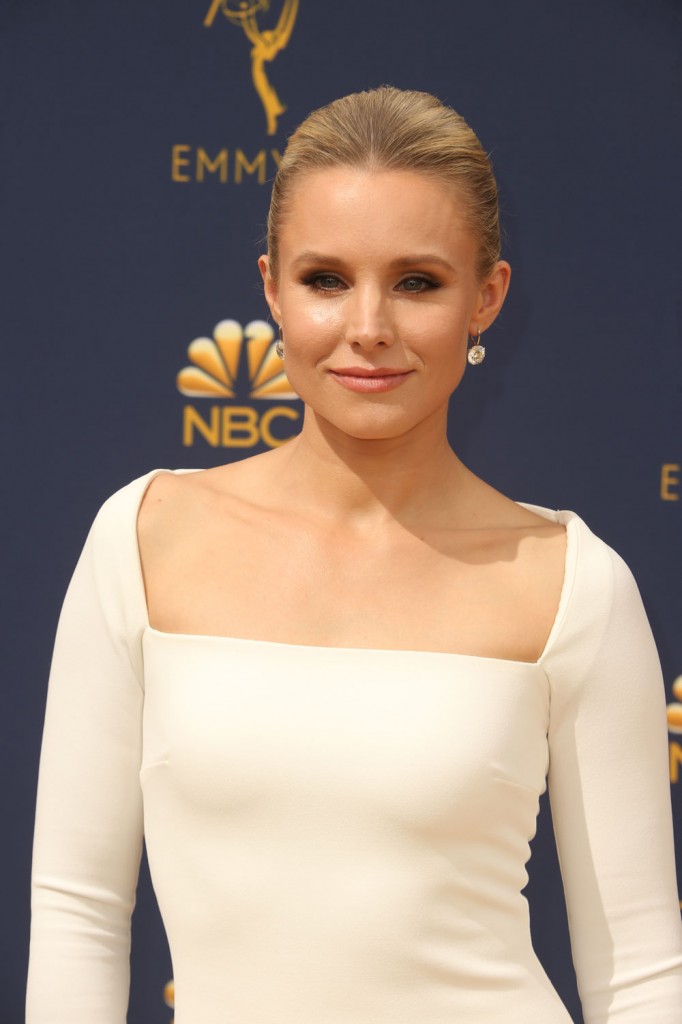 Kirsten Dunst was in a low cut navy Schiaparelli Haute Couture gown. She just had a baby and it shows. Her dress is classic and lovely and I have bewb envy. Kirsten's fiance, Jesse Plemons, was nominated for Lead Actor in a Limited Series or Movie for his work in Black Mirror's "USS Callister." (Kirsten was also in that for a second!) That category went to Darren Criss for The Assassination of Gianni Versace. Kirsten and Jesse were so good in Fargo together and I love that they're a couple now.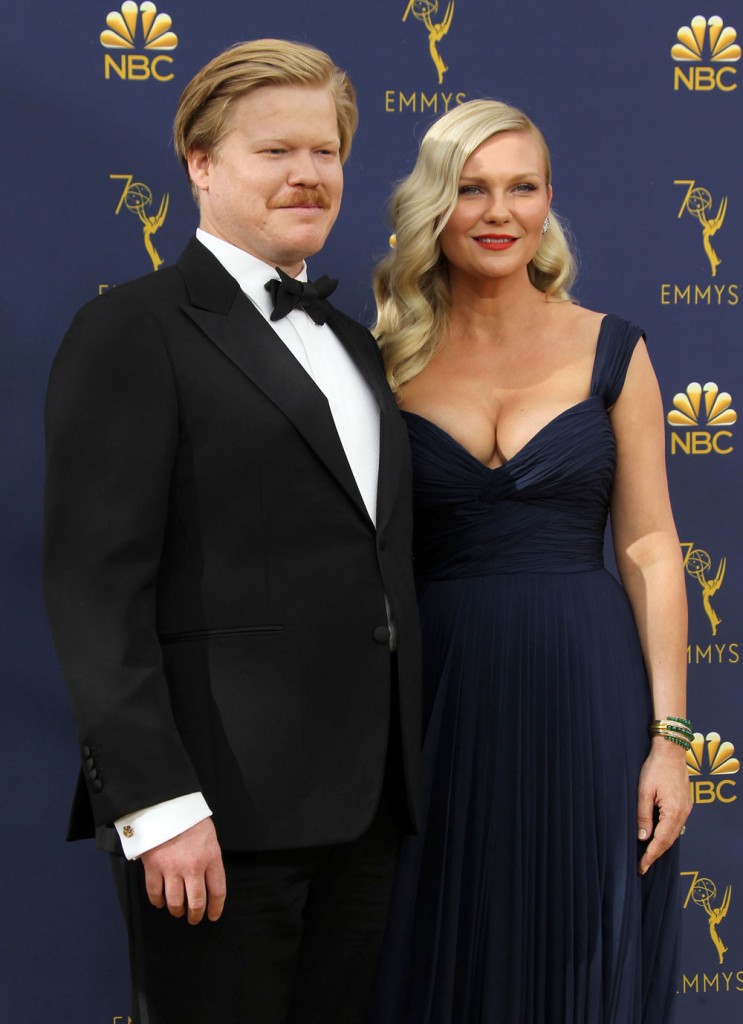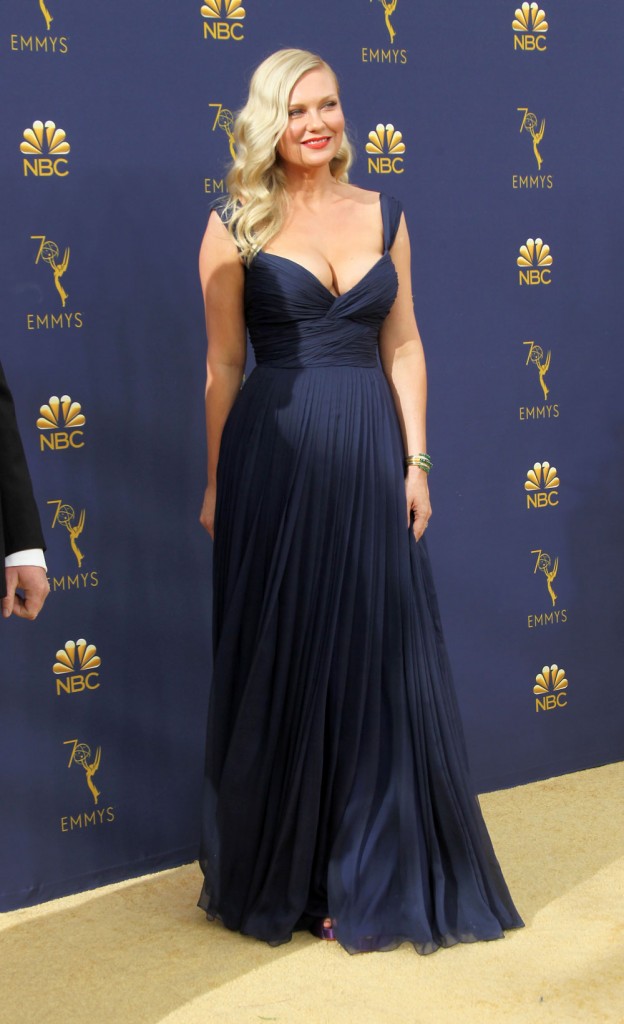 photos credit: WENN