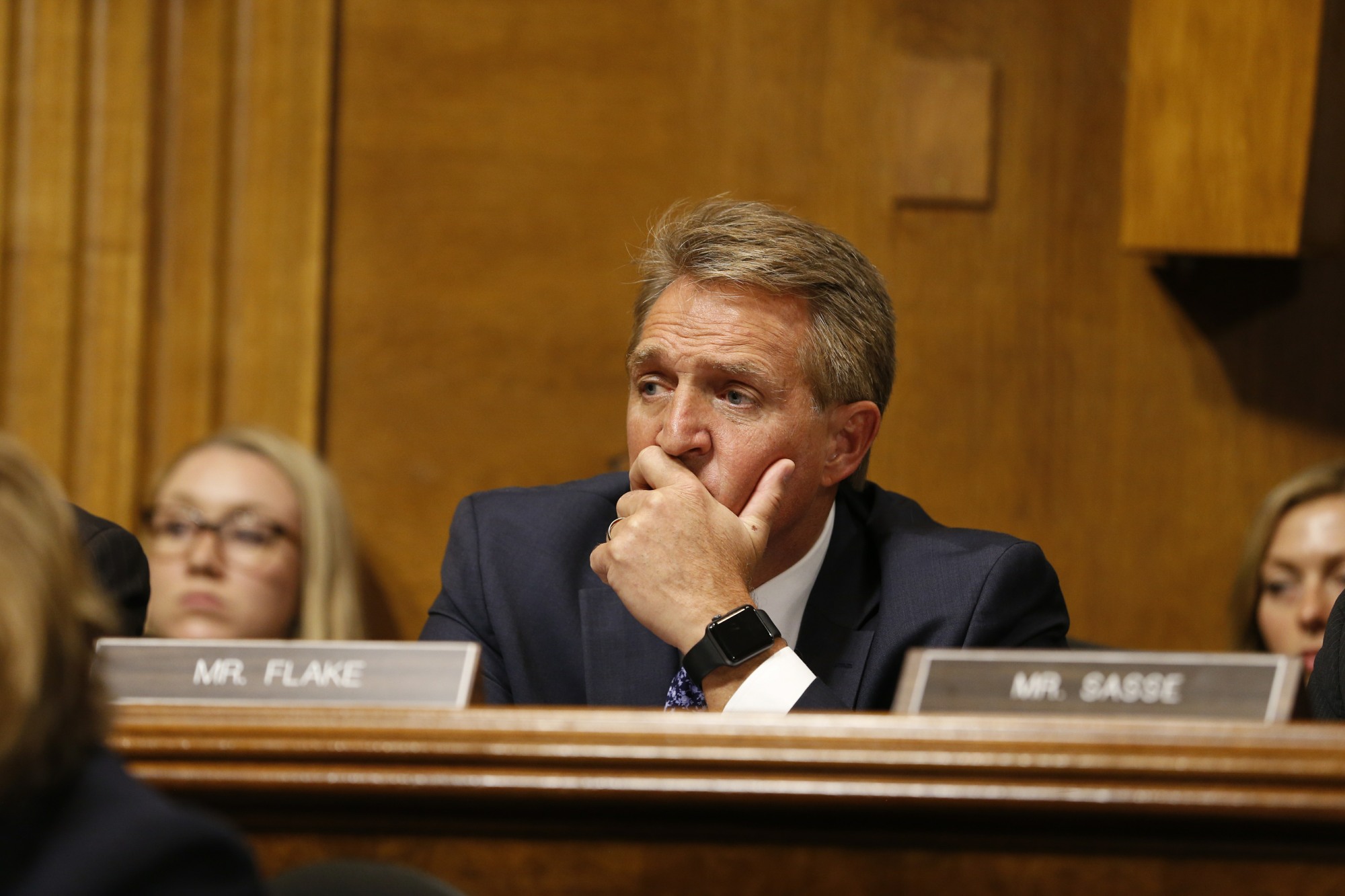 Yesterday, the white, Republican men of the Senate Judiciary Committee put a victim of sexual assault on trial and then they apologized to her would-be rapist for even listening to what his victim said. Jeff Flake was one of those Republican senators. He was one of the cowards hiding behind Rachel Mitchell as Mitchell prosecuted a survivor who genuinely believed it was her civic duty to come forward and tell her story. He was one of the chickensh-t a–holes who got emotional thinking about how hard all of this has been on Brett Kavanaugh. And no surprise, Jeff Flake announced that he would vote for Kavanaugh in committee, and vote for him in the Senate-wide wide. Moments after the announcement of his planned vote, this happened in the hauls of the Capitol building:
"Look at me when I'm talking to you. You're telling me that my assault doesn't matter!": Protesters confront Sen. Jeff Flake moments after he announces he will vote to confirm Brett Kavanaugh. https://t.co/Cc5y9kura1 pic.twitter.com/qqvz3jx8JF

— CNN (@CNN) September 28, 2018
Another morning where I'm sitting at my desk crying. Everything these women say is 100% true. These Republican men listened to Dr. Ford and they might even believe her story. But fundamentally, they do not care. They would prefer to knowingly put a rapist on the Supreme Court rather than simply delay the vote so a full investigation can take place. They would rather turn away from all of the ugliness and sadness they're causing, because that's what privilege is.
The committee votes on Kavanaugh at 1:30 pm today. The full Senate vote is still scheduled for next week.
Update by Celebitchy: Senator Flake voted yes to move the Kavanaugh nomination to a vote however he hemmed and hawed and asked for a delay of one week for the FBI to investigate the claims against Kavanaugh. They were supposed to vote on Kavanaugh in the Senate on Saturday, but it's unclear if that will happen or if it will be delayed for a week as requested. Senator Lisa Murkowski (R-Alaska) is also considered a swing vote, meaning the Republicans might not have enough votes to push Kavanaugh through if this comes to a vote tomorrow. If an investigation is going to happen, Trump has to approve it. Trump was interviewed and he seemed to suggest he would support an investigation, but his word is worth nothing as we know. before Of Dr. Ford, he said "I thought her testimony was compelling. She looks like a very fine woman to me, very fine woman." So he just focused on the looks of one of the victims of his Supreme Court nominee.
Second update by Celebitchy: Trump ordered an FBI investigation and the vote on confirming Kavanaugh has been delayed. He said "As the Senate has requested, this update must be limited in scope and completed in less than one week." The public will not be privy to the results, which will simply be put in Kavanaugh's file and only accessible to Senators. Please come through Senator Booker.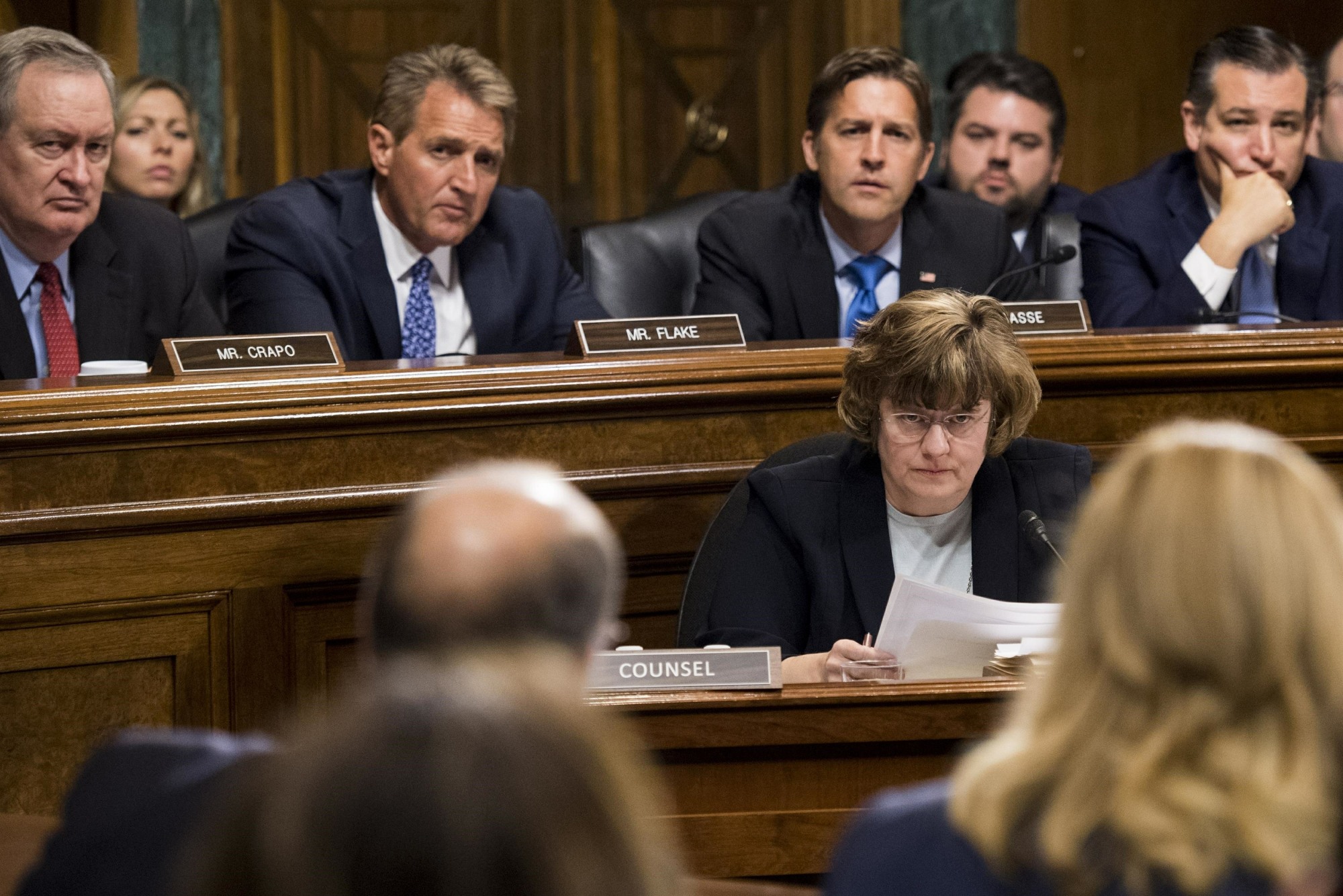 Photos courtesy of Avalon Red, Backgrid.