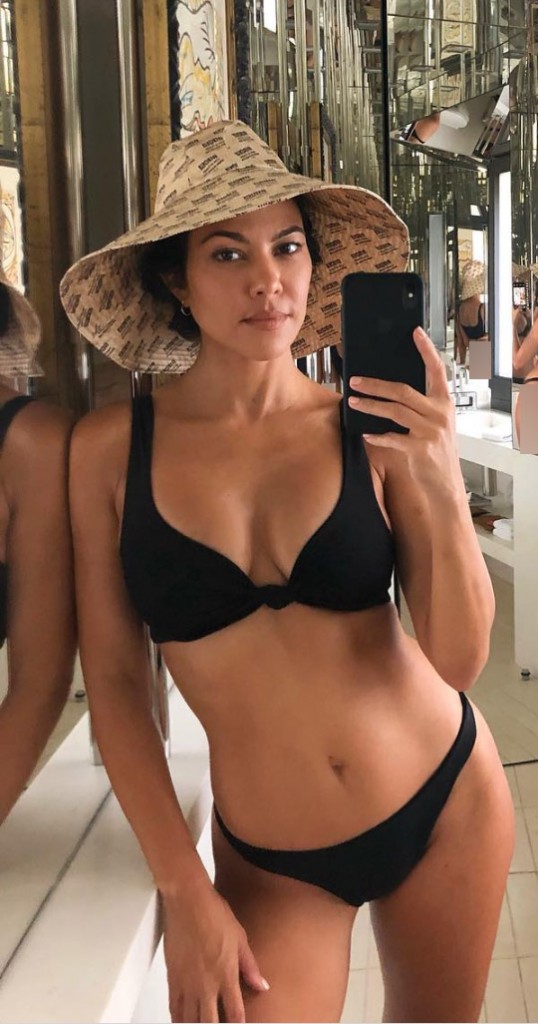 While I haven't weighed 100 pounds since I hit double digit ages, I would like to point out that Kourtney Kardashian is quite short. She's just 5 feet tall, so 100 pounds puts her at a BMI of 19.5 which is not underweight. At her height she wouldn't be underweight unless she lost about six pounds. So she's thin but not worryingly so and she doesn't look sickly or anything. Still, it's kind of shocking to hear someone say that they try to keep their weight at a hundred pounds. Kourtney made this admission through a source quoted on People. Apparently she was eating on KUWTK and people trolled her for it. She responded because it's her job to respond to trolls. Then someone told People that she tries to maintain at a hundred pounds which isn't underweight.
The Keeping Up with the Kardashians star, 39, spoke out on Twitter after getting criticism and jokes about eating throughout Sunday's episode.

"I swear I just read 100 comments about me eating on tonight's episode and some of you are very offended. Let me live," Kardashian tweeted, along with a laughing face and several food emojis.

The 5'0″ mom of three is known to try out trendy diets, like keto and intermittent fasting, and stays committed to her workouts. A source tells PEOPLE that she works to keep her weight consistent.

"She works out and eats in order to try to stay around 100 lbs.," the source says, adding that Kardashian doesn't want to get too skinny. "Yes, she eats very healthy but she wants her body to be healthy and not underweight or malnourished."

Kardashian also has to focus on keeping her weight up, because "her body type is very different from her sisters'," the source says. Kim and Khloé have long documented their efforts to lose weight…

Kardashian tries to eat organic foods as much as possible, and limits her sugar intake.

"I always try to avoid sugar — especially refined sugar — for so many reasons," she previously said on her app. "First, sugar is addictive and I notice that after I eat it, I need it. Sugar doesn't sustain you when you actually need energy, like for a workout. Also, when I eat sugar, I find that more cellulite appears."

But, like everyone, Kardashian gives herself a break from time to time.

"When I'm traveling (and sometimes on the weekend), I'll cheat—I'm a little more lenient now than I was when I first started this whole thing," she said. "But when I'm home and in my day-to-day routine, I try to exercise five to six times a week and eat healthy every day."
As I mentioned, technically that's not underweight. We shouldn't concern troll people for being any weight though. Plus, it's also her job to be hot and post revealing photos. Also to date young guys. She's really quite boring but she's filling that role of the hot boring sister. She has relationships on her own terms and has less drama in that department relative to her sisters. She dealt with Scott's drunken mess for years and then she dated dudes who wouldn't challenge or cheat on her. When the last one did cheat on her she dumped him and switched him out for a younger model. Also, she tells no lies about sugar being an evil cycle *eats another Hershey's kiss* Protip: put chocolate and candy in the freezer. It slows you down somewhat, but not totally. At least it's an effort to eat the whole bag.
I swear i just read 100 comments about me eating on tonight's episode and some of you are very offended. Let me live. 😹🍣🥗🍧🍝😊 https://t.co/7ZLLbsKhvW

— Kourtney Kardashian (@kourtneykardash) October 1, 2018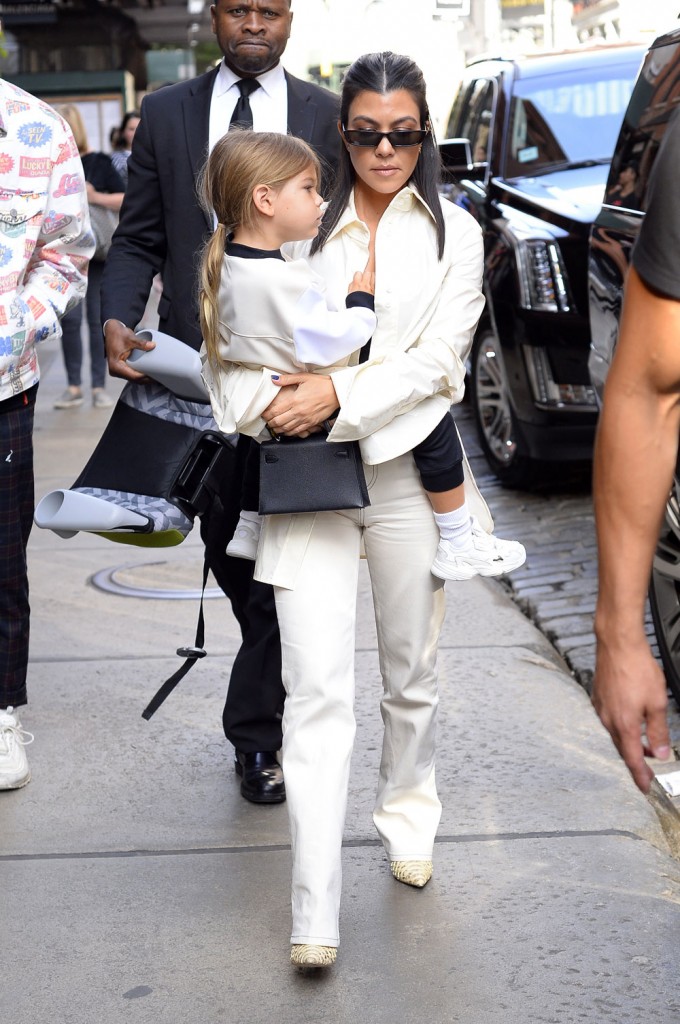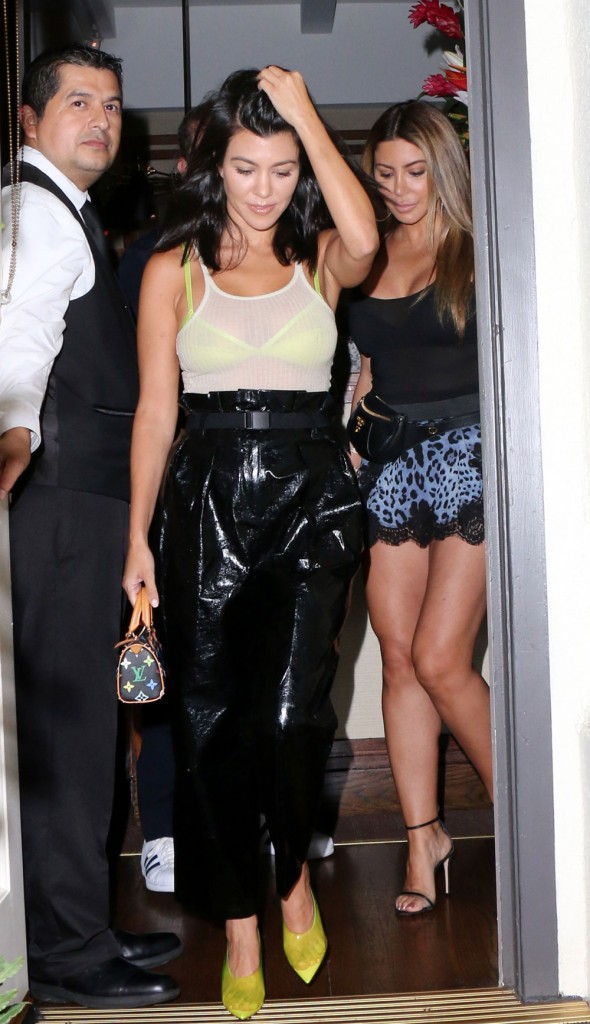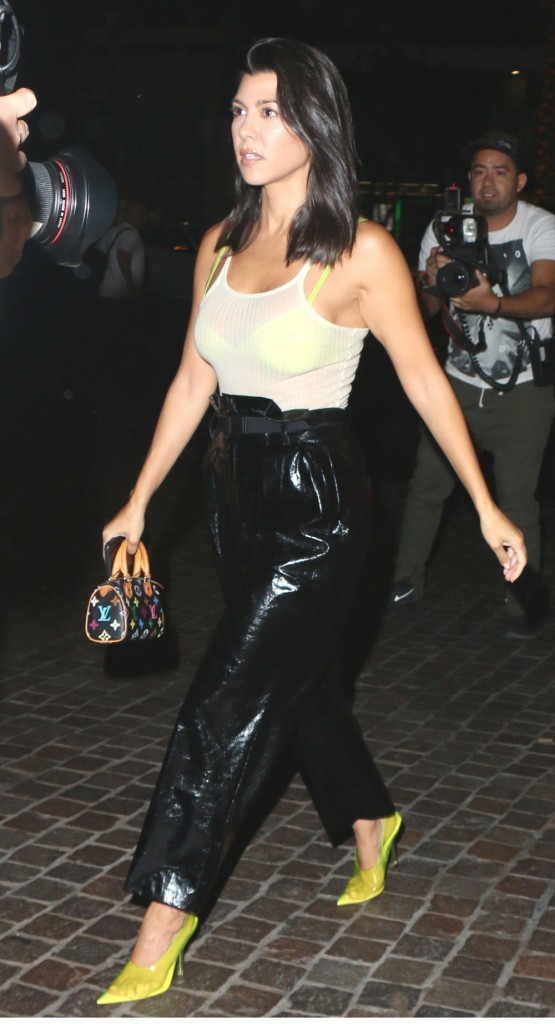 photos credit: Avalon.red and Instagram/Kourtney Kardashian