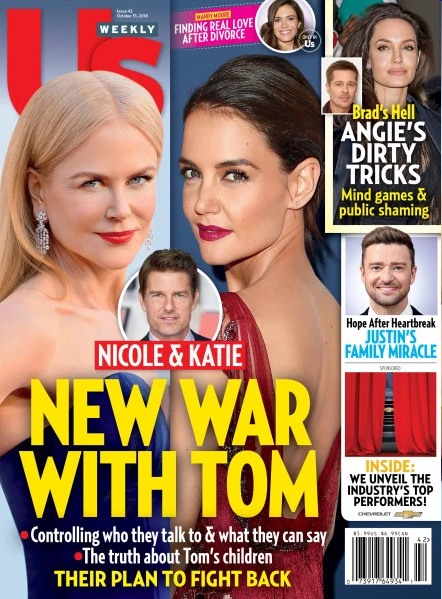 This is a really random Us Weekly cover, right? Tom Cruise is largely in the wind these days and he's not trying to go to war with anyone, much less two of his ex-wives. Nor do I believe that Nicole Kidman and Katie Holmes waste too much energy worrying about Tom or even thinking about him. Nicole especially has made a full and complete break from Cruise, so much so that she hasn't seen Isabella and Connor in years. Katie retained custody of Suri, and the opposite happened: Tom hasn't seen Suri in years. Well, now Us Weekly has a cover story about how… Nicole and Katie don't give a sh-t and that's the "war." It's very strange, although Us Weekly is confirming something I've known/suspected for a while: Tom Cruise hasn't seen Suri Cruise in years.
Tom Cruise and the Church of Scientology are distant memories for Nicole Kidman and Katie Holmes.

"Katie and Nicole have moved on from their time with Tom and are leading their own lives outside of the church," Tony Ortega, former editor in chief of The Village Voice and a staunch critic of Scientology, says exclusively in the new issue of Us Weekly. When Kidman, 51, divorced Cruise, 56, in 2001 after nearly 11 years of marriage, their adopted children, Isabella, now 25, and Connor, 23, lived full-time with the Top Gun star and cut off practically all contact with their mom. But in recent years, Kidman — who wed Keith Urban in 2006 and later welcomed daughters Sunday, 10, and Faith, 7 — has worked to reconnect with her eldest kids.

Still, Isabella and Connor are "full-fledged Scientologists and very much under the influence and guidance of their father," Ortega, 55, claims to Us.

"Tom chose as wives women who are incredible mothers," Ortega tells Us. "Katie and Nicole have spoken about raising their daughters to be independent and giving them a solid education, which is the opposite of Scientology teachings. Just living their lives is their way of moving on from the Church of Scientology."

Tom Cruise can see his daughter Suri up to 10 days a month, but chooses not to, a source tells Us Weekly exclusively. "Every person is allowed to see their child if they wanted to," the source tells Us, revealing custody of the 12-year-old is outlined in his divorce agreement with Katie Holmes. "He chooses not to because she is not a Scientologist."

Tony Ortega, former editor in chief of The Village Voice and a critic of Scientology, adds that Holmes probably signed "some nondisclosure agreement saying she wouldn't say anything bad about Scientology" to ensure she had primary custody of their daughter. "She wanted to get away and she wanted to get Suri," Ortega explains. The author also notes that Holmes was likely advised not to keep in touch with former friend and former Scientologist Leah Remini after her divorce from Cruise.

"I'm sure her father, who's a smart attorney, has probably told her that hanging out with Leah would be considered disparaging the church in the eyes of Tom and the church," Ortega tells Us. "We were all hoping that eventually Katie would say more and that we'd see them together, but Leah has gone on to become this real lightning rod for exposing Scientology's abuses, and I think Katie just wants to keep the life she has right now with Suri and not get in a big fight with the church."
[From Us Weekly (two stories)]
I have some thoughts. One, I think Nicole was able to "get out" so cleanly because she didn't fight Tom for custody of Connor and Isabella. I think that was her Sophie's Choice: get out without being destroyed versus fighting for her kids and ending up in a nasty and public fight. And while I bet Nicole still wishes it had been different, she doesn't really regret the new life she built for herself, and no, she doesn't have restrictions placed on her by Cruise after all these years. That was the deal. As for Katie… yes, she got out and she got out with Suri. I think Katie might have even thought or hoped that eventually Tom would want to see Suri, but over time, Katie is happy with the arrangement. And yes, it's sad that Tom won't even see Suri. It's pathetic, actually.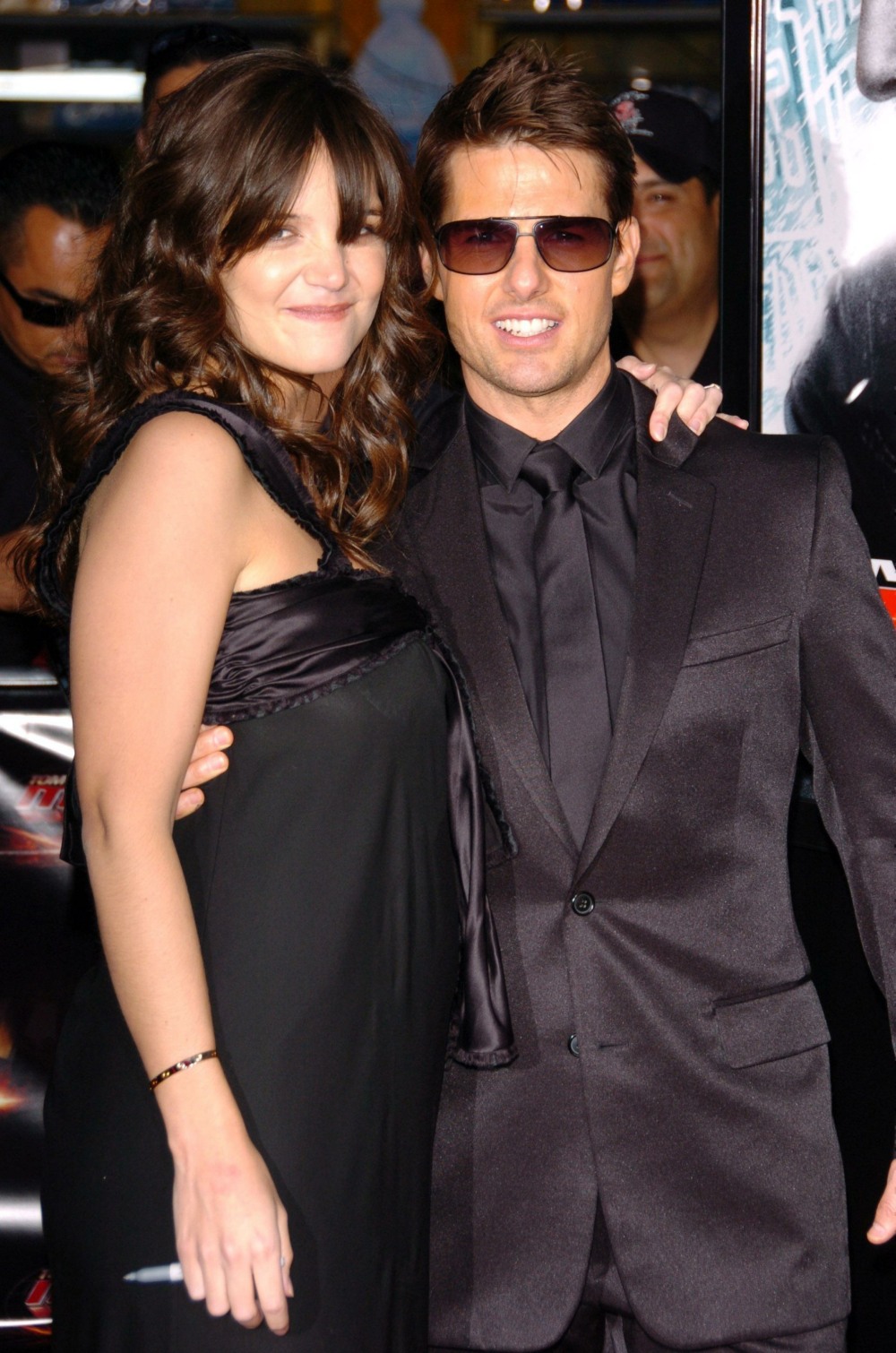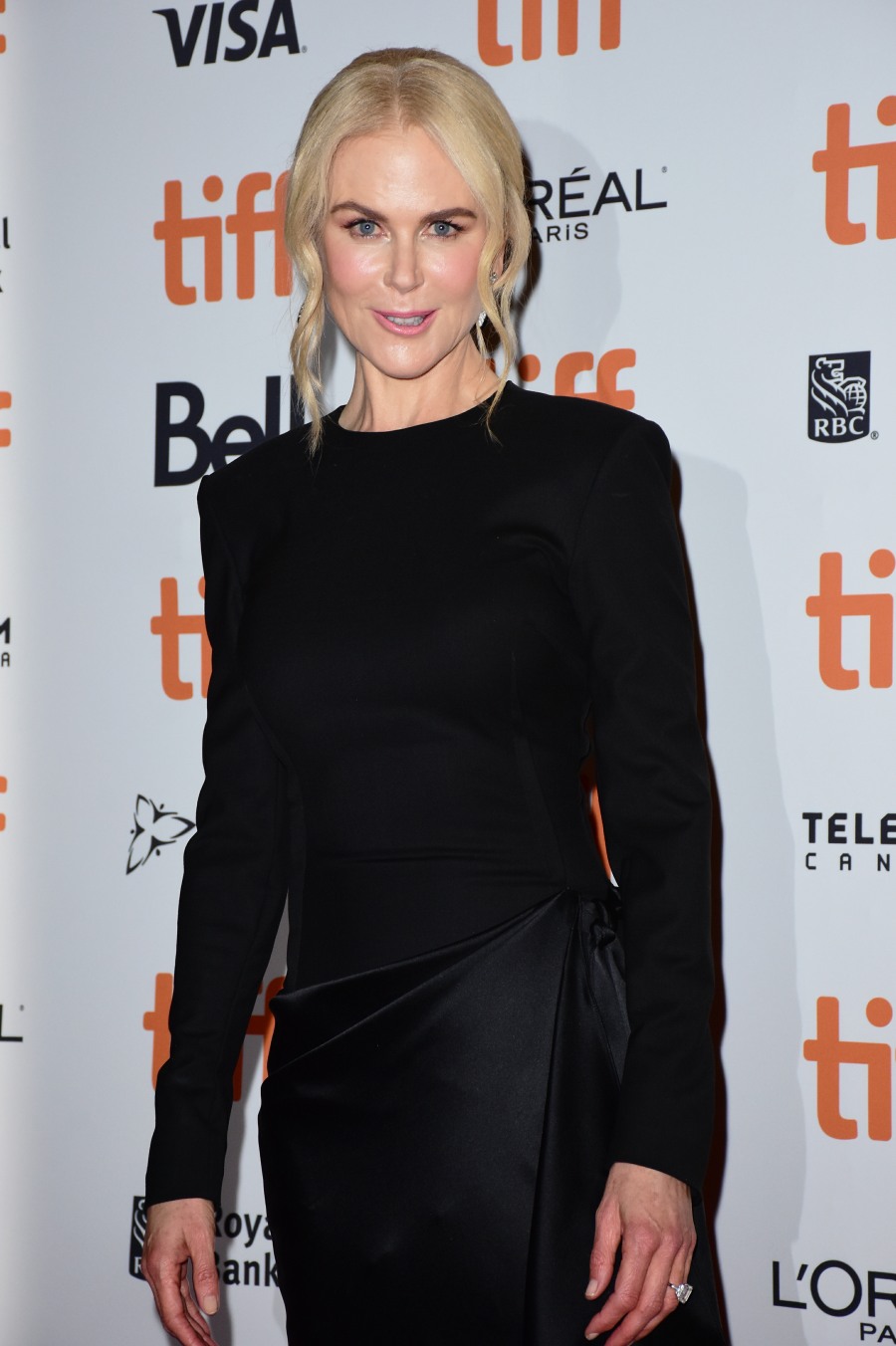 Photos courtesy of WENN, cover courtesy of Us Weekly.