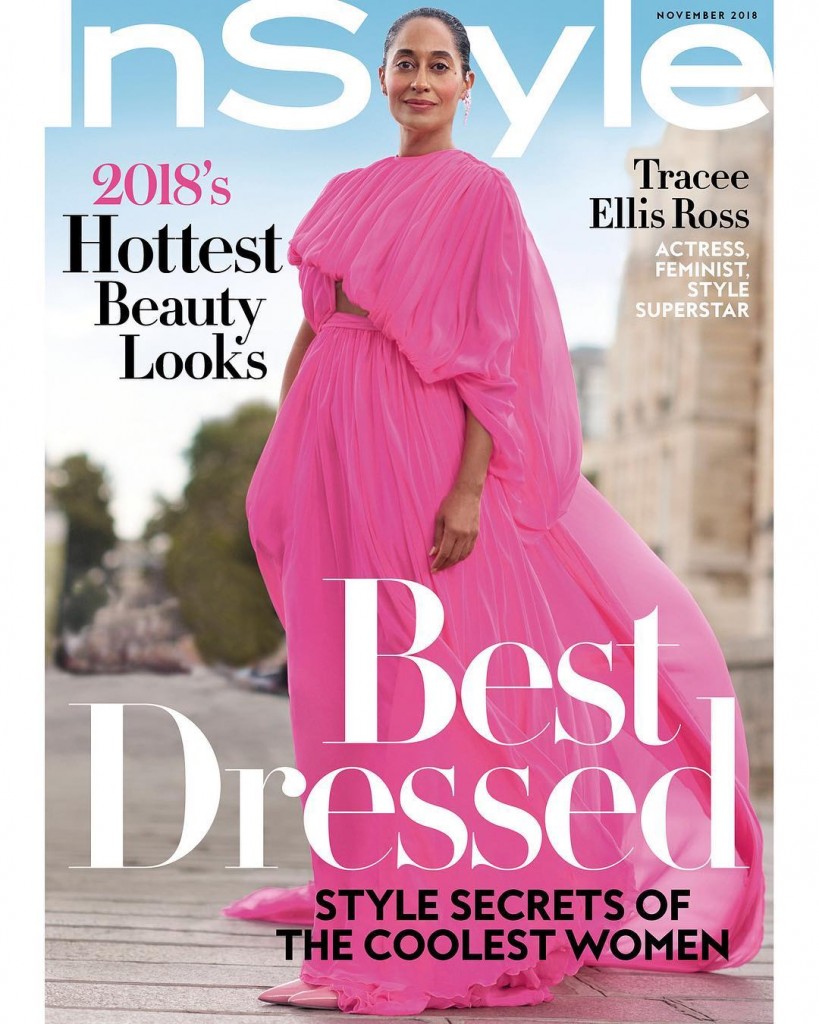 Tracee Ellis Ross is goals in so many ways. She lives her life on her terms, her fashion is aspirational, and she will tell you about it. Ross covers InStyle's November issue. She must have had input the editorial, or the stylist must know her well. The photos look just like she dresses for the red carpet – like she's a walking work of art in giant couture in bright solid colors. The interview was a joy to read. As someone her age who also loves fashion and dressing up, I can relate to so much of what she said. I also leave parties and events at 9pm and I also love my solitude. Plus I work out so I can eat, I'm not going to lie. It's hard to do the interview justice but here are a few of my favorite excerpts.
On being happily single and being asked to account for that
It's sort of fascinating to be 45 and single and childless. Happily single, I should add. Not at home crying about it. These are very big and very personal questions that aren't anyone's business but that somehow, like the right to choose, become fodder for public conversation. Some of the ability to reflect on what I really want comes from pushing up against a society that shames me for not having the expected trappings. I'm very pleased with my existence these days. Have I had to learn to make friends with loneliness? Yes. I think if I were in a relationship, it would be the same.

She leaves social events at 9pm
To get me out of the house is not so easy. I lose my social ability after 9 o'clock. My friends joke about it: You could be on a dance floor with me… and you turn around and I'm gone.

On how Black-ish is bringing important issues to a wider audience
We're using comedy to discuss some real sh-t. I think it's stuff that all of us are chomping on or wondering how other people are dealing with. I would say that 70 percent of the people who come up to me on the street are 11-year-old white boys who are obsessed with our show. Where in their 11 years would the unpacking of the historical context of the N-word come up? I think that's great.

On self care
At 18 I might have woken up like this. At 45 I f-g work for it. I love potato chips more than anything in the world, and so I work out hard. I put masks on my face. I take care of myself. And, by the way, to me self-care does not mean going to the spa. It's learning to say no. It's knowing yourself so you can make choices that are an expression of you.

On growing up privileged as Diana Ross' daughter
I have always had a lot of abundance. I was very well educated because of my mother's gift. I feel very aware of that privilege. There were beautiful things everywhere, but there was a sense of taking care of and cherishing beauty. And also of not taking things too seriously… I grew up the way Blue Ivy is growing up — although at least there wasn't social media.

On fashion and her mom's performance clothing
When I hold some of her extraordinary original beaded stage clothes, there is a particular Diana Ross smell, a mom smell, a certain perfume that I just love. And sometimes, when you open the garment bags and there's makeup or sweat or other evidence of the clothes being worn — I find it really extraordinary. It's an artifact. You're seeing the fullness of a life that existed in that snapshot of a moment. That's what clothing has always meant to me, and also probably why I became an actor.
Almost every time we report on Tracee someone is surprised to learn that she's Diana Ross' daughter. It explains so much about her, how she's unafraid, naturally dramatic and yet genuine. I loved the part of this interview where she said her mom's performance clothing captures a moment in time, down to the smells. That's what fashion is to me too, a look into the past, and a chance to make memories by being creative and playful. You do have to work at fitness and self care when you're our age but there's something delightful in that, especially when we're doing it for ourselves.
At 45, @TraceeEllisRoss is living her very best life! On the cover of our November issue, the actor talks "Black-ish," her famous mother, and her love for fashion: https://t.co/6ENNIFKRQ2

— InStyle (@InStyle) October 3, 2018