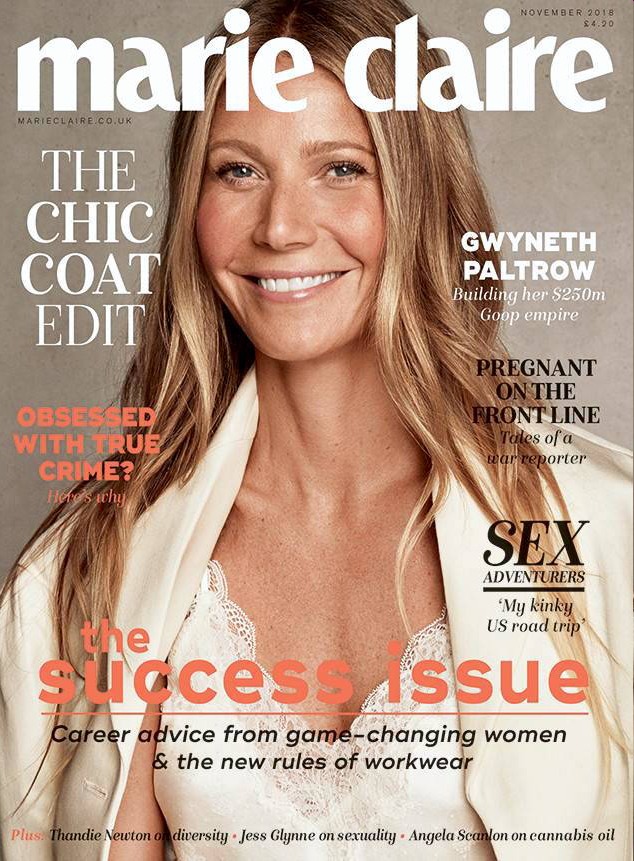 Gwyneth Paltrow covers the latest issue of Marie Claire UK, and while the photos are kind of terrible (lol), the profile is actually a great read. The MC journalist goes to Gwyneth's Hamptons home for the interview, and there are tons of details about how Gwyneth and her many staffers interact with the peasant "reporter." There are also details about Goop's Hamptons home, like this: there was an "airy, immaculate lounge filled with low, pale furniture, a grand piano and vast, muted works of modern art. There's no twee beach chic here." It might be a Hamptons home, but Gwyn would never be so gauche as to decorate with – GULP – rattan, wicker or anything beach-friendly. The MC interviewer also made this hilarious note: "Nicholas, another staff member, fetches me a giant goblet of iced water." The whole thing is a treat. You can read it here. Some highlights:
Goop is not all snake oil and cultural appropriation: "People love to talk about our "incendiary" wellness content, but we're a lifestyle brand, so we have gorgeous homeware and fashion. You're not going into the store to have an exorcism or enema."

She speaks in absolute gibberish: Her conversation is peppered with 'modalities' and 'verticals', bumping up against the earnest discourse of the self-help industry; she's the only non-therapist I have ever heard employ the phrase 'family of origin', and she refers to herself as 'an integrity'.

She's reading a stack of leadership books. "That's all I read. The psychology of this, the culture of influence that, and all these f–king business books. If you saw my nightstand, you'd be like, where is the nerd?' Two years ago, she stepped up to become CEO, and has, she says, 'a very regular working mum routine', when the family is home in LA. 'I get my kids up, take them to school, exercise, then go to the office. I stay there all day.'

The horrendous New York Times profile a few months ago: She admits today that she didn't read the piece word for word, but skimmed it – 'I don't like to read about myself – it's none of my business what people think of me. Ultimately, it shows the strength of the business. There are Fortune 500 companies that aren't in the NYT, ever. So, it means that we're on the right track, we're doing something important, we're iconoclasts and trailblazers. You can love it or hate it, but we're building something that's changing the world, and it's irrefutable that the world is coming along with us.'

How her dad told her, when she was 27, that she was becoming an a–hole: "I was just believing my own hype, thinking that I was super-awesome. And he was like, "You're getting weird – you're acting like a dick"… When you achieve the kind of fame that I did by the time I was 25 or 26, the world starts removing all your obstacles because you're now a "special person." You don't have to wait in line at a restaurant, and if a car doesn't show up, someone else gives you theirs. There is nothing worse for the growth of a human being than not having obstacles and disappointments, and things go wrong. All of my greatest achievements have come out of failure.'

Why she wanted to get remarried: 'I think that marriage is a really beautiful, noble and worthwhile institution, pursuit and endeavour. Because 
I don't think you get married and that's it – I think it's the beginning. You create this third entity, this third being that you have to nourish and look after. For a while, I thought, I don't know if I'd ever do it again. I have my kids – what's the point? And then I met this incredible man, who made me think, no, this person is worth making this commitment to. I'm very much the marrying kind. I love being 
a wife. I love making a home.'

What she misses about acting: 'Nothing. It's so weird. It was such a part of my identity for so long… I went out to LA for a couple of days, and I actually didn't hate it. But I just don't miss it. The level and breadth of creativity that I have in this job is so bananas, and I'm very fulfilled.'
She talks about going out to LA "for a couple of days," like it happens so rarely, but earlier in the interview she talks about her home being LA. Which is it, Goop? I thought Moses and Apple go to school in LA, so wouldn't she spend most of the year in LA? Wasn't that the point of Chris Martin buying a home close to hers in LA too? And doesn't Brad Falchuk live and work full-time in LA? That being said, I can understand why she wants to more closely associate herself with the Hamptons, because that's more her core audience than LA. As for the rest of it…SHE REFERS TO HERSELF AS AN INTEGRITY. And she didn't even bother reading that scathing NYT article.
Cover and Instagram courtesy of Marie Claire UK.