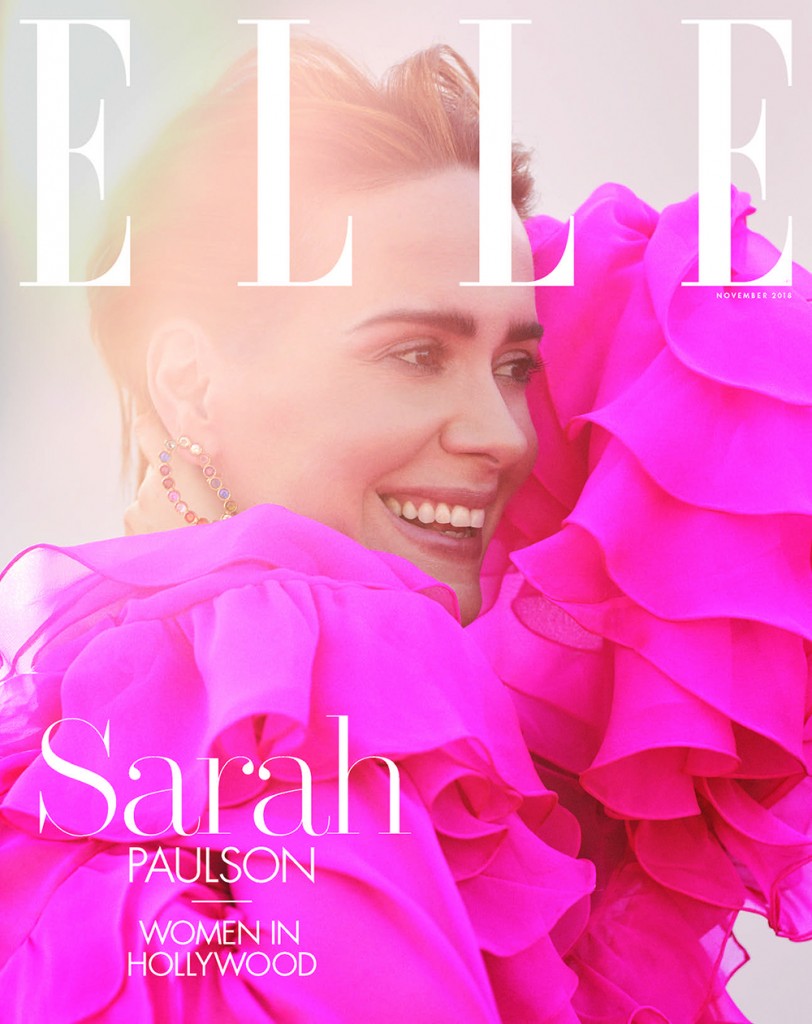 Warning: spoilers ahead for American Horror Story: Apocalypse.
If you can't get enough of Sarah Paulson, you're in luck. The 43-year-old actress is playing three roles on the latest season of American Horror Story. In the show's eight season, Apocalypse, the actress played Wilhemina Venable, who was the leader of Outpost 3 – and her first true villain role. She's also revived her role as Coven witch Cordelia Goode and will soon bring back medium Billie Dean Howard from Murder House.
Hopefully, you haven't grown too attached to Wilhemina, as Sarah revealed on Jimmy Kimmel Live last week that the character, unlike many in the AHS universe, will not be returning from the dead, telling Jimmy, "she's dead now. Sorry, spoiler alert. She took a bullet, and she went down like a ton of bricks." She also revealed that she's making her directing debut with the series' sixth episode, which airs next week. She described working behind the camera as "the hardest thing I've ever done."
Sarah is profiled in Elle Magazine's November Women in Hollywood issue, where she discusses her career and her personal life, including her "unconventional" relationship with 75-year-old actress Holland Taylor. Sarah, who has never had a problem speaking her mind, once again gives great interview. Here are some highlights:
On balancing her personal and professional life:
"I don't have children; I'm not married. But I have a lot of intimate relationships—my nieces and nephews, and a wonderful circle of friends. I don't see them enough. This idea that you can have it all is another thing to be challenged. Somebody once said to me, 'You can have anything you want, but you can't have everything.' You can't be awake and asleep, or here and also at home. You have to make choices. But I've gotta strike while the iron's hot. Right now, people are calling. They may stop really soon. So I want to make hay while the sun shines. That's a lot of things I just did there…iron, hay. But you know, the window is open. I'm just trying to muscle it open as long as I can and get it as wide as possible."
 
On ageism in Hollywood:
"Interest in me sparked when I was in my very late thirties. I have absolute terror and fear that someone's gonna go, 'You turned 45. Bye-bye.' I hope I don't get told to go back to bed. I have a lot more to do and say. But there's this notion that women fall apart after 45. It's been perpetuated by Hollywood by not putting the stories of women over certain ages front and center. They're dictating what they think is interesting, and we are consuming it and deciding that what they're telling us is true."

On her relationship with Holland Taylor:
"I didn't choose to fall in love with the person I fell in love with. But I think why it's interesting to people is that on paper, it's unconventional. For a person who might find themselves in a situation that they fear will be misperceived or judged, maybe they could see me living my life in a way that is authentic to me—just trying to be as real as possible. If that inspires anybody else, that can't be a bad thing."

On equal representation:
"This movement can be misconstrued as 'Hey, men, get out of the way.' I just want a seat at the table where they're all sitting, and have been for so long. I want a cushion—a cushy seat—and a sense that I have value and I'm allowed to stay. I have been very lucky because a lot of my sense of empowerment has come from working with Ryan Murphy. It's a bit of an anomaly to have found my voice because of this one particular man. But it's also a way of saying this can happen. You don't need to push any gender out of the way to find your spot."
I love every single thing that comes out of this woman's mouth and, as much as I miss Wilhemina already, Sarah is killing it on AHS: Apocalypse. I'm looking forward to seeing her directorial debut, as I'm sure she's going to excel as much behind the camera as she does in front of it.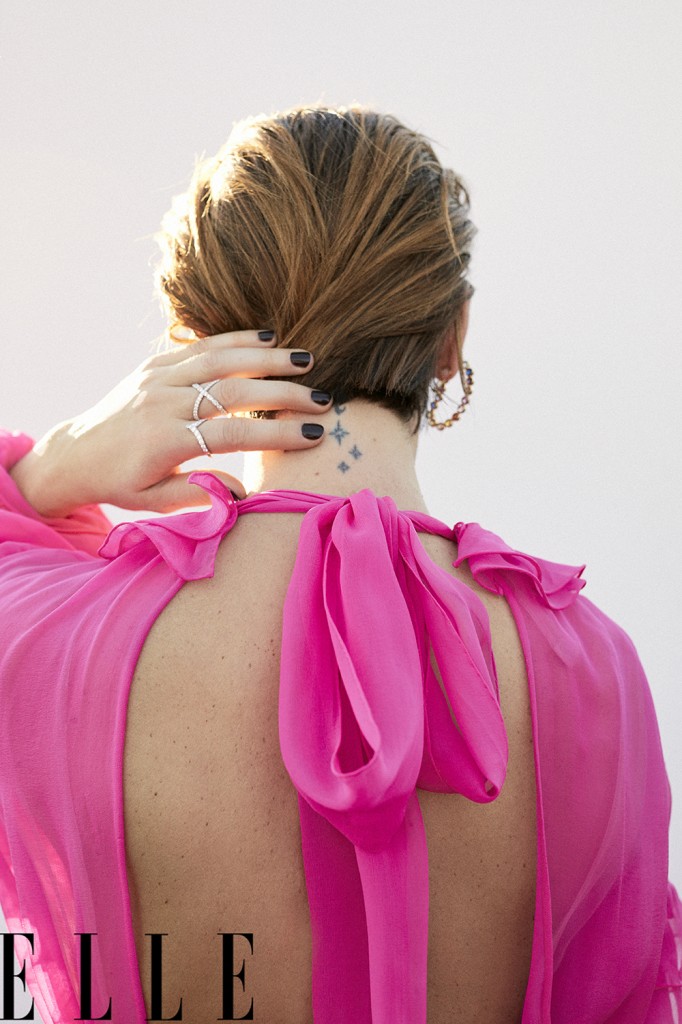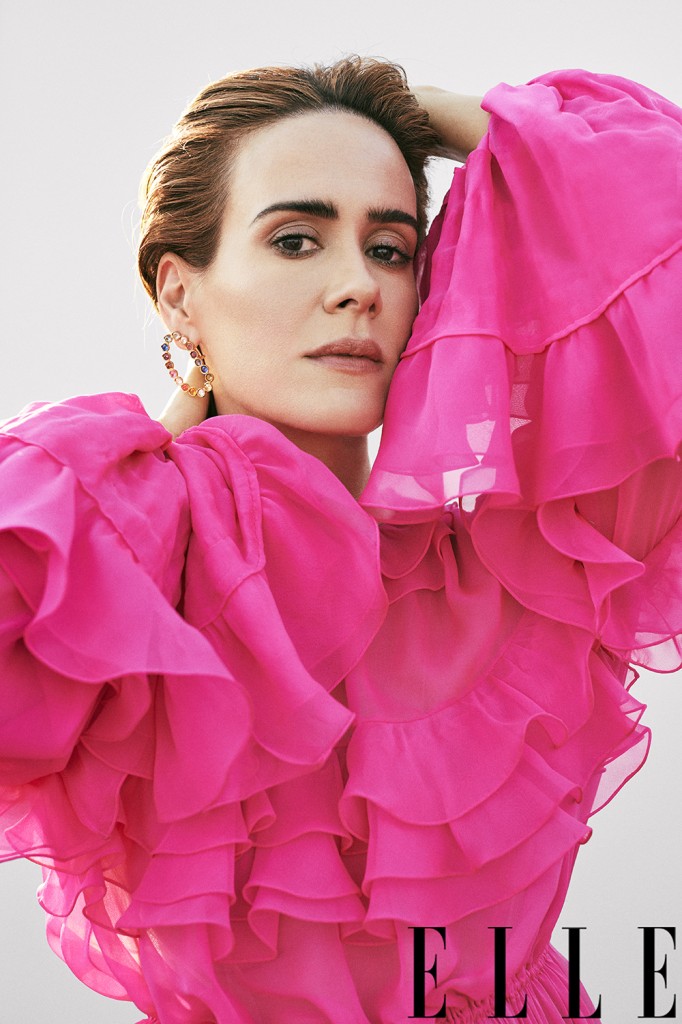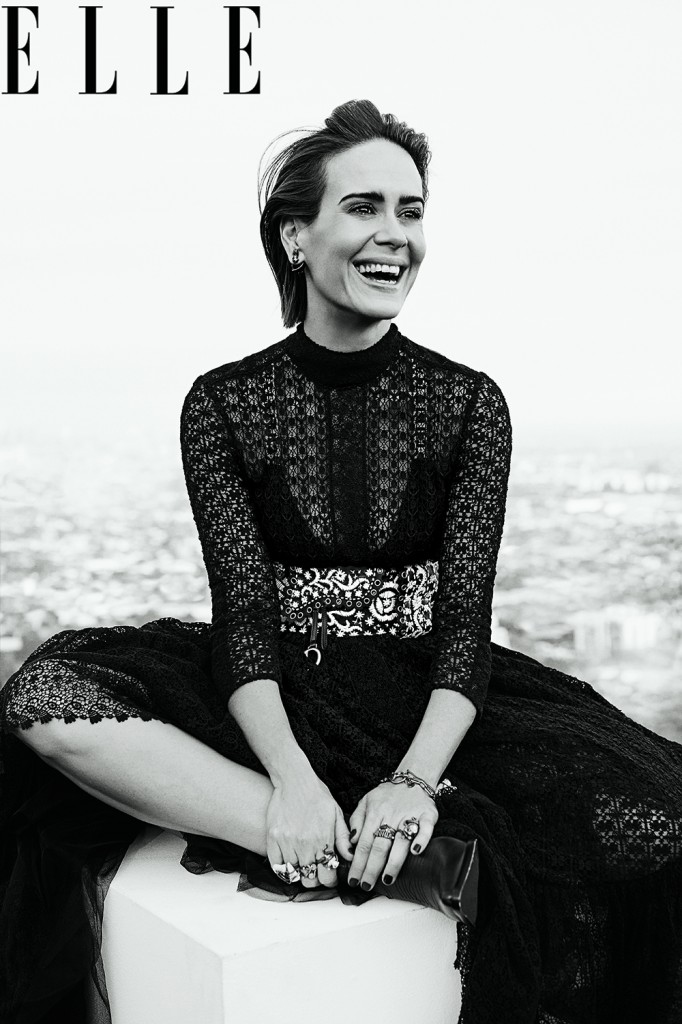 Photos: Elle/Zoey Grossman received by email from publicists, Getty