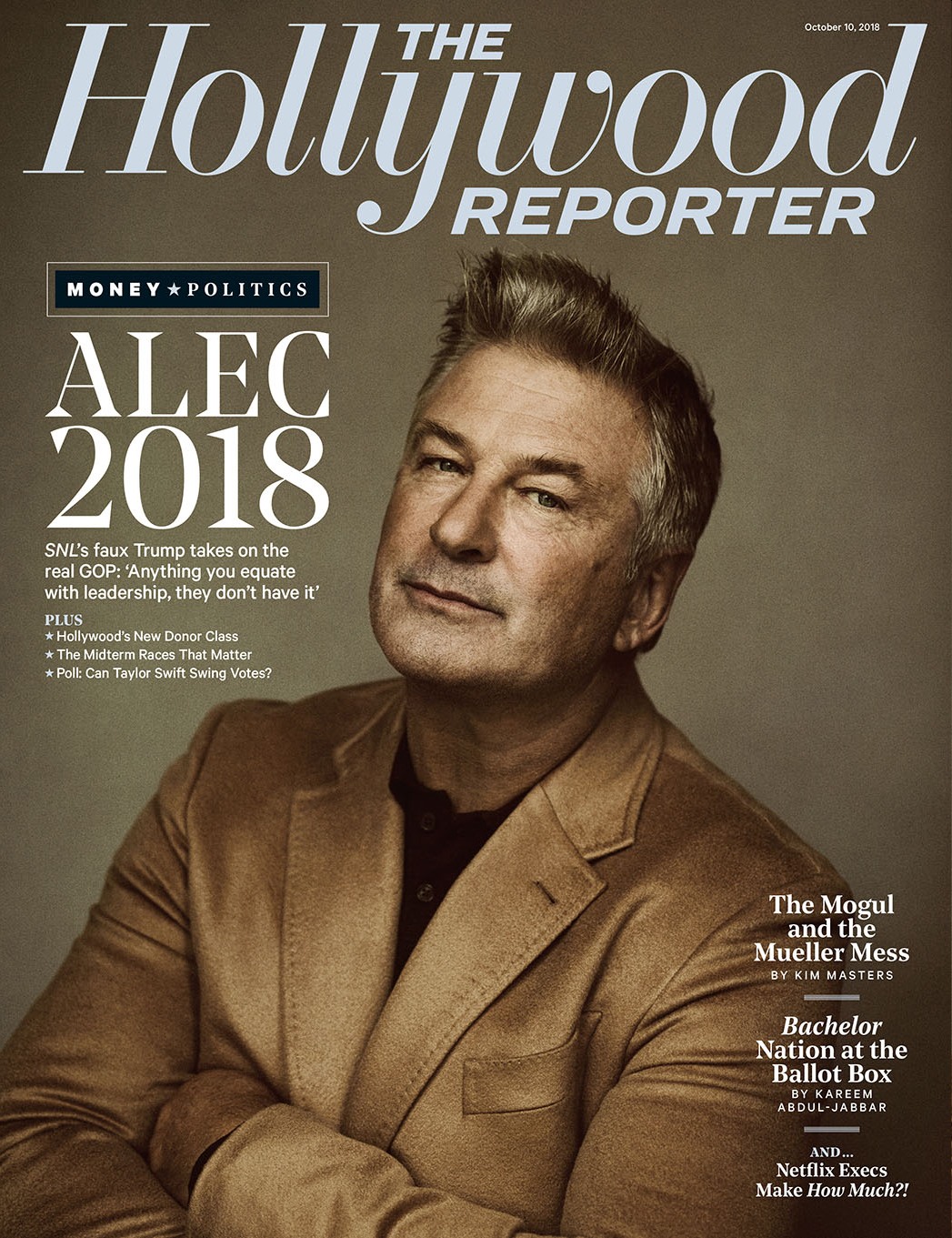 Alec Baldwin covers the latest issue of The Hollywood Reporter to promote, like, a million different projects. Most of this is to promote his new ABC talk show, The Alec Baldwin Show, which begins airing at 10 p.m. on Sundays, starting this Sunday. I'll admit it – I was not in the mood to read this entire article. While I'm a general fan of Baldwin's work as an actor – I'll always have a soft spot for him because of 30 Rock – I'll be the first to admit that the man is mostly a douchebag in real life. He should only be taken in small doses. I read the first half of this THR piece and I felt like, "yeah, that's enough." Here are some of Alec's takes on the #MeToo movement and how black people love him:
On the #MeToo movement: "I want to preface this by saying that all these guys who have done terrible things, who doesn't want them punished? This whole idea that I'm covering for [accused director] Jimmy Toback or whatever? The minute that people are found guilty of some crime or there's a glistening reservoir of information or evidence …It's not a witch hunt because a witch hunt indicates that there is very little truth, if none at all, and there is a lot of truth here. But what worries me is that this is a fire that needs constant kindling."

A personal #MeToo story: An actress he worked with in the 1980s was contacted by a journalist about Baldwin's behavior, and the actress called him to let him know. "She goes, 'Alec, they called me and they said that a wardrobe person said you sexually molested me and that you constantly had me sitting on your lap and they asked me for a comment.' I go, 'My God, what did you say?' And she said, 'I told them it was ridiculous, that you never groped me.' I just remember thinking in that moment, 'Wow, they're looking for people. This is a fire that needs fresh wood, and they're coming for me.'"

How black people stop to talk to him in New York: "I don't know how to say this and I don't want to get it wrong either, because everything is a minefield of bombs going off, but" — and here it comes — "ever since I played Trump, black people love me. They love me. Everywhere I go, black people go crazy. I think it's because they're most afraid of Trump. I'm not going to paint every African-American person with the same brush, but a significant number of them are sitting there going, 'This is going to be bad for black folks.'"
His #MeToo comment bugged me more than it should. You know who I sympathize with in that story? The journalist who was merely tracking down a story and following a lead. The journalist heard something from someone about Alec Baldwin mistreating a coworker, and the journalist was trying to track it down to see if there was any truth to it. That's what journalists do. But Alec Baldwin uses that story as some kind of cautionary tale about how the #MeToo movement has gone too far and they're looking to "take down" anyone and everyone. No, Alec. We're looking to take down predators and abusers.
As for his comments about being popular in the black community… a lot of those same "black folks" logged onto Twitter to talk about how Alec needs to just stahp. I understand what he was trying to say, but the whole "black people love me" bragging is just really unhelpful, to say the least.
We had one of our big Black bar-b-ques in Wakanda last night, and we couldn't stop talking about how much we Blacks just loves us some Alec Baldwin

— Tariq Nasheed (@tariqnasheed) October 10, 2018
Cover courtesy of THR, additional photo courtesy of Getty.