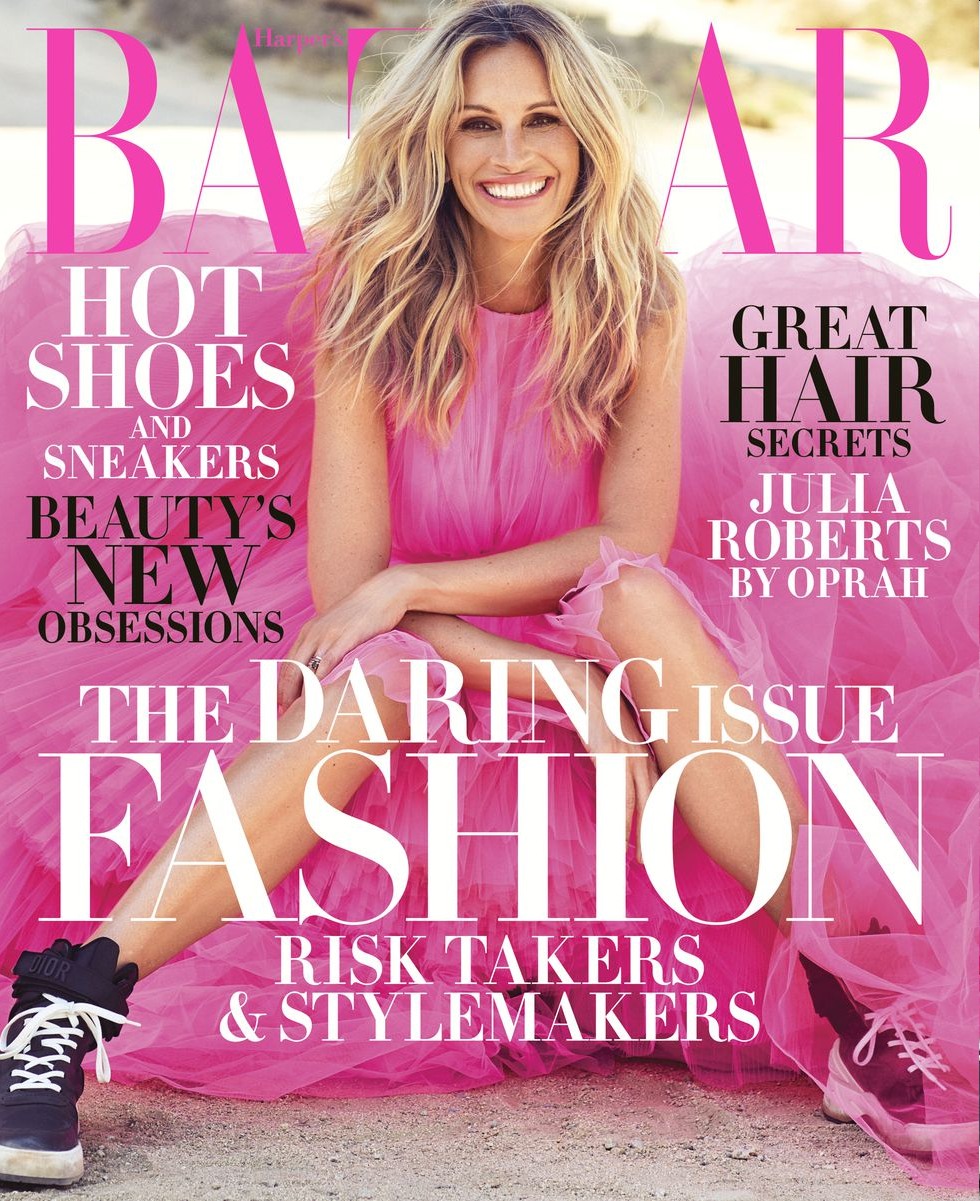 Julia Roberts covers the latest issue of Harper's Bazaar because she's got a bunch of new stuff coming out, like Amazon's series Homecoming, and the feature film Ben Is Back. Many believe that Julia is going to have an Oscar campaign for Ben Is Back, where she plays the mom of a opioid-addict son in recovery (played by Lucas Hedges). I think she's probably got a good shot at an Emmy nomination for Homecoming too. So Julia is ready to campaign, and of course Oprah is here to help her. Oprah conducted this interview for Harper's Bazaar and it's full of Oprah-isms and such. But it's actually not too annoying. You can read the full piece here. Some highlights:
Whether her kids see the tabloid stories about divorce & scandal: "For the most part [we're able to shield our children]. Sometimes we are in the grocery store and I won't even know something is out, but we'll see a tabloid and we'll all be standing there like, "Oh, that's uncomfortable. This is really uncomfortable." It can still hurt my feelings, because I'm so proud of my marriage. We just celebrated being married for 16 years this Fourth of July, and there's so much happiness wrapped up in what we've found together."

On playing a mom to Lucas Hedges: "Lucas Hedges, who plays my son, came and stayed with us for a while, got to know Danny and the kids really well all before we started shooting. I felt that it was important for my kids to know who I was going off with, pretending to be their mother. My son Henry had said to me, "Mom, why in movies when you play somebody's mom, why is it always a boy?" And I said, "Wow, I don't know. You know what? We're going to have Lucas come over and you guys are going to meet him." So Lucas came over, as did beautiful Kathryn Newton, who plays my older daughter. I would just send them down to the beach with my kids. "Go for a swim, and I'll see you guys in an hour and I'll have lunch ready."

Why she joined Instagram: "Well, a few things. I think one of the things, obviously my kids were asking about it. "Why don't you do that? That'd be cool… It's definitely a balancing act, and it's been tricky figuring out what to post because I am private, but I am also friendly. I know that Sarah Jessica Parker, who is a friend and a person I really admire, has an incredible Instagram. She has conversations with people.

The bad sh-t of Instagram: "Something did happen recently on my niece Emma's Instagram that I think taught me a lot about what it's like being a young person in today's society. One weekend morning Emma slept over, and we got up and were having tea and playing cards and having this beautiful morning, and then a couple of days later she posted a picture of us. And the number of people who felt absolutely required to talk about how terrible I looked in the picture—that I'm not aging well, that I look like a man, why would she even post a picture like this when I look that terrible! And I was amazed at how that made me feel. I'm a 50-year-old woman and I know who I am, and still my feelings got hurt. I was sad that people couldn't see the point of it, the sweetness of it, the absolute shining joy of that photo. I thought, "What if I was 15?" I was so happy that happened because I had this whole new glimpse into a way of living that I didn't get at all. You have to go through things to understand them, and this was just a little paper cut of what can really go on with social media.

How Trump's presidency affected her: "I think it's impossible not to be affected by it. When Donald Trump was elected, my daughter, Hazel, came down and the TV was on, and it said on the crawl at the bottom, Trump wins, and she kind of gasped because of course we all had this collective hope that something else was going to happen. And what I saw in that exact moment was the complete need for me as a parent to find a way to make her feel that she could still have a voice. That's why we went to the first Women's March in Washington—I wanted her to feel like she still had a place in the world, that she could still believe in what she believed in, even though someone else was now president. It was very powerful for me to have her in a way be my leader into this space of marching and participating in being a citizen of this country.
I kind of love that she invited her Ben Is Back "kids" to stay with her and then she basically made them babysit her real kids. Free childcare! And she's basically saying that she joined Instagram because she thinks Sarah Jessica Parker is cool and she wants to emulate SJP. Huh. As for what she says about the Trump administration, I've thought about that a lot, and I haven't envied the conversations all of you parents have needed to have with your kids. How do you even explain Donald Trump and this administration to a six-year-old or a 10-year-old? How do you explain the rise of American fascism to a child? How do you explain that it's okay to feel afraid because the orange clown in the White House is doing irreparable damage?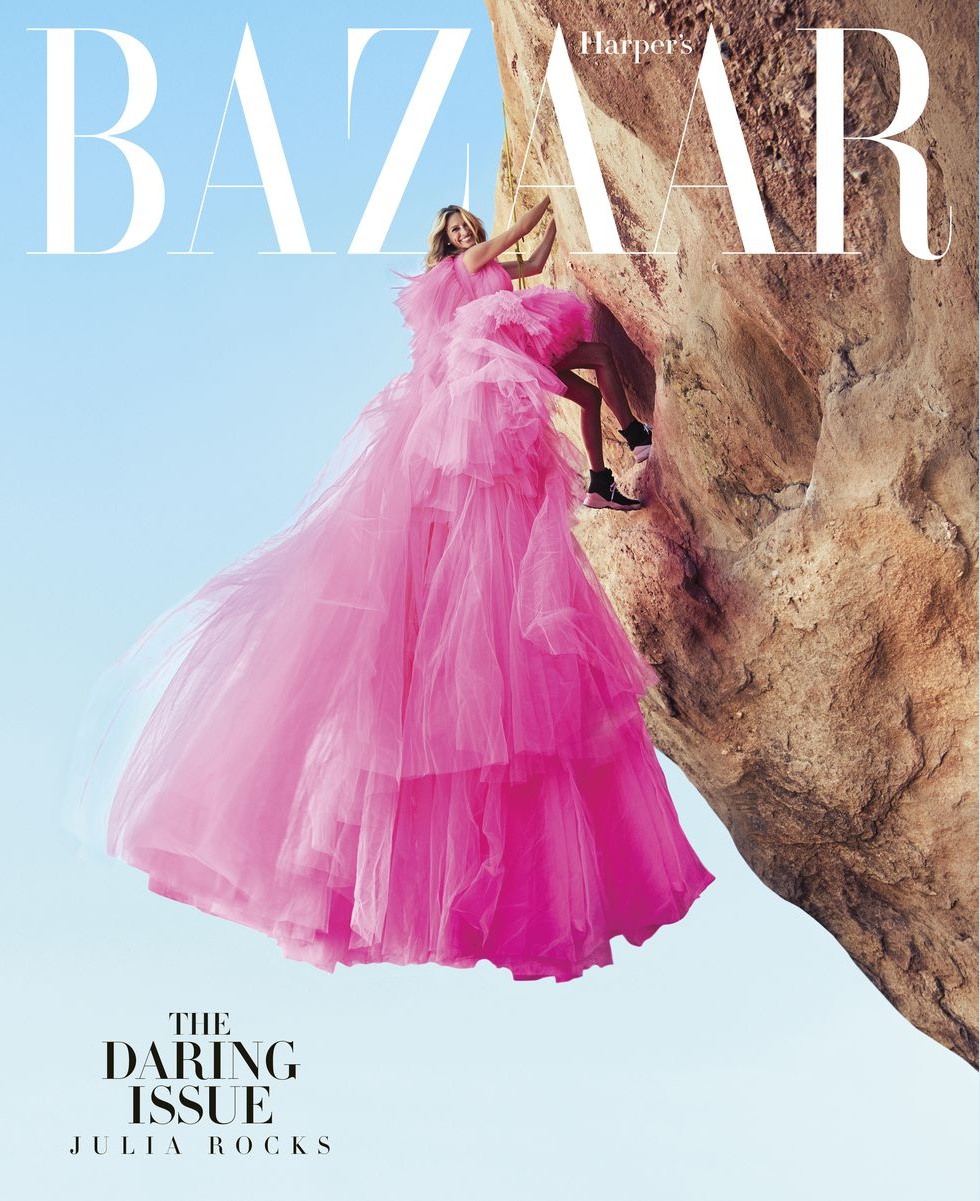 Covers courtesy of Harper's Bazaar.