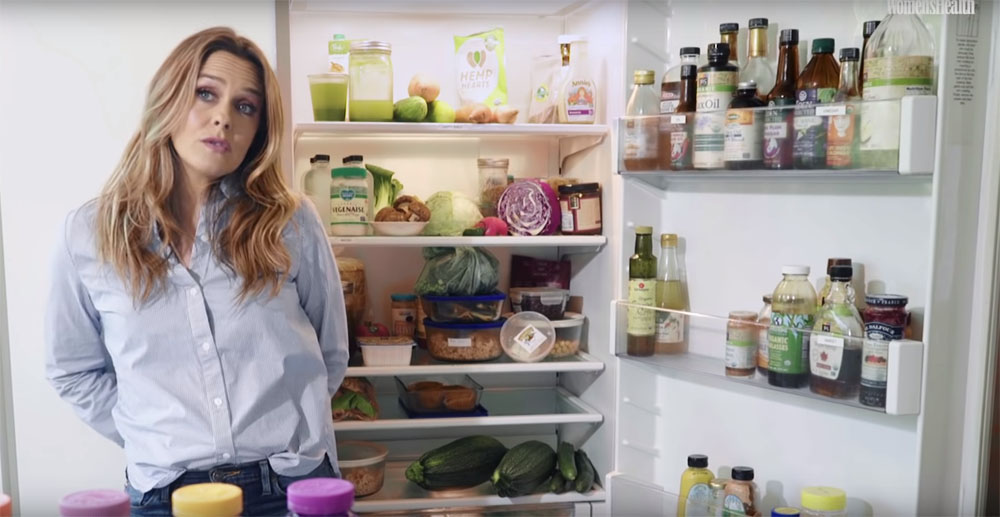 Do you remember when MTV Cribs used to get celebrities to open their fridges? Some of them were immaculate and empty except for drinks like diet coke and champagne. Alicia Silverstone took Women's Health on a tour of her fridge and it's full of enough healthy stuff to put the rest of us to shame. She's vegan, grows her own food and stocks up on vegetables, fruit, tofu, beans and rice milk. My fridge is 30% Coke Zero and Sprite, with some cheddar cheese, yogurt and apples for balance. Alicia described her diet to Women's Health and it's so healthy. She puts vegetables on basically everything and her son Bear, 7, eats healthy too. It sounds like he's somewhat picky though and that she's not super strict. The video is below and here's some of what she told them.
She likes tofu because it's versatile
I don't use a ton of tofu. The reason I do use it is because you can transform tofu into anything so it's good staple to have around. It's really delicious when you bread it or fry it. I could also use it to make a pudding.

Her healthy breakfasts
We start with a whole grain and a vegetable. This morning we had blanched kale from the garden with lemon squeezed on and flaxseed oil and plum vinegar. Sometimes we'll have steel cut oats with dates, cinnamon and apples. The green is the important part.

She makes pizza with salad on top of it
We use this [vegan] cheese, it's insane. We do that on good farmer's market bread. For dinner sometimes I'll make pizza with Bear. I put all the vegetables that I love on it. Kale and mushrooms and peppers and tomatoes. He just wants olives, cheese and tomato sauce and he's happy.

Sadly, has has discovered salt. He's really into [hot sauce].

I never have any meat in my fridge. Or dairy.
[From Women's Health You Tube Video]
She also said that she cooks in batches to save prep time, and will make a big batch of rice and keep some for later. If I eat a salad or have a smoothie I feel super healthy that day. Alicia's diet is next level. No wonder she looks 20 years younger. I'm going to try to eat some spinach with something. That will keep me young-looking right? I can still have ham, cheese and reese's cups, can't I?
The video I watched loaded to another video of Alicia from last year talking about veganism, about which she's passionate. She said she does let Bear eat sugar, but that when he does do it "he's like a different person." She also said she's "much more lax than I thought I would ever be" with food for him. She sends him to Waldorf school because of course she does. I'm not going to talk about the chewing up his food thing from when he was little. I know you guys are going to bring it up but that was six and a half years ago.
Also, Alicia's salad pizza reminded me of this:
Just.. get… a salad.. 🤨 pic.twitter.com/m8oqGL1xsY

— Bria Celest (@55mmbae) October 23, 2018
Here's the interview where she's showing her fridge:

Also she's shilling vitamins in that video! Just FYI.
Photos credit: Getty, via Instagram and screenshot from Women's Health