I remember covering Hailey Baldwin every so often before she really got with Justin Bieber this year. Hailey was – and perhaps IS? – a giant nothingburger, generally speaking. Pretty girl, perhaps genuinely religious and a "good girl" in many ways. She's not scandalous or controversial, really. And she really isn't much in photos either – she doesn't have much of an It Factor as a model, so she was riding the Baldwin name to nepotism-modeling B-list status. Bieber's presence has changed that – suddenly, every magazine wants to run a feature with her. Suddenly, she's got more modeling contracts and more offers to walk runways. When did Bieber become the Nu Leo DiCaprio? Usually only Leo's model girlfriends get this kind of career-bump. Anyway, Hailey has a very "Americana"-themed editorial in the latest issue of Harper's Bazaar. You can see the full feature here. Some highlights:
On her fiancé, Justin Bieber: "He is incredible. He crushes everything. Every song, every feature. It's crazy to see what he does. I'm always blown away."

On learning the importance of taking time to recharge: "It's easy to not think about your mental health or your physical health because you keep pushing, pushing, pushing. Before this year, I wasn't balancing anything."

She keeps her balance with religion, church: "I actually listen to sermons on my phone when I'm on the road."

On the new level of fame in 2018: "Over the past year, I've had more attention on me than I've ever had in my life."

On her tattoo collection: "I want more, but I'm keeping space for my kids' names, and certain sentimental things, and I don't want to fill all the cute spots before … I get there."

On her tomboy-inspired personal style: "I'm obsessed with big, clunky leather jackets. One of my favorites is a men's Balenciaga piece. I've always thought there was something really fun about a lanky girl in very boyish clothing. I love dresses with sneakers."
"I'm keeping space for my kids' names…" Whoa. She's not only planning out the pregnancies, she's planning out where she'll tattoo her kids' names. Justin is veering into "human doodle" so does he have much space left for his kids' names? Is this the new thing, people planning out their tattoos and leaving space for kids' stuff? Hm. As for the rest of it… I wonder if Justin knows that he's basically responsible for Hailey's big career move, that he propelled her into the A-list. I think he does know, and he likes that he still has that kind of cachet.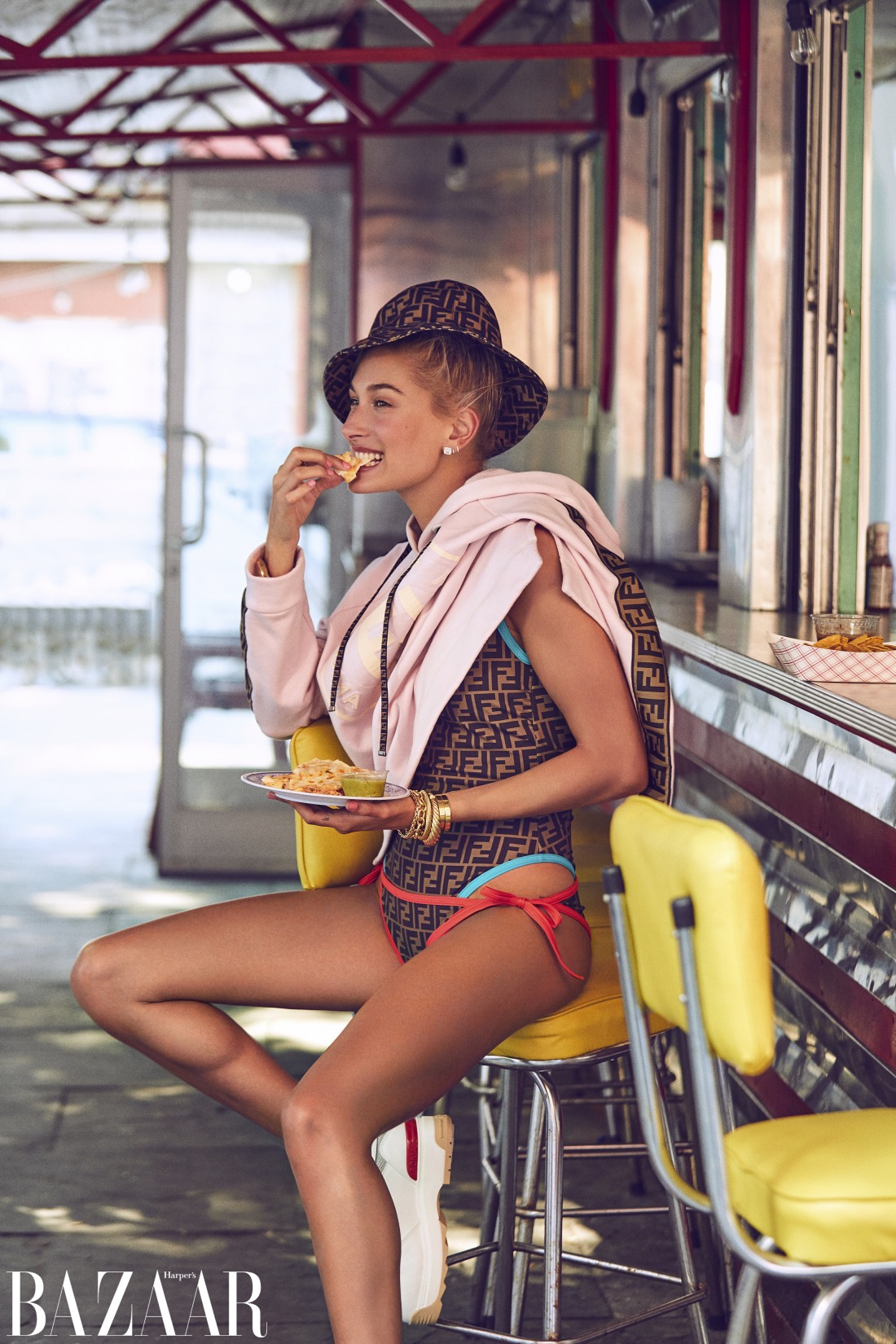 Photos courtesy of Zoey Grossman for Harper's Bazaar, sent from a promotional Bazaar email.