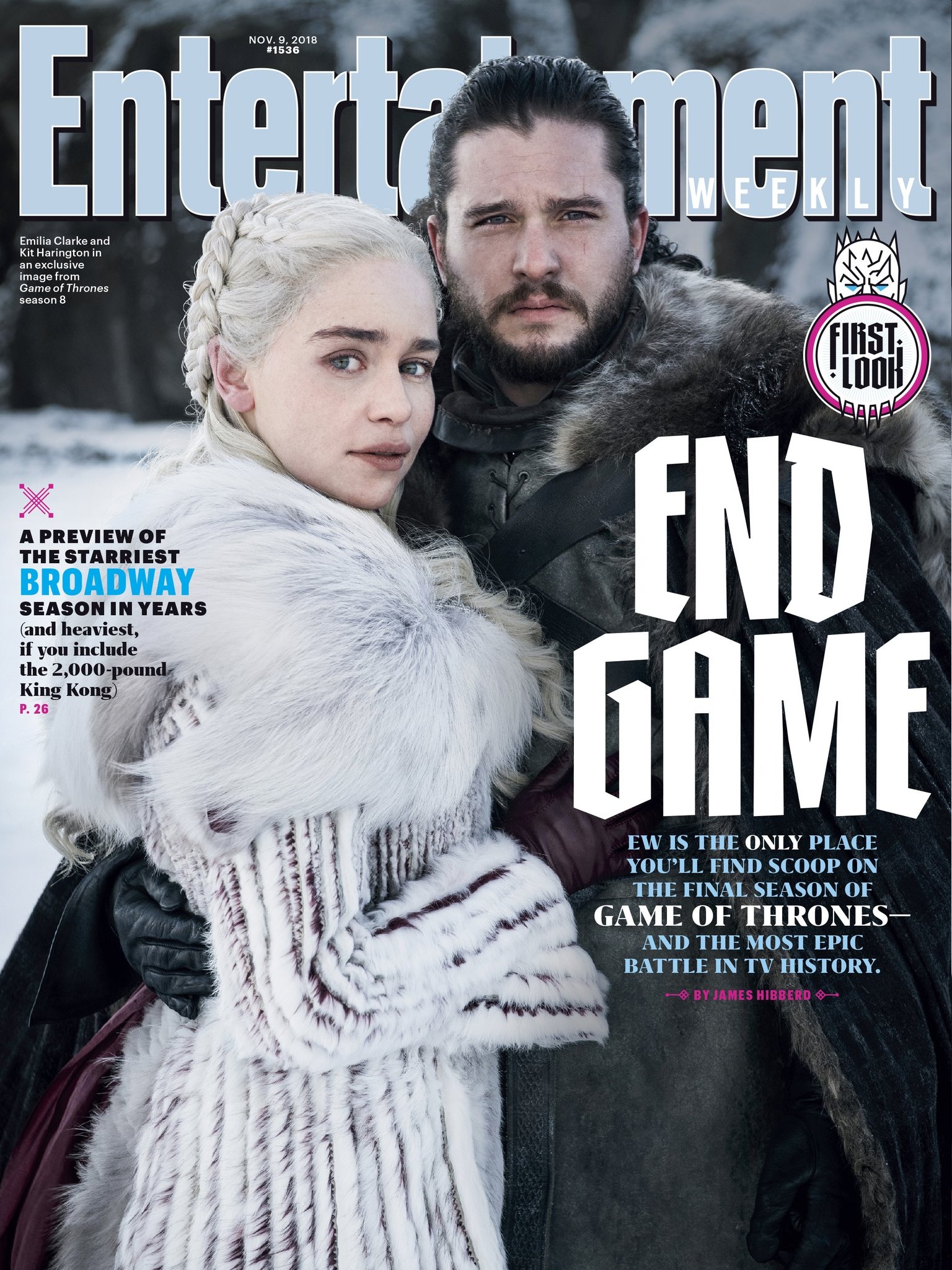 We still don't know when the final episodes of Game of Thrones will air. Everyone assumes that it will be late spring 2019, but truly, we don't know. I'm not even 100% on how many final episodes will air? We know for sure that these episodes will be super-sized, almost like episodic movies. And I'm fine with that. I've committed so much time and so many resources and so much brain space to the Game of Thrones world, I just want to see how it ends. We know the show's ending will be close to George RR Martin's (theoretical) end to the book series, but as always, the devil's in the details.
So with that in mind, what do you make of Entertainment Weekly's Game of Thrones preview? For one, Kit Harington/Jon Snow's head looks tiny and Photoshopped. I also think Dany/Emilia Clarke looks like she's wearing a designer fur coat. Still, I'm willing to overlook that if we get some good details. Do we?
"It's about all of these disparate characters coming together to face a common enemy, dealing with their own past, and defining the person they want to be in the face of certain death," co-executive producer Bryan Cogman says. "It's an incredibly emotional haunting bittersweet final season and I think it honors very much what [author George R.R. Martin] set out to do — which is flipping this kind of story on its head."

On the cover, Emilia Clarke and Kit Harington embrace — tellingly, in the snow — in the first official photo from the set of the final season. The actors endured a grueling 10-month shoot to create just six episodes amid the cast and crew's obsession to make every detail of the final hours as excellent as possible.

"It's relentless; scenes that would have been a one-day shoot five years ago are now a five-day shoot," Harington says. "They want to get it right, they want to shoot everything every single way so they have options."

Agrees Clarke: "[Camera] checks take longer, costumes are a bit better, hair and makeup a bit sharper — every choice, every conversation, every attitude, has this air of 'this is it.' Everything feels more intense."
"It's an incredibly emotional haunting bittersweet final season and I think it honors very much what [author George R.R. Martin] set out to do — which is flipping this kind of story on its head." Insert skull emoji. I mean… if George RR Martin "set out" to flip the story on its head, then why hasn't he? Why is he still writing the fakakta books??? I honestly think that Martin is waiting to see the reactions to certain plot points in the show and then deciding what to change in the future books. As for the whole idea of everything being flipped on its head… what does that even mean in GoT-context? The Night King is already super-powerful and HE HAS AN ICE DRAGON. I'm struggling to think of some "ending" that would really be unexpected AND bittersweet. I mean, maybe Sansa on the Iron Throne? No one is really expecting that. Nor do we want that? I don't know.
EW also did a longer story about The Last Days of GoT – you can read it here. Kit Harington didn't read any of the scripts before their first read-through for the final episodes. When they were all seated for the read-through and he was learning about everything, he wept. Twice. The EW journalist got to see some of the filming of the final episode, and this is what was written:
Several actors are performing, and I'm stunned: There are characters in the finale that I did not expect. I gradually begin to piece together what has happened in Westeros over the previous five episodes and try not to look like I'm freaking out. There is absolutely nothing more that can be said about that scene at this time.

… At some point HBO will release a proper final-season trailer revealing more. Until then, here's some basic setup we can tell you: Season 8 opens at Winterfell with an episode that contains plenty of callbacks to the show's pilot. Instead of King Robert's procession arriving, it's Daenerys and her army. What follows is a thrilling and tense intermingling of characters — some of whom have never previously met, many who have messy histories — as they all prepare to face the inevitable invasion of the Army of the Dead.
There's also the news that Sansa isn't happy about Jon and Dany's new relationship, and that there's one full episode devoted to the battle with the undead, and it's a huge undertaking that took about three months to film. UGHUUHHKHKHKHKHKHULSH. I want this now.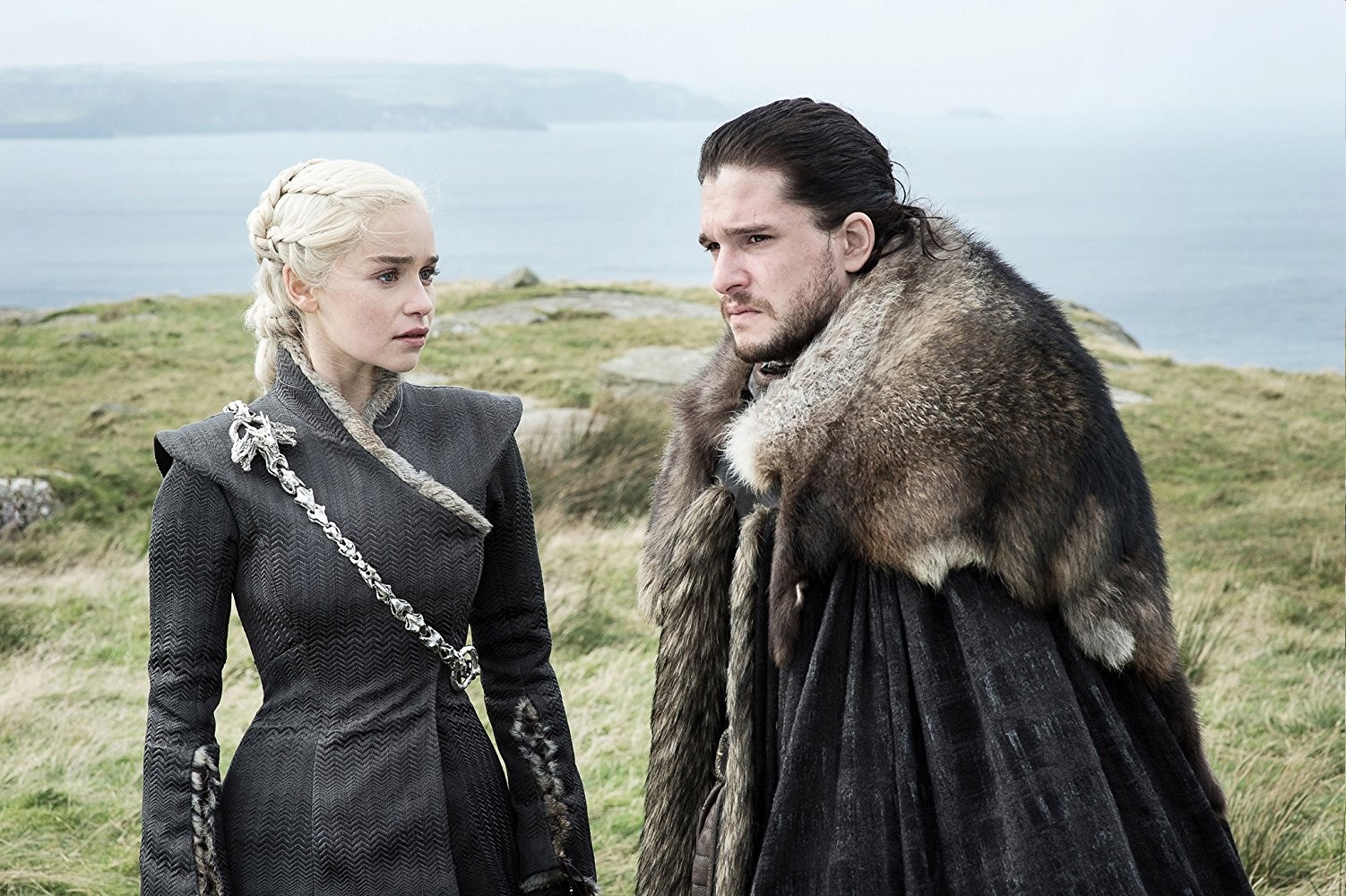 Photos and cover courtesy of EW and HBO.