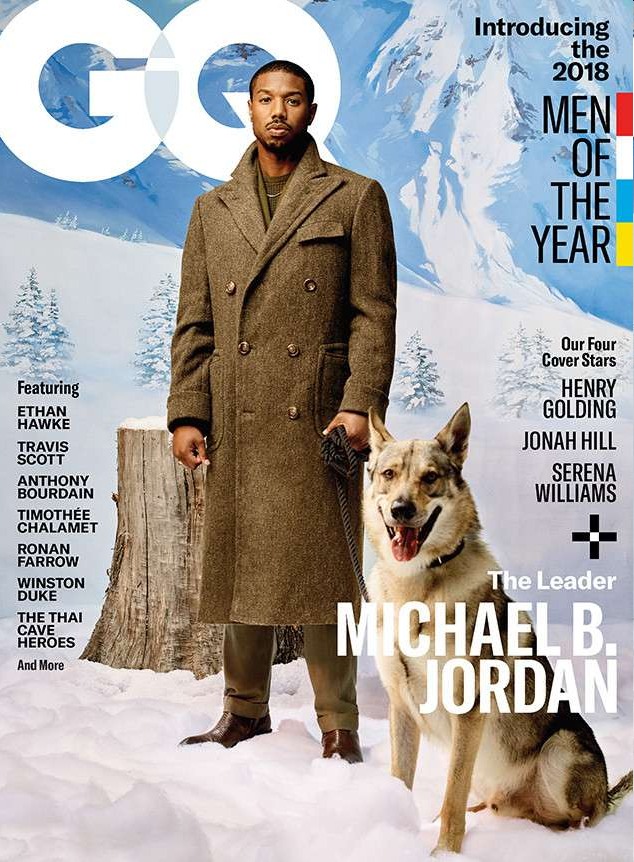 Michael B Jordan is one of GQ's Men of the Year, a well-deserved title. MBJ has been turning in great work for years, but 2018 really did take him next-level, mostly because of Black Panther. What I like about MBJ is that he's a man with a plan – he really has concrete goals for how he's going to take over Hollywood and become a combination of Will Smith, Tom Cruise and Leo DiCaprio. Those are the three aspirations he named to GQ, and yet… he's never heard of Leo's P-ssy Posse? Damn, bro. Catch up on your late '90s and early '00s gossip. You can read the full GQ piece here. Some highlights:
When asked why Leo DiCaprio is one of his inspirations, and whether it has anything to do with the P-ssy Posse: "P-ssy Posse? Woooooooow. That's…your words not mine, man," Jordan says, putting his hands up, professing zero awareness of DiCaprio's once lascivious circle of '90s-era pals. "I didn't even know that existed. Cool name… Leo. Patient. Makes great choices. Has an air of elusiveness."

He wants to be more elusive: "One of his famous quotes is, like, 'Why would I pay to see you on the weekend if I can see you every day during the week?' " Jordan is paraphrasing Denzel Washington, who was actually paraphrasing Sidney Poitier, but the point is simple: A star ought to cultivate a sense of inaccessibility. "I didn't want it to be like, 'Oh, there's Mike again.' I want it to be like, 'Oh sh-t—Mike's here.' "

He insists he's single: "My career is awesome. It is going great. There's other places in my life that I'm f–king lacking at. I'm very mature and advanced in a lot of areas of life. Dating may not be one of 'em. My personal life is not. I don't really know what dating is… But it's like, I could meet you, right now, boom, right here. Me and you sitting here chilling, whatever. Meal, whatever. Somebody could be over there, see this. And all of a sudden, you're my girl now…. So then they're going to talk about you, they're going to find out who you are. They're gonna find out what your Instagram is, they're going to find us in that. And all the fan club and everybody else is going to find out who you are, and now you and I are forever associated with one another. So now, how do you go anywhere normal, chill, just getting to know somebody that you just met, that you may not—may or may not—hit it off at all? That part of dating is tough."

It bothers him that black women think he only dates white women: "Like, damn. Of all the places that I'm getting this, it's coming from here?"

On his quotes about the lack of black mythology and black folklore: "I meant we don't have black mythologies and folklore that's on the big screen and small screen, period," he tells me, emphasizing the part of the quote that was missing when it went viral. "And I want to help bring those to the masses, the same stories, bedtime stories, that I was being told of Anansi the Spider and the story of Hannibal and Mansa Musa and all these historical figures!"
There was a big section devoted to the "does MBJ only date white women?" question, and it's clear that it really bugs him that there is that perception. It really bugs him that black women clown him whenever there are new batches of photos with MBJ hanging out with "a boatful of Beckys" or, you know, Kendall Jenner. I take him at his word that he likes and dates women of all races, even though I know some of his public statements on the matter are just that: public positioning so he retains a wide fanbase of women of all races who are united in lust for MBJ.
Photos courtesy of GQ.