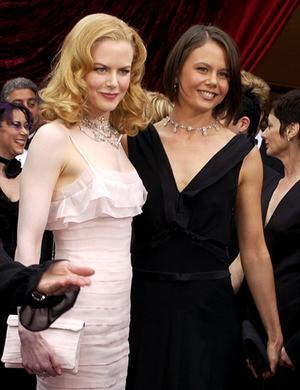 Nicole Kidman is a bit of a special person in the Australian papers, being that she has a property in Sydney and married an Australian, as well as being Aussie herself. But even her home town newspaper seemed a little mystified at this remark.
Nicole – who is godmother to two of Antonia's four children – said: "We used to have a secret language and all sorts of stuff. No one will ever come between us. We need that love and support from each other, and we're both willing to give it. She's grown up all her life with a sister who's an actress, and she's been a part of it and held me in her arms when I've cried. She's seen the failures and the successes, and I've seen hers."
A secret language? I tried this once with my sister, which was extra complicated as she didn't have much in the way of language skills at the time, being only three. I've also heard of twins developing a language that only they can understand as babies, but since there's a three year age gap between Antonia and older sister Nicole I suspect that she's not referring to that kind of language.
Nicole has a very close relationship with her sister, making her first post-divorce public appearances with her, God parenting two of her four children and staying close to her sister during Antonia's divorce.
Is it just me, or is Nicole getting very upfront in interviews? Revealing past engagements, miscarriages, and talking about her marriage to Tom Cruise? Although, when she gives interviews and talks about Tom she can reveal less about her marriage to Keith Urban. Maybe talking about her past is a really good way of keeping her current marriage a big secret.