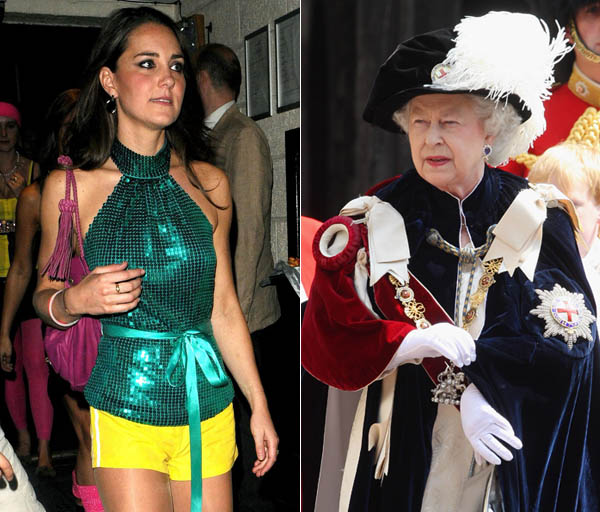 Last week, we reported on a recent item from the Daily Mail that had Kate Middletontotally out-of-sorts regarding the limbo status of her relationship with Prince William. According to the Mail, Kate was seriously considering a move to America and perhaps even a split with William. I had some doubts in the report, because I really think Kate Middleton is in this thing for the long haul, she's in to get married no matter what, no matter how long William waits, no matter how big his bald spot grows. So this is probably good news for Kate – she's been invited to the Queen's Scottish estate, Balmoral, to stay for William's August vacation.
William has been in military training for most of the year, so it will be nice that he and Kate get to spend some quiet time together in Scotland. But it gets even better for Kate! The Queen extended an invitation to Kate for a private, one-on-one meeting, which could be construed as some sort of seal of approval. But, the news isn't all good. According to the Daily Express, the Queen is totally going to vent to Kate about how Kate needs to stop putting "professional royal girlfriend" on her resume and get a real job:
Being invited to lunch with your boyfriend's grandmother might not seem all that momentous. But when your boyfriend is Prince William it is a very ­special occasion.

For the first time, the Prince's long-term girlfriend, Kate ­Middleton, will share a private meal with the Queen at Balmoral, sparking fresh rumours that the couple may soon be heading down the aisle.

William and Kate, both 27, have also been invited to stay in the main castle during their August Bank Holiday visit – a further sign that their relationship is being taken more seriously. In previous years they have stayed in properties elsewhere in the grounds.

The pair have had an on-off relationship since they met at university eight years ago but speculation has been growing that they are planning to announce their engagement. Bookmakers have already offered odds of 2-1 that William will pop the question this year.

An aide reportedly said: "A one-on-one lunch with the Queen will inevitably be daunting for Kate but it is crucially important in the development of their relationship. It is the clearest signal yet that Her Majesty believes Kate is more likely than ever to become a fully fledged member of 'The Firm'."

"They will discuss exactly what it would mean if Kate became a Royal Highness and the extent to which her life would change."

Although Kate has dined with the Queen before alongside William, she has never had a private meal with the monarch. In the past the Queen has reportedly voiced concern that her grandson should not announce an engagement until Kate secured a full-time job.

Kate, who formerly worked as an accessories buyer for high street fashion chain ­Jigsaw, is currently job-hunting, and has reportedly been offered an internship at the fashion magazine Vogue.

There have also been reports that the pair have been house hunting. One report suggested they had even been looking in Hollywood's favourite hide­away, Malibu in California.

The source added: "The Queen's view is that if Kate is to marry William, an engagement should come sooner rather than later as she is concerned she should get a proper focus in life. She will put Kate at ease but will want to make sure that she is in no doubt what marrying the heir to the throne would mean."

William will join his grand­father Prince Philip on a bird shoot at the Highland retreat while Kate dines with the Queen. During their five-day stay, he and Kate are also expected to join the Queen for daily walks in the grounds.

The royal grandmother is said to have granted Kate, a keen photographer, unprecedented access to take pictures of the castle and grounds at Balmoral to make her feel ­welcome.

William and Kate have kept a low profile of late while he trains to be an RAF helicopter pilot. The Prince was pictured with Kate for the first time in months at a polo match in May.

A spokesman for Clarence House said: "We don't comment on private matters. Who the Queen invites to Balmoral is her business alone."
[From Daily Express]
It sounds like the Queen might throw down, doesn't it? Good for Her Majesty. Somebody needs to take Kate down a peg or two. She seems like a nice enough girl, but I do find Kate very boring, and a little too happy to simply be a "girlfriend". When Prince Charles proposed to Diana, his "mummy" had to pick out the engagement ring. I wonder if it will be the same for Will?
Queen Elizabeth is shown on 6/13/09. Credit: WENN.com. Kate Middleton is shown at a roller disco party on 9/17/08. Credit: PacificCoastNews.com