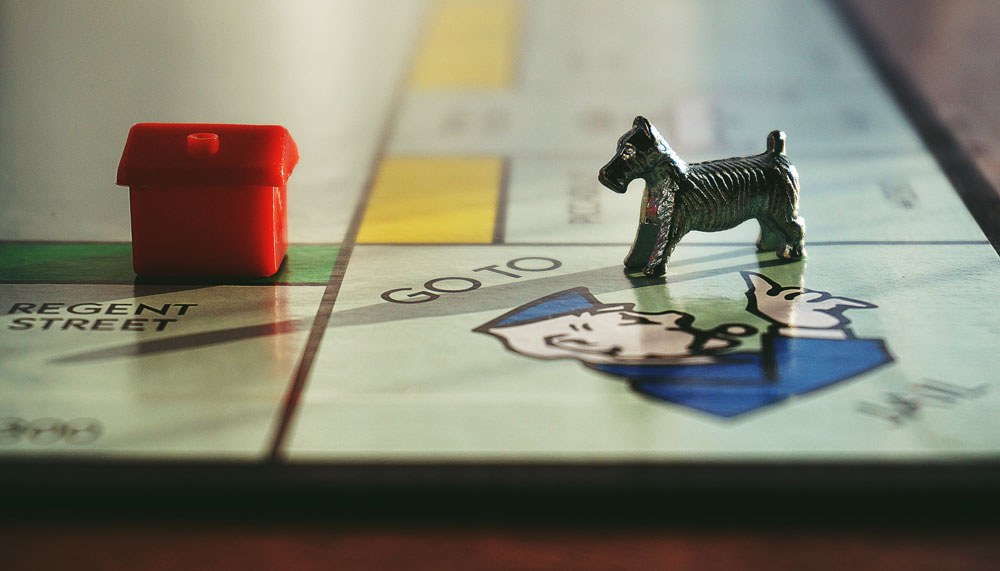 I'm solidly in the Gen X generation but I'm not old enough yet to think that my generation is better. Each of us has our issues and problems. Millennials get sh-t on a lot for being flaky, for relying on their phones, and for not saving money. Many of the issues we blame millenials for are beyond their control and are due to economic insecurity resulting from the high cost of education, the high cost of living, and the difficulty of finding decent-paying jobs. They have it harder than we did at their age and it's not due to any overall personality trait, it just sucks.
Enter Hasbro, which just designed a really condescending version of Monopoly called Monopoly for Millenials. I'm sure that a team of baby boomers made it because they're the worst. (KIDDING.) The lines on the box include "Adulting is hard," "visit the hottest destinations – from your friend's couch to the vegan bistro," and "forget real estate, you can't afford it anyway." In this version of the game, players collect chips which represent upvotes on social media instead of money, there's no real estate to buy and you win by collecting the most experiences on the board, like visiting an artisanal coffee shop or yoga studio. You can see a little video of the game below. Some of the Community Chest cards make you pay social media points for things like losing your free streaming trial and watching videos for hours when you were supposed to be looking for work. There's a heavy use of hashtags, but instead of the actual sign, they write out "hashtag." Ok I take it back, the boomers did design this. Not only is it obnoxious, it makes no sense as a Monopoly game.
Here's the video:
We're not sure if we should laugh or cry at 'Monopoly for Millennials' pic.twitter.com/h171IHG4Ws

— NowThis (@nowthisnews) November 15, 2018
Hasbro issued the following statement about this game:
We created Monopoly for Millennials to provide fans with a lighthearted game that allows Millennials to take a break from real life and laugh at the relatable experiences and labels that can sometimes be placed on them. With many of us being Millennials ourselves, we understand the seemingly endless struggles and silly generalizations that young Millennials can face (and we can't even!). Whether you are a lifestyle vlogger, emoji lover or you make your 'side hustle' selling vegan candles, Monopoly for Millennials is for you!
Go straight to jail, do not pass Go Hasbro you're drunk. This is not some meta game where millennials subvert and take back the narrative about them, this was made by another generation TO label and mock them. You can tell by how awkward and stupid it is. Plus the statement is just a pitch, they're not responding to the criticism. I would guess that Hasbro brought in a team of consultants and asked them to come up with something that would be buzzworthly. One a-hole executive loved it and dictated his stupid ideas to the team, who worked hard to please him. I do not miss working at software companies.
@Hasbro Can you provide the URL for the Hasbro-official website featuring "Monopoly for Millennials," where you trash on my age demographic because baby boomers caused an economic catastrophe that rendered us financially impotent for a decade? Thanks! pic.twitter.com/wmm0WQwnld

— Steven Briggs (@TrnDaBeatAround) November 11, 2018
Monopoly made a version of the game for both us millennials and baby boomers pic.twitter.com/JTfZ9tPBbw

— 💐🏳️‍🌈Lulu🏳️‍🌈💐 🍑🍨🍑🍨🍑 (@luulubuu) November 8, 2018
Next, Monopoly for Baby Boomers: where you buy property for below value price, only people of color go to jail, and when you pass "Go" you get to complain about Millennials!!! pic.twitter.com/Nb8vSl79AW

— Jon (@jknit135) November 12, 2018
Waiting for the Amazon reviews to come in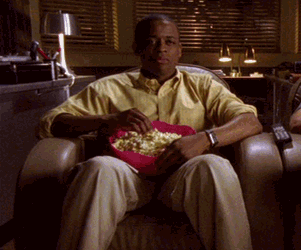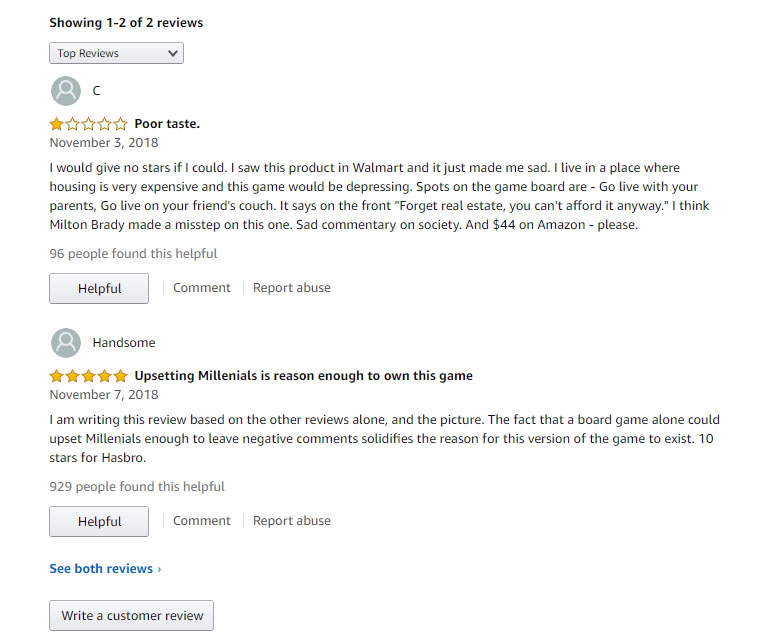 Header photo credit: Suzy Hazelwood via Pexels Other photos via social media, Amazon screenshoot