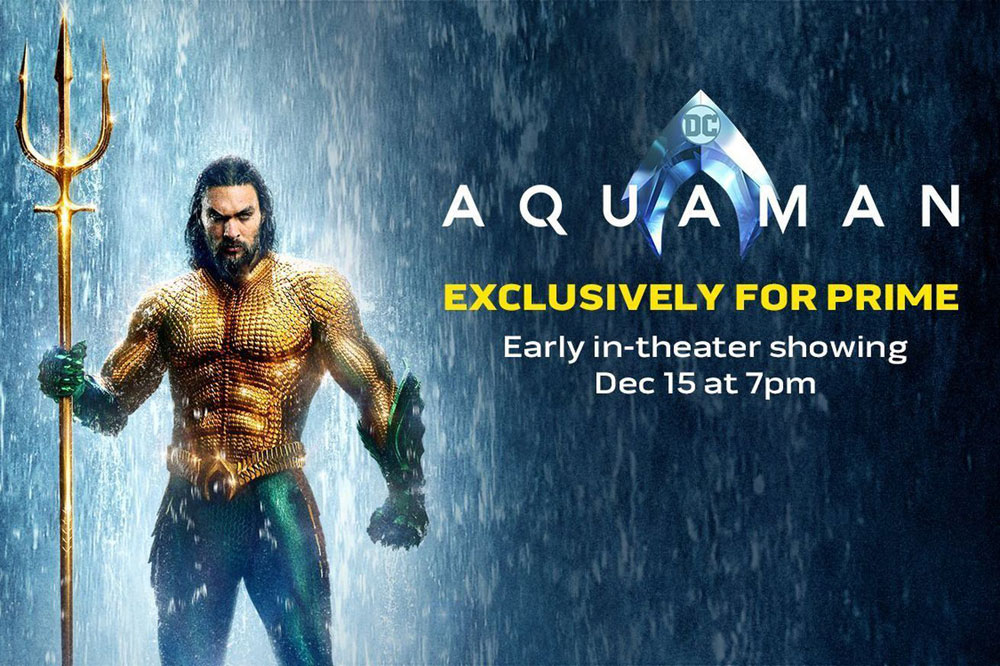 In a weird first that I'm still trying to figure out, Amazon Prime is offering members a chance to see Aquaman a week before its official release date. (It's available at Amazon.com/Aquamanmovie.) People still have to buy tickets at regular prices from what I could find and they still have to go to the actual theater to see it. This isn't a deal where people can watch Aquaman from home, which would seem like a better option. Someone is trying to sell exclusivity to this and simultaneously drum up interest. Normally superhero movies sell themselves, but initial response to test screenings earlier this year was muted. So this is some kind of invite-only deal that doesn't seem like much of an incentive to see it.
If you're a member of Amazon Prime… you'll be able to see James Wan's upcoming Aquaman in theaters a week before anyone else. Warner Bros. has officially announced a partnership with the service for early showings on December 15, a full week ahead of its release date. Members can each buy up to 10 tickets that will be good in over 1,000 theaters nationwide, including AMC, Regal, National Amusement Theaters and ArcLight Cinemas.

"Bringing this epic origin story and the wondrous underwater world to the screen has been an amazing experience for the whole cast and crew, and I'm so excited for Prime members to be our first audience for Aquaman," Wan said about the promotional event. /blockquote> [From ComingSoon.net]

At least this indicates that Warner Brothers isn't attempting to embargo the Rotten Tomatoes score ahead of the release, like they did with Justice League. They still could do that, this just seems like a different approach – make the movie seem exclusive and simultaneously drum up interest in Amazon Prime. Also, I'm not the target audience for this as I already have Amazon Prime and probably won't even rent this, but maybe Amazon wants more young people to subscribe to Prime. I think they picked the wrong movie, but I'm more of a Marvel fan and haven't even seen Justice League yet. Even the most poorly reviewed WB superhero movies do well at the box office.

Here's the latest trailer. It looks like a derivative mess.


photos credit: Warner Brothers. There are affiliate links in this post to Amazon products!